Galettete Pérougienne by Mimi Thorisson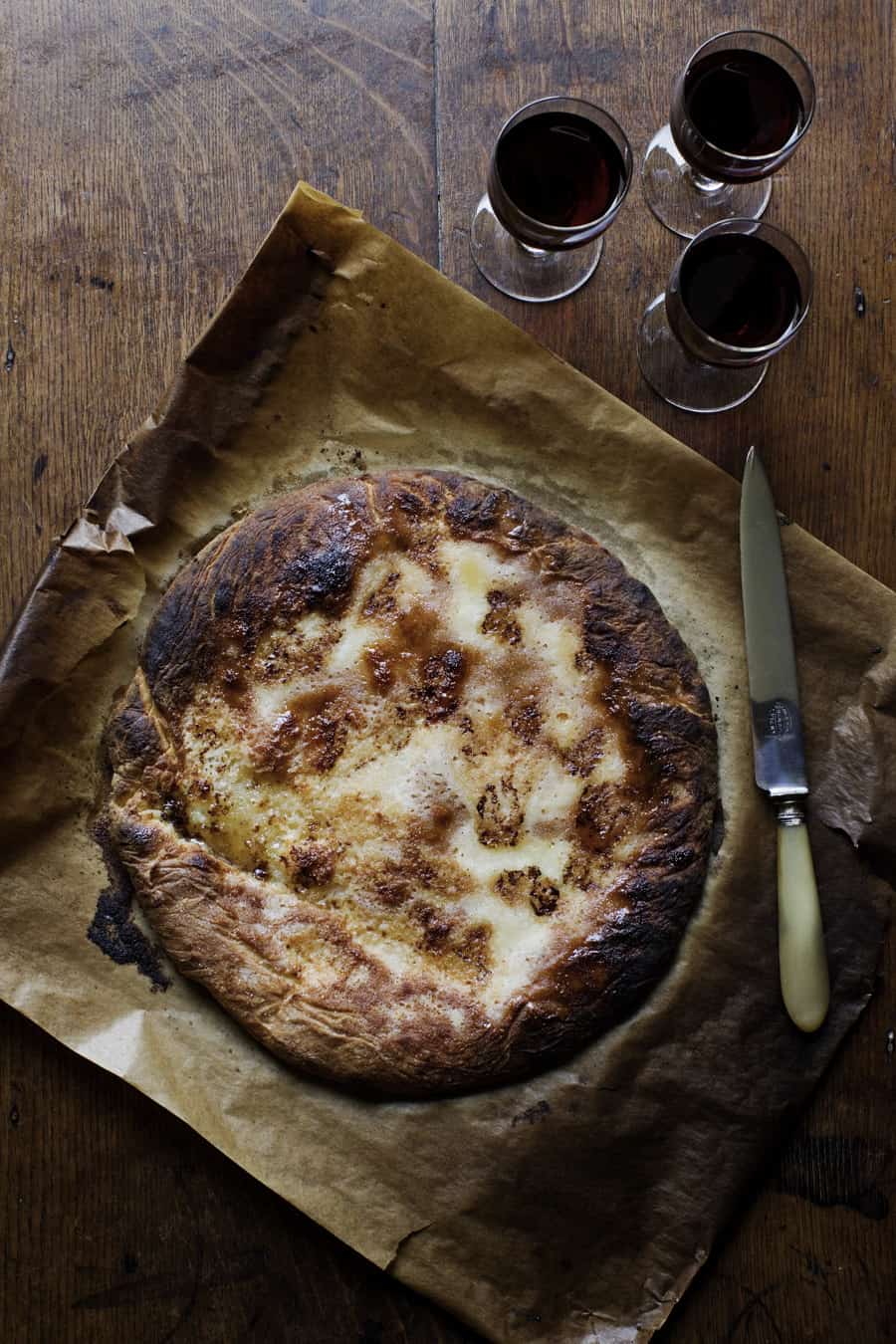 This is a wonderful speciality from the medieval town of Pérouges, near Lyon, made from a lemony yeasted brioche dough that is sprinkled with a generous amount of sugar, dotted with butter, and baked in a very hot oven. the sugar caramelizes and each bite is a pure delight. I am very fond of this medieval cake. It is so authentic and simple in taste – exactly what I look for in a dessert.
Galettete Pérougienne
(a recipe from A Kitchen in France: A Year of Cooking in My Farmhouse by Mimi Thorisson)
Serves 4-6
3 teaspoons active dry yeast
1/3 cup/ 80 ml lukewarm water
12 tablespoons/ 1 1/2 sticks/180 g unsalted butter, plus more for the bowl, at room temperature
1 large egg
Grated zest of 1 lemon
Pinch of fine sea salt
1/2 cup/ 100 g granulated sugar
1 1/3 cup/ 160 g all-purpose flour, sifted, plus more for rolling
Mix the yeast in the lukewarm water in a small cup. Set aside for 5 minutes to allow the yeast to dissolve.
In a large bowl, mix together 8 tablespoons/ 120 g of the butter with the egg, lemon zest, salt, and 2 tablespoons of the sugar. Add the yeast mixture and then gradually add the flour, mixing with a wooden spoon until you have a soft and elastic dough.
Shape the dough into a ball, put it in a buttered bowl, cover with a damp cloth, and let rise in a warm spot until doubled in size, at least 2 hours.
Preheat the oven, 450°F/ 230°C. Line a baking sheet with parchment paper.
On a parchment-paper-lined surface, roll the dough into a 9-inch/23 cm circle about 1/2 inch/1 cm thick. Press on the edges to make a 1/2-inch/ 1 cm wide raised border. Sprinkle the remaining 6 tablespoons/ 75 g sugar over the dough and dot with the remaining 4 tablespoons/ 60 g of butter.
Transfer to the baking sheet and bake until golden and caramelized, 15 minutes. Let cool for 5 minutes and serve warm.
Join us in welcoming Mimi Thorisson to the Library on
Tuesdsay 28 October
at 19h30 as she talks about and signs her highly anticipated first cookbook
A Kitchen in France: A Year of Cooking in My Farmhouse
.