Critical Conversations 2023–24: Redesigning Democracy
What if everything you were taught about democracy was wrong?
We're delighted to announce the fifth season of Critical Conversations, an expert-led discussion series that allows Library members to ponder the most important issues of our time.
This cycle of Critical Conversations will focus on how we can save democracy, drawing on history, systems mapping, and the emerging science of collective intelligence. Led by Profs. Lex Paulson and Mark Klein, we will be exploring the following questions: what can democracy's ancient past teach us about today's crisis? How are citizens' assemblies and participatory budgeting pointing the way toward a new model? And how might we organize ourselves to make smarter collective decisions on hard problems like poverty or climate change?
Whether in France or America, debate is central to healthy democracy. Critical Conversations encourages both disagreement and agreement through thinking, talking, reading, and actively participating in community. Since the series' inception in 2020, we have tackled race in America, the climate crisis, and migration. Across seasons, participants have challenged themselves, their peers, and the world in which we live.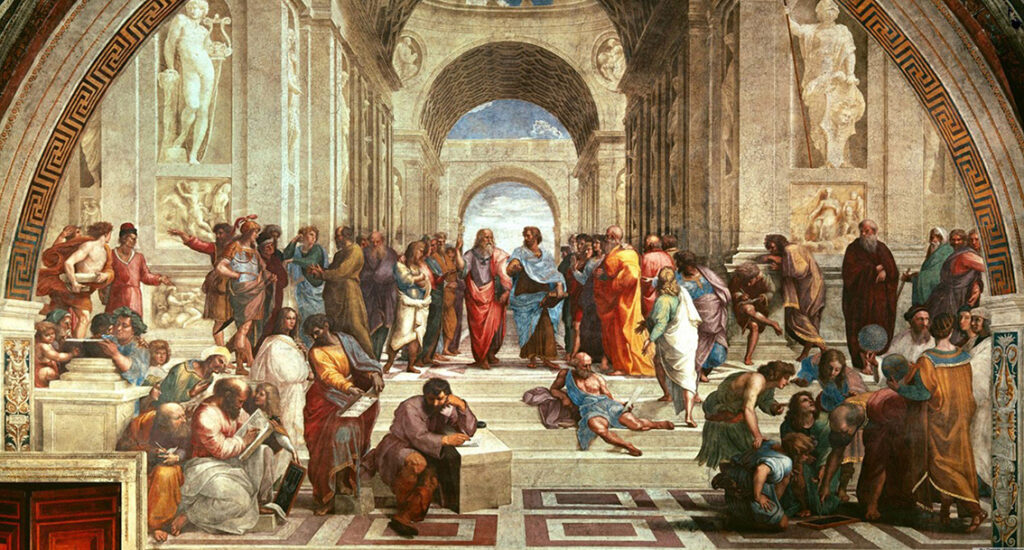 Critical Conversations 2023—24:
Democracy in its first flowering in the 5th century BCE was based on a simple idea: that a permanent class of monarchs and nobles was not the only model for effective government on a large scale. That the entire citizen body, if properly organized, could govern themselves. 
We can see how far the "democracies" of today fall short of this idea. And this is by design — the constitutions of France, America, and 100+ other "democratic" states were designed as elective republics, not democracies. In these "modern" democracies, to the increasing frustration of their citizens, decisions are taken by a more-or-less permanent political elite, responsive mainly to powerful interest groups, and only barely in contact with the citizens they claim to represent. 
It doesn't have to be this way; and in fact, a new model may already be taking shape. In this series of conversations, we will explore the "alternative history" of democracy in the ingenious institutions of 5th-century Athens and in democratic experiments that have disrupted the status quo from Ireland to Taiwan. In addition, we will draw upon the emerging science of collective intelligence: how a combination of tools from psychology, computer science and complex systems theory can help us design smarter groups, capable of solving this century's hardest problems.
Meeting One: Collective Intelligence, the Human Superpower on Thursday 16 November 2023
Meeting Two: Athenian Democracy (ONLINE) on Thursday 21 December 2023
Meeting Three: Democratic Innovation Across the Globe on Thursday 11 January 2024
Meeting Four: Storytelling and the Collective Mind on Thursday 15 February 2024
Meeting Five: The Wonders of Emergence on Thursday 7 March 2024
Meeting Six: Online Stupidity on Thursday 4 April 2024
Meeting Seven: Why Bad Decisions Happen to Good Groups on Thursday 30 May 2024
Meeting Eight: Strategies for Fixing a Complex System on Thursday June 13 2024
Details and How to Join:
The 2023–2024 series will unfold over eight sessions, from November 2023 to June 2024. Conversations will begin at 19h00 CET and run for ninety minutes, in person, at the Library. Profs. Paulson and Klein will begin each meeting with some opening remarks, before guiding a group discussion on the topic at hand. 
This series will take place in person at the Library and is open to both Library members and non-members.
Advance payment and registration is required:
Non-member rate: 150€
Library member rate: 120€
Reduced rate (seniors and students): 100€
Registration for Critical Conversations 2023—24 is now open.
Please email programs@americanlibraryinparis.org with any questions.
Please have a look at the Critical Conversations 2023-24 Syllabus for more information on this season's meetings and readings.
About the Series Leaders:
Prof. Lex Paulson is Executive Director of the UM6P School of Collective Intelligence (Morocco) and lectures in advocacy at Sciences Po-Paris. Trained in classics and community organizing, he served as mobilization strategist for the campaigns of Barack Obama in 2008 and Emmanuel Macron in 2017. He served as legislative counsel in the 111th U.S. Congress (2009-2011), organized on six U.S. presidential campaigns, and has worked to advance democratic innovation at the European Commission and in India, Tunisia, Egypt, Uganda, Senegal, Czech Republic and Ukraine. He is author of Cicero and the People's Will: Philosophy and Power at the End of the Roman Republic, from Cambridge University Press, and is co-editor of the Routledge Handbook of Collective Intelligence for Democracy and Governance.
Prof. Mark Klein is a Principal Research Scientist at the MIT Center for Collective Intelligence, serves as a professor and Senior Scientific Advisor at the UM6P School of Collective Intelligence, and Chief Scientist at HiveWise Inc, a startup in the collective intelligence space. His research draws from such fields as artificial intelligence, social computing, economics, operations research, and complexity science to develop and evaluate computer technologies that enable greater 'collective intelligence' in large groups faced with complex decisions. He has over 180 publications in these areas, and has served on the editorial boards of many prominent journals and conferences related to AI and social computing.