2021 Gala Dinner: 23 September 2021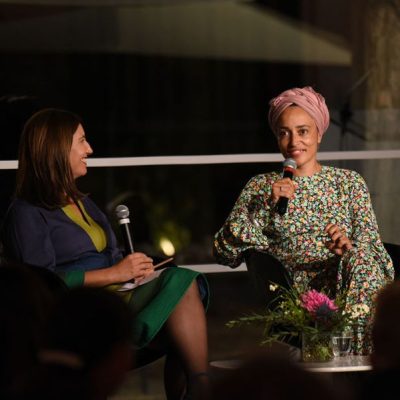 Nearly two hundred supporters of the Library joined guest of honor Zadie Smith for the 2021 Gala Dinner. The event was held at Le Pré Catelan, with an outdoor cocktail reception in the jardin d'hiver, followed by a dinner in the salon adjacent to the gardens.
The Gala featured a conversation between Zadie Smith and Rachel Donadio, a contributing writer at the Atlantic. The discussion explored current events, social media, and Zadie's return to her home town during the pandemic.
Zadie Smith is the author of the novels White Teeth, The Autograph Man, On Beauty, NW and Swing Time, as well as a novella, The Embassy of Cambodia, the essay collections Changing My Mind, Feel Free, and Intimations, and a short story collection, Grand Union. She is currently a tenured professor of fiction at New York University and a member of the American Academy of Arts and Letters. She is a regular contributor to the New Yorker and the New York Review of Books.
Guests also heard from the Board of Trustees Chairman Forrest Alogna, Library Director Audrey Chapuis, Trustee Laura Wenke, and Teen Writing Group member Aurélie Coop. The audience was introduced to Declan McCavana, who lead the room in an exercise on writing limericks, followed by a Gala-themed limerick competition.
Susan Orlean photo by Larry D. Moore – Own work, CC BY-SA 4.0, https://commons.wikimedia.org/w/index.php?curid=74083144