The Library's Teen Advisory Group (TAG) offers an opportunity for teens ages 12–18 to take a closer look at the behind-the-scenes work of the Library, meet other bookworms in the community, and share ideas about the Library's teen programs, services, and collections!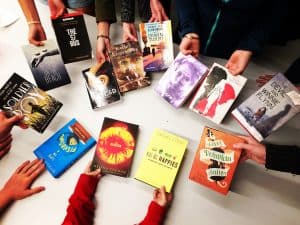 The Teen Advisory Group (TAG) is designed to energize teen programming and services as well as allow teens a greater voice at the Library. Members of this group provide valuable feedback to the Library while earning community service hours. The group is open to Library members ages 12–18 by application.
Members of this group are asked to:
Brainstorm suggestions for future teen programs
Help with preparation of programs
Offer input and suggestions about policies
Advise on furnishings and decorations for the Teen Mezzanine
Offer opinions on selected books that we are considering adding to our collections
Promote the Library as a great place to be, to work, to study, and to read
Meetings are held one Friday a month from 17h30-18h30, at The American Library in Paris. Applications for the 2023–2024 closed on 31 July 2023 and will open again in the spring for the 2024–2025 Teeen Advisory Group.
Questions about the Library's collections and programs for teens can be sent to Children and Teens Services Manager Celeste Rhoads: celeste@americanlibraryinparis.org.
We are an independent, nonprofit organization. With your continued support, we are able to provide over 200 programs each year for ages 0–18. If you would like to support the Library, you can
donate here
to help sustain this vital institution, and programs such as this one.