The Library's Advisory Group offers an opportunity for teens ages 12–18 to get a closer look at the behind-the-scenes work of the Library, while meeting other bookworms in the community.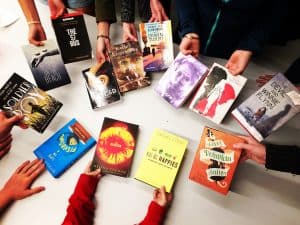 CLICK HERE TO APPLY FOR THE 2021-2022 TEEN ADVISORY GROUP.
Members of this group provide valuable feedback to the Library while earning community service hours! Teen group members are asked to offer opinions and suggestions about Library collections, teen programs, policies, and more. In the past, group members have participated in activities such as interviewing authors during public events, selecting furniture for the Library's Teen Mezzanine, and deciding on genre categories for the young adult fiction collections.
Members of this club are also offered a selection of books that are under consideration for the Library's young adult collections, but which the Children's and Teens' Services staff would like teen input on for a variety of reasons. Group members read these titles and present them for discussion. It is important to note that while opinions are valued, group members are not selecting books for the Library's collections, however members provide valuable feedback. The Teen Advisory Group discusses the merits of each presented book during monthly meetings, and how each title fits into the Library's collections as a whole. Children's and Teens' Services Manager Celeste Rhoads facilitates each meeting, and takes notes on all of the comments and feedback to then decide whether to add these books to the Library's collections.
Meetings are held one Friday a month from 17h00-18h30, or virtually as necessary, and members of the group are expected to commit to attending all meetings. Meetings will be held on the following Fridays for the 2021-2022 season: 10 September, 8 October, 19 November, 17 December, 14 January, 11 February, 11 March, 13 May, 8 April, 10 June.
If you are interested in joining the 2021-2022 Teen Advisory Group, fill in the ONLINE APPLICATION by 31 July at 23h00. You can expect to write one to two paragraphs about your reading, and why you would like to join the group.
CLICK HERE TO APPLY FOR THE 2021-2022 TEEN ADVISORY GROUP.
Questions about collections and programs for teens can be sent to the Library's Children's and Teens' Services Manager, Celeste Rhoads: celeste@americanlibraryinparis.org.
We thank you for your continued support and for being a part of the Library community! If you would like to support the Library, and programs such as this one, you can donate here to help sustain this vital institution in its 100th year of service.