The American Library in Paris Book Award
Honoring literature. Interpreting France.
The 2023 Shortlist
Five titles have been selected for the shortlist of the 2023 American Library in Paris Book Award.
A screening advisory panel chaired by Rachel Donadio, the award's administrator, selected the shortlist from a longlist of ten titles.
All sixty-three submissions for the 2023 Book Award are in the Library's circulating collection and are available for checkout by members.
The winning title will now be selected from the shortlist by an independent jury: Lauren Groff (Chair), award-winning novelist; Doan Bui, award-winning French writer and journalist; and Sudhir Hazareesingh, historian, academic, and 2021 winner of the American Library in Paris Book Award.
The winner will be announced at an invitation-only ceremony in Paris in November. Find out more here.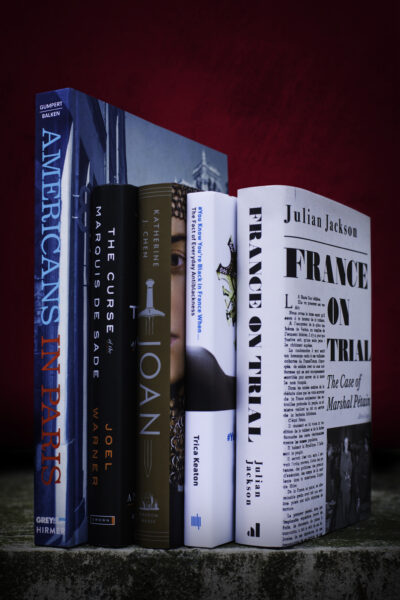 THIS YEAR'S SHORTLISTED TITLES ARE:
Americans in Paris: Artists Working in Postwar France, 1946–1962
by Lynn Gumpert and Debra Bricker Balken, eds. (Grey Art Gallery, New York University, and Hirmer Publishers)
Illuminating essays on the various circles of artists who lived in France following World War II, to accompany a forthcoming exhibition.
The Curse of the Marquis de Sade: A Notorious Scoundrel, a Mythical Manuscript, and the Biggest Scandal in Literary History
by Joel Warner (Crown)
The true story of how an infamous manuscript landed at the heart of one of the biggest scams in modern literary history.
France on Trial: The Case of Marshal Pétain
by Julian Jackson (Allen Lane UK / Belknap Press USA)
A gripping analysis of how Pétain's three-week trial sheds light on one of the most controversial periods of twentieth-century French history.
Joan: A Novel
by Katherine J. Chen (Random House USA / Hodder & Stoughton UK)
A thrilling, feminist reimagining of the life of Joan of Arc, from her childhood until her capture.
#You Know You're Black in France When…: The Fact of Everyday Antiblackness
by Trica Keaton (MIT Press)
A groundbreaking study about everyday antiblackness in an officially race-blind France.
Congratulations also go to the five other titles which made the 2023 longlist:
Barnave: The Revolutionary Who Lost His Head for Marie-Antoinette
by John Hardman (Yale University Press)
The French Resistance and Its Legacy
by Rod Kedward (Bloomsbury Academic)
Kiki Man Ray: Art, Love, and Rivalry in 1920s Paris
by Mark Braude (W. W. Norton & Company USA / Two Roads UK)
Paris and her Cathderals
by R. Howard Bloch (Liveright)
Unmaking Sex: The Gender Outlaws of Nineteenth-Century France
by Anne E. Linton (Cambridge University Press)
The 2023 Jury
Doan Bui is a French writer and journalist for the news magazine L'Obs. Born in le Mans to parents who emigrated from Vietnam, she is a 2013 recipient of the Albert Londres Prize, France's equivalent of the Pulitzer Prize, for her work on refugees. She has won or been shortlisted for many other prestigious literary awards.
Lauren Groff (Jury Chair) is the author of six books, including three National Book Award Finalists: Fates and Furies, Florida, and Matrix. She has won the Joyce Carol Oates Prize, the Story Prize, and Madame Figaro's Grand Prix de l'Héroïne. Her fifth novel, The Vaster Wilds, will be published in September 2023.
Sudhir Hazareesingh was born in Mauritius and teaches Politics at Balliol College, Oxford, UK. He has written about French political, intellectual, and cultural history, from the Revolutionary era to the present. His recent book Black Spartacus: The Epic Life of Toussaint Louverture (2020) won the 2021 American Library in Paris Book Award.
About the Book Award
The American Library in Paris Book Award honors a title that best realizes new and intellectually significant ideas about France, the French people, or encounters with French culture. Qualities considered in submitted works include literary merit, depth of insight, and originality. The Book Award considers works in all genres, published originally in English.
The Book Award was launched in 2013 and carries a $5,000 prize, which is supported by generous funding from the Florence Gould Foundation. The past recipients of the prize reflect the diversity of intellectual and literary output that the Book Award seeks to recognize.
The Library thanks the prize's generous Patrons: Mary Duncan, Jeanne Fellowes, Clydette de Groot, Suzanne Justen, and Usha Viswanathan.
Submissions for the 2024 award will open on 1 November 2023 and close on 1 May 2024, for books published between 1 July 2023 and 30 June 2024 inclusive. Read more about the submission process.
Previous Years
2022: France: An Adventure History by Graham Robb
2021: Black Spartacus: The Epic Life of Toussaint Louverture by Sudhir Hazareesingh
2020: The Plateau by Maggie Paxson
2019: Hate: The Rising Tide of Anti-Semitism in France (and What It Means for Us) by Marc Weitzmann
2018: A Certain Idea of France: The Life of Charles de Gaulle by Julian Jackson
2017: The Novel of the Century: The Extraordinary Adventure of Les Misérables by David Bellos
2016: The Burdens of Brotherhood: Jews and Muslims from North Africa to France by Ethan B. Katz
2015: The Marquis: Lafayette Reconsidered by Laura Auricchio
2014: An Officer and a Spy by Robert Harris
2013: Embers of War: The Fall of an Empire and the Making of America's Vietnam by Fredrik Logevall