The American Library in Paris Book Award
Honoring literature. Interpreting France.
Submissions for the 2022 Book Award are now open. This year's submission deadline has been extended through 1 June 2022. More information about the award and how to submit is available on our Guidelines & FAQ page.
The latest news: our new Book Award Administrator
After nine years of remarkable stewardship, Charles Trueheart stepped down as the American Library in Paris Book Award Administrator in early 2022. To fill the role, the Library sought a candidate who shared Mr. Trueheart's exceptional intellect, passion for literature, love of France, and understanding of the Library's mission. We also hoped for a leader with unique perspectives and a vision for the future of the Book Award.
We couldn't be happier to announce that accomplished journalist and longtime friend of the Library Rachel Donadio has accepted the position of Book Award Administrator. She is already hard at work planning for the 2022 cycle in tandem with Book Award Coordinator Elliot Rambach and the screening committee. A warm and enthusiastic welcome to Ms. Donadio from the Library team.
Rachel Donadio is a Paris-based writer and journalist, a contributing writer for the Atlantic and a former European Culture correspondent and Rome Bureau Chief of the New York Times, where she began her career as a writer and editor at the New York Times Book Review. She regularly publishes textured feature stories and profiles at the intersection of culture and politics, as well as literary reportage and criticism. She has reported from more than two dozen countries and interviewed heads of state and major cultural figures, including four Nobel Laureates in literature. Her work appears in publications ranging from the New York Review of Books to Vogue. She has been a visiting Ferris Professor of Journalism at Princeton and was a juror for the 2020 American Library in Paris Book Award.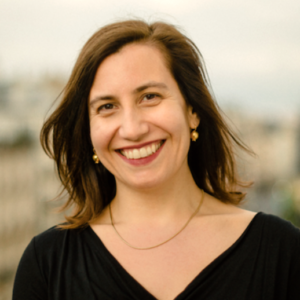 About the American Library in Paris Book Award
The American Library in Paris Book Award was launched in 2013 and carries a $5,000 prize, which is supported by generous funding from the Florence Gould Foundation. The past recipients of the prize reflect the diversity of intellectual and literary output that the Book Award seeks to recognize.
The Book Award honors a title that best realizes new and intellectually significant ideas about France, the French people, or encounters with French culture. Qualities considered in submitted works include literary merit, depth of insight, and originality. The Book Award considers works in all genres, published originally in English.
The Book Award follows a long tradition of showcasing and celebrating authors at the American Library. The Library was created in part as a memorial to a young American poet, Alan Seeger, who wrote the well-known poem "I Have a Rendezvous with Death" not long before he died in action in France in 1916. One of the Library's founding trustees was Edith Wharton. Ernest Hemingway and Gertrude Stein, among many other writers of note, contributed reviews to the Library's literary magazine, Ex Libris. Stephen Vincent Benét composed sections of John Brown's Body at the Library. Authors of every generation have worked and spoken at the Library: Ford Madox Ford, Archibald MacLeish, Colette, Henry Miller, André Gide, Anaïs Nin, James Baldwin, Irwin Shaw, James Jones, and Mary McCarthy, to name a few from the past. As the Library approaches its centennial, it remains the pre-eminent center in Paris for evening talks by prominent authors, artists, and other public figures.

2021: Black Spartacus: The Epic Life of Toussaint Louverture by Sudhir Hazareesingh
2020: The Plateau by Maggie Paxson
2019: Hate: The Rising Tide of Anti-Semitism in France (and What It Means for Us) by Marc Weitzmann
2018: A Certain Idea of France: The Life of Charles de Gaulle by Julian Jackson
2017: The Novel of the Century: The Extraordinary Adventure of Les Misérables by David Bellos
2016: The Burdens of Brotherhood: Jews and Muslims from North Africa to France by Ethan B. Katz
2015: The Marquis: Lafayette Reconsidered by Laura Auricchio
2014: An Officer and a Spy by Robert Harris
2013: Embers of War: The Fall of an Empire and the Making of America's Vietnam by Fredrik Logevall