And the 2015 YAFF winners are…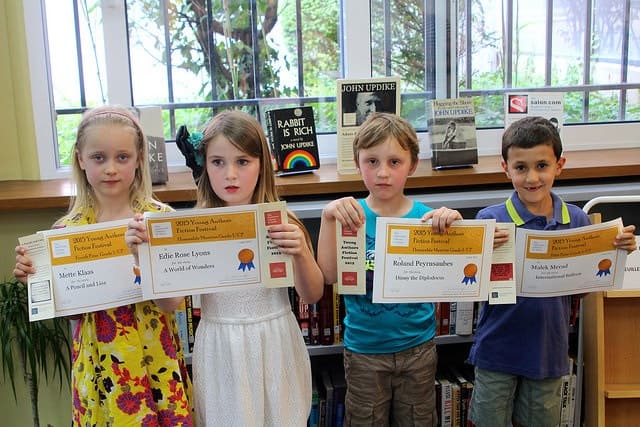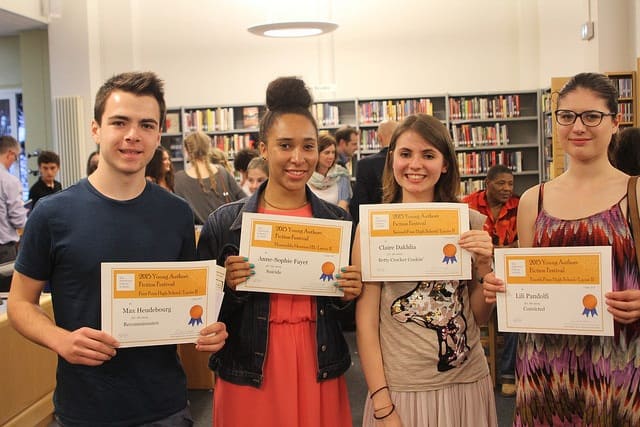 The 2015 Young Authors Fiction Festival culminated with a celebration event on Friday 5 June 2015. Over 220 people attended the celebration event, including the young author finalists, parents and teachers. Each finalist was awarded a certificate and many of them also received a bookmark with some comments from the judges about their stories. YAFF celebration booklets were printed that include the full stories of all the 1st to 5th place winners. Honorable Mention stories are also listed along with their authors. Each celebration booklet is available for 10 euros each.
This year we received 400 entries, our biggest intake in many years, from more than 25 schools, homeschooling programs and writing classes located in and around Paris. The Library thanks the forty-four judges participated this year, as well as the small but active YAFF 2015 committee who took care of all of the details along the way. The 2015 YAFF committee include Brooke Burns, Eric Hengesbaugh, Pauline Lemasson, Celeste Rhoads, and Jan Smith. Special thanks also goes to Poeli Bojorquez for the design of the celebration booklet and to director Charles Trueheart for his support and guidance.
The American Library in Paris is proud to be the organizer of the Young Authors Fiction Festival. The Fiction Festival aims to strengthen community among English-speakers in the Paris area through the art and craft of storytelling. The Festival is open to all students ages 5 to 18 in the greater Paris area who write in English.
We look forward to YAFF 2016, so until then…Happy Writing!
————————-
Photos above: Winners of CP/1st Grade (left) and winners of Seconde-Terminale/11th Grade-12th Grade.
Photo credits: Esther Chavannes
More photos of the 2015 Young Authors Fiction Festival Celebration Event can be viewed on the Library Flickr.
————————-
CP / 1st Grade
1st: Mischa, Sasha and the Ribbon by Faye Pilpoul
2nd: The Little Bird Becoming Strong by Agathe Younes
3rd: The Pigs Without a Name by Christian Vambenepe-Undseth
4th: A Pencil and Lisa by Mette Klaas
5th: The Museum and the Thief Emperor by Lorenzo Capra
Honorable Mention
A World of Wonders by Edie Rose Lyons
Dinny the Diplocdocus by Roland Peyrusaubes
CE1 / 2nd Grade
1st: The Magic Milkshake by Max Lewis
2nd: How my Boyfriend and I Built the First Time Machine by Lily Thébaut
3rd: The Cursed Sword by Hector Salathe
4th: John and Andre by Thomas Ravel
5th: The Awesome Shooting Star by Ekam Sharma
Honorable Mention
Sammy the Fish by Maximilien Poitier
The Three Little Wolves and the Big Bad Pig by Roli Oseragbaje
CE2 / 3rd Grade
1st: Hot Music by Luisa Peyrusaubes
2nd: Stone Couscous by Kaitlyn Jouin
3rd: Adventures in Time by Aidan Brennan
4th: The Mystery of the Missing Child by Emily Shelley
5th: The Perfect Color by Roman Blanco
Honorable mention
King of the World by Maho Katsumura
Mr Fluffy by Ryan Taoutaou
CM1 / 4th Grade
1st: Unconditional Love by Oscar Merlot-Reynolds
2nd: A New Way With Words by Ava Monahan
3rd: The Dream by Akina Viruega Minagawa
4th: Rocky's Roar by Cole Frost
5th: A Ride to Planet Savanna by Venise Hannoyer
Honorable mention
Ladder Ahoy by Saachi Jain
An Invitation for Mischief by Lauren Lendrevie
CM2 / 5th Grade
1st: On Polar Ice by Pascale Cartwright
2nd: Heart Breaking Island by Eve Dudoignon Valade
3rd: Portals by Jaya Docker
4th: Volcano Expedition by Alexandre Ravel
5th: The Secret by James Taoutaou
Honorable mention
How Cat's got Nine Lives by Andrew Andrew Sung
A Magical Secret by Annabelle Griffin
6ème / 6th grade
1st: When East Meets West by Nirali Jain
2nd: Reflections of a Wise Cat While Facing Danger by Pallas Aleta
3rd: Liberated by Elena Sofia Massacesi
4th: The gummy bear march by Alexandre Krantz
5th: Monster Plants by John Renaud
Honorable mention
Mystery of the Missing Necklace by Hunter Brooke
Bob the Cab Driver by Louis Stephens
5ème / 7th grade
1st: Troglodytic by Else Nye
2nd: Dying and Dead by Laure Depaty
3rd: The Dreamkeeper by Olivia Thomas
4th: A pigeon at my Window by David Hannoyer
5th: Monochromia by Phoebe Wilson
Honorable mention
The River's Secret by Daisy Bachofen
Venezia by Anaya Matthews
4ème / 8th grade
1st: Blackbird by Juliette Odolant
2nd: The Time Capsule by Sophie Kane
3rd: Clouds From Above by Matthias Hesselmann
4th: Crying For a Killer by Sophie Manning
5th: Life of Bob by Ronan Steensprang
Honorable mention
Penciled by Bruna Bobanovic
Where Reality Begins by Leanna Maharaj
3ème / 9th grade
1st: The Inner Workings of Coffee Drinkers by Anne Lee
2nd: Mr Merry by Luka Perkins
3rd: The Writer by Eliask Khait
4th: Chi's Revenge by Alessandro Colosio
5th: The Fat Bird by Yedam Lee
Honorable mention
What the Sewer Brought In by Jasmine McBright
The Tree by Alessandra Messeri
Seconde / 10th grade
1st: The Beach by Umay Ayan
2nd: Eddie Came Back Home by Hugo Doisy
3rd: Play Me by Marion Brunet-Parrott
4th: A Ghostly Holiday by Kate Védrenne
5th: Intruder! by Polly Dellière-Moor
Honorable mention
A Picture Worth A Thousand Words by Grace Manning
The Pencil by Mari Katsuno
Première et Terminale / 11th and 12th grade
1st: Reconnaissance by Max Heudebourg
2nd: Betty Crocker Cookin' by Claire Dakhlia
3rd: The trees felt it by Felix Keane
4th: Convicted by Lili Pandolfi
5th: Monsters and Mirrors by Paula Danne
Honorable mention
Suicide by Anne-Sophie Fayet
The Unfortunate Flirt by Auguste Voulton