It's creative writing season again! The Library encourages young authors ages 5-18 to sharpen their pencils (or put their fingers to the keyboard) and submit an original story to the Young Authors Fiction Festival. YAFF is a writing initiative that aims to strengthen community among English-speakers in the Paris area through the art and craft of storytelling. The Library hopes that even during the COVID-19 crisis, we can still be inspired and creative! YAFF is free to enter and open to all students ages 5-18 in the greater Paris area who write in English.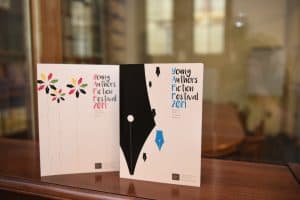 The deadline for YAFF submissions is 1 April 2020 by 22h00. When you are ready to submit your story, be sure to visit the Library's YAFF Page, select your grade, complete the submission form, and upload your story.  Learn more about the festival by watching our short YAFF video!
The top five stories in each grade are published by the Library in Celebration Booklets. If you enter YAFF, you have the chance of becoming a published author! The Celebration Booklets will be available for sale at the YAFF Celebration Event on 12 June at the Library and will be added to the Library collection for members to check out.
Where to find inspiration and help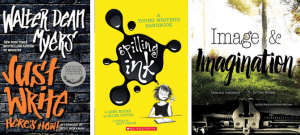 Check out our book recommendations for books to inspire writing and writers on our Pinterest page.
We often get asked by parents and teachers: "Can I, should I, help my young author?" The answer to this question is an unequivocal "YES!" It's okay to offer guidance to your young author.
Real working authors seek guidance all the time, from critique partners to agents and editors to family and friends. Young Adult author Sarah J. Maas gives her tips about writing, editing, and receiving criticism in a blog post. You can also watch an interview with popular children's authors Jacqueline Wilson and Lauren Child, who share their writing tips. 
No writing can mature in isolation. So, parents and teachers, please feel free to help. However, the key is to not do for your young authors, but to guide them so that they may do for themselves. Authors, remember, you can ask for help from your teacher, parent, friend, or librarian! 
Some tips for editing
Read it out loud.

Take a break and come back to it later.

If you have handwritten it, please type it up!?Parents are welcome to type up stories for their young authors.

Don't repeat yourself – unless it's for a particular effect.

Check your punctuation and spelling.

Rewrite words and phrases.

Make sure your story follows the guidelines for submission.
To help you guide your young author in the creative writing process, check out the advice from the Children's Librarians on editing and revising stories.
Virtual workshop and more from the Library
Children's and Teens' Librarian and YAFF Coordinator, Kirsty, will be hosting a virtual workshop on Tuesday 24 March at 14h30, to go over the YAFF guidelines and techniques for editing and revising your story. You can register here. 
For information or queries regarding YAFF, please don't hesitate to get in touch via email at yaff@americanlibraryinparis.org.
For information about the Library's programs and collections for children or teens, please see the online calendar,or contact Children's and Teens' Services Manager Celeste Rhoads at celeste@americanlibraryinparis.org.
Happy writing!