Our Teen Author Smash was a success! OK we might be a bit biased but we think everyone who attended enjoyed the evening. Our staff, volunteers and the 24 authors who participated certainly did. In total about 100 people were packed into our Reading Room for the event and if you weren't one of them you missed an exciting evening.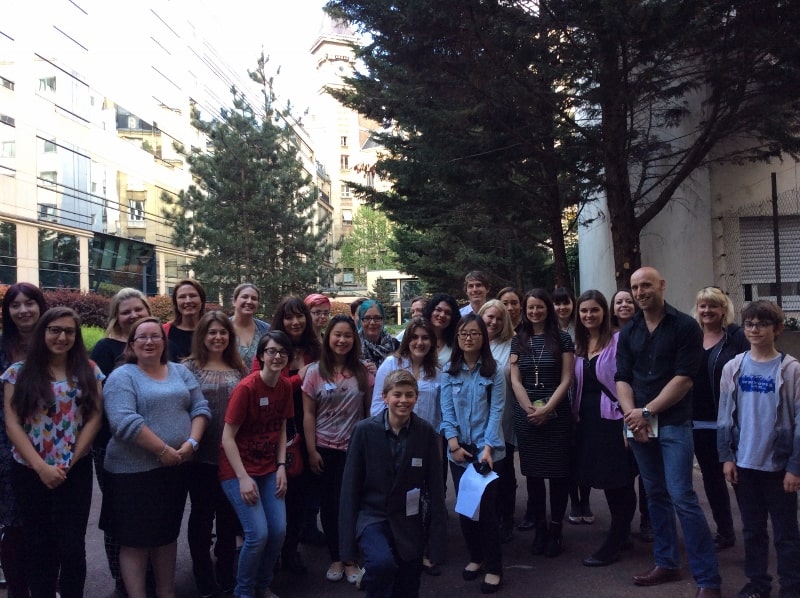 (Our guest authors and Teen Writing Group members before the event)
Authors Amy Plum, Brodi Ashton, Lenore Appelhans, Jeanette Battista, Jessica Brody, Tera Lynn Childs, Zoraida Cordova, Bree Despain, Corinne Duyvis, Kevin Emerson, Molly Harper, J.R. Johansson, Morgan Matson, Claire Merle, Kate Ormand, Crystal Perkins, Mark Pett, Tom Pollock, Lissa Price, Carina Rozenfeld, Lori Ann Stephens, Amy Tintera, Tioka Tokedira and Emma Trevayne were all in attendance! While some are based in France, most came from America or the UK while one author came from Germany and another from the Netherlands! We were very excited that they could all come – most from very far away – and that they all wanted to spend time at the Library and take part in our event while visiting Paris.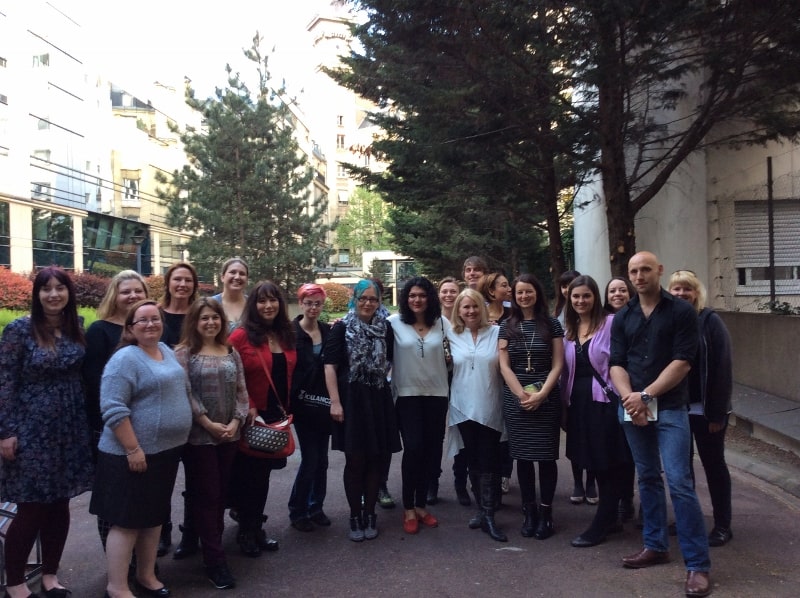 (Our guest authors)
Before the event our teen volunteers, Julien Dupin, Maddie Lee, Julia Brahy, Julia Connelly, Francis Botwey, Erik Stylianidi, Molly Griffiths, Jinny Hur and Marina Vernick met all the authors "backstage" at the Library and gave each a personalized tour of the Library. Our teens were very excited to be taking center stage and we were very happy to let them.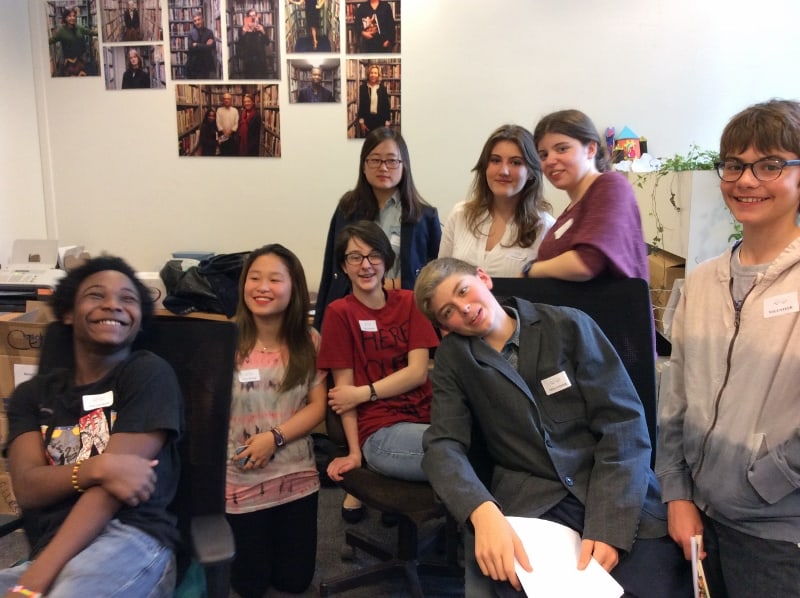 (Teen Writing Group members before the event)
Library Director Charles Trueheart opened the event before handing over to our Children's and young adult services Manager Celeste Rhoads and author Amy Plum who organized the evening. Celeste and Amy ran through the events program and explained the event before the Library's Teen Writing Group Members took over hosting the event. Maddie was first up to introduce the first 5 authors and time their speed reading. Julia B, Julia C, Francis and Erik then took turns to introduce authors and time them reading 1 minute of their work they had chosen to share. When the buzzer rung time was up! An entertaining part of the Speed Reading was "Authorstrator" Mark Pett 'reading' his wordless book "The Boy and the Airplane". Once each author had been introduced and read their excerpt we moved onto the question part of the evening.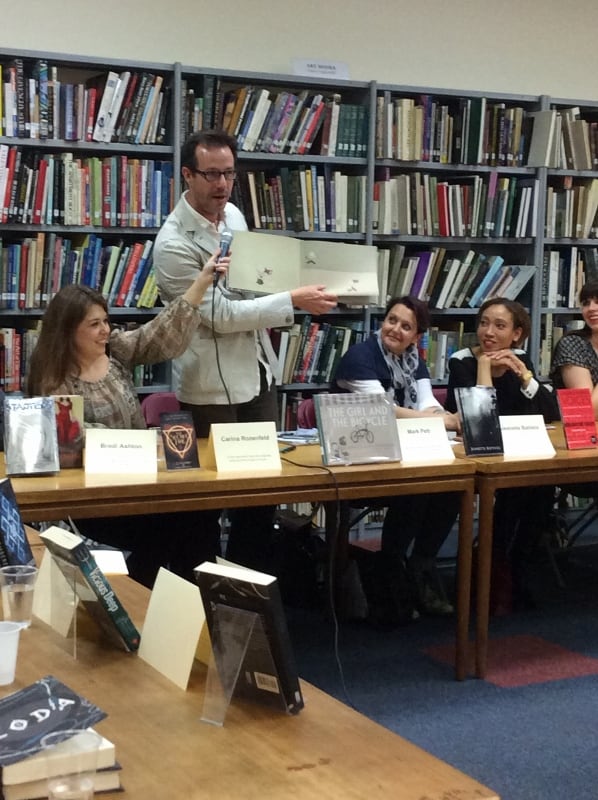 (Authorstrator Mark Pett "reading" his picture book)
Our authors were all good sports, taking a turn in our 'hot seats' to answer questions after being picked at random out of a hat by teen volunteers Molly, Jinny, Erik and Marina. The Teens asked questions about how the authors got published or why they started writing and the authors had to answer in less than one minute. The question 'Are you a Plotter or Pantser?' (whether the writers plot out their story or see where the story takes them) got some great responses. Carina Rozenfeld stated "I like my character to take my hand and show me the way" and Tioka Tokedira gave the advice that "There's nothing wrong with exploring whatever is the best way to get your project done". Any budding authors in our audience got some great advice from our authors' answers.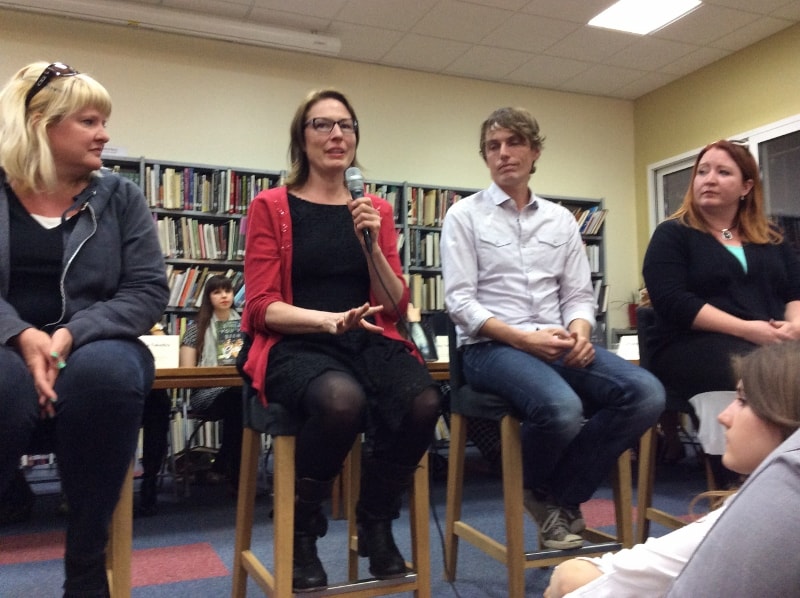 (Guest authors in the "hot seats")
We then picked a question submitted by a member of our audience out of a hat which the authors then had to answer in 5 words or less. This was the tricky part of the evening but very enjoyable! Serious thought had to be given to answer quickly but concisely when on the spot! Our audience members' whose questions were picked were given prizes kindly donated by the authors.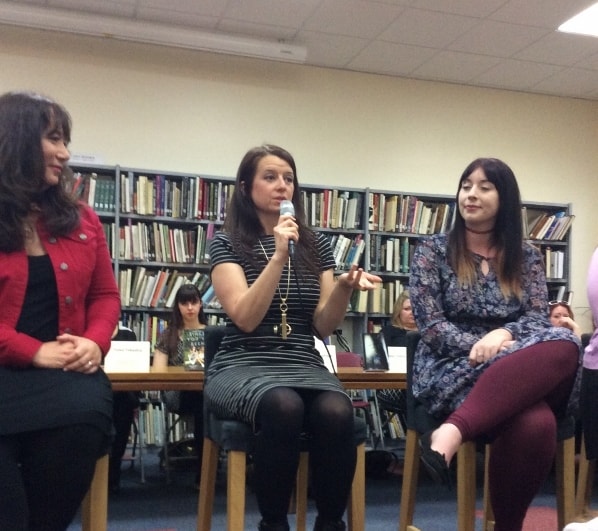 (Bree Despain answering a question from the audience)
There were more prizes to be won for audience members who completed our Scavenger Hunt filling in fun facts about each author that were hidden on their name cards. After all of our questions were answered the audience members had time to get their books signed by the authors and speak to them one on one.
This was the most exciting part of the evening for fans that came to meet their favorite authors. We even had fans come from the Netherlands especially for the event! A special big thank you goes to our all volunteers who helped with the event and especially to the teens who did such an amazing job hosting the majority of the evening!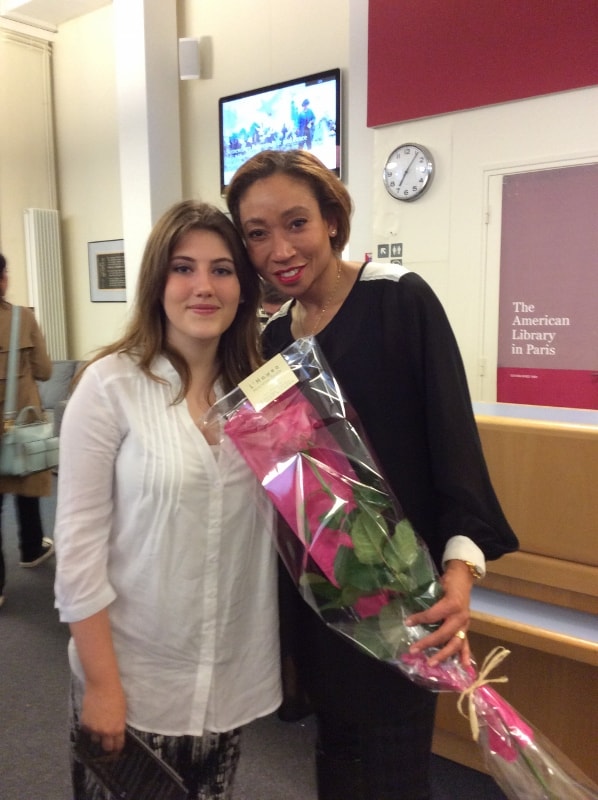 (Teen Writing Group member Julia Brahy and author Tioka Tokedira)
If you missed the event we have more of the fantastic pictures taken throughout the night by staff members and volunteers that have been posted on our Teen Facebook page
and our Twitter page
so you can check them out! If you're interested in any of the books by the authors that attended we have lots of them available in the Library YA section to check out. Also keep an eye on our program for the authors we have hosting our Teen Writing Group – you may recognize some familiar names and faces, and our other great events for children and teens.