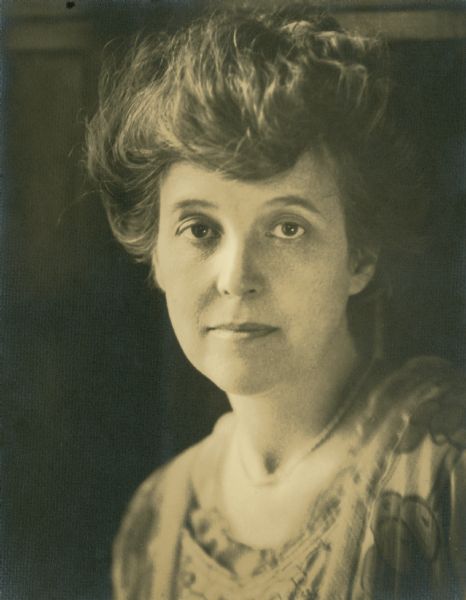 Why Zona Gale?

People often ask us, "Who's the author of your next story?" With In Friendship, which performs this Thursday 27 March and Friday 28 March at the Salle Adyar, the answer is Zona Gale. And the next question is always, "Who?" Few today have heard of this remarkable writer, the first woman to win the Pulitzer for Drama, and a renowned writer at the time of her most prolific writing, in the early part of the 20th century. A contemporary of Edith Wharton and Willa Cather, she is all but forgotten today.
When Word for Word was looking for material to celebrate our 20th Anniversary, we needed something that could feature the nine women of the founding company. This is a tall order, especially as, twenty years after our founding, we are all women of a certain age. We found Zona Gale, a Midwesterner, who left her small Wisconsin city in 1901 to enlarge her horizons in New York. Deciding to return home eleven years later, she determined to write from what she observed around her: the quotidian life of her small-town neighbors. This coincided with her growing interest in social activism, ranging from civil rights to conservationist, women's rights, and opposition to the death penalty.
She always retained her sense of humor. When she was asked if she was ever ashamed of anything she wrote, she responded "Not as often as I should be."
Our fictional Friendship Village was based on Gale's hometown of Portage, Wisconsin. Though she began her stories with "parlor politics", she soon extended her village themes to include those progressive interests which were so important to her.
In Friendship, our latest presentation, begins with a gathering of a small charity committee of the Friendship Married Ladies Cemetery Improvement Sodality. The word "sodality" has fallen from usage, but it means a social group formed to work toward a common interest, based on the Latin words for comrade and fellowship. Our own Word for Word is a sodality. At the heart of all of Zona Gale's Friendship stories, was her profound belief in "…the extended hand of friendship that sustains the spirit and the union of sodality that makes things possible." This has been our experience in Word for Word's twenty years of theater-making, and particularly our experience with all of the warmth we have received from our audiences in our nineteen years of touring France. It is in gratitude for this that we present our stories "In Friendship" to our audiences in Paris.