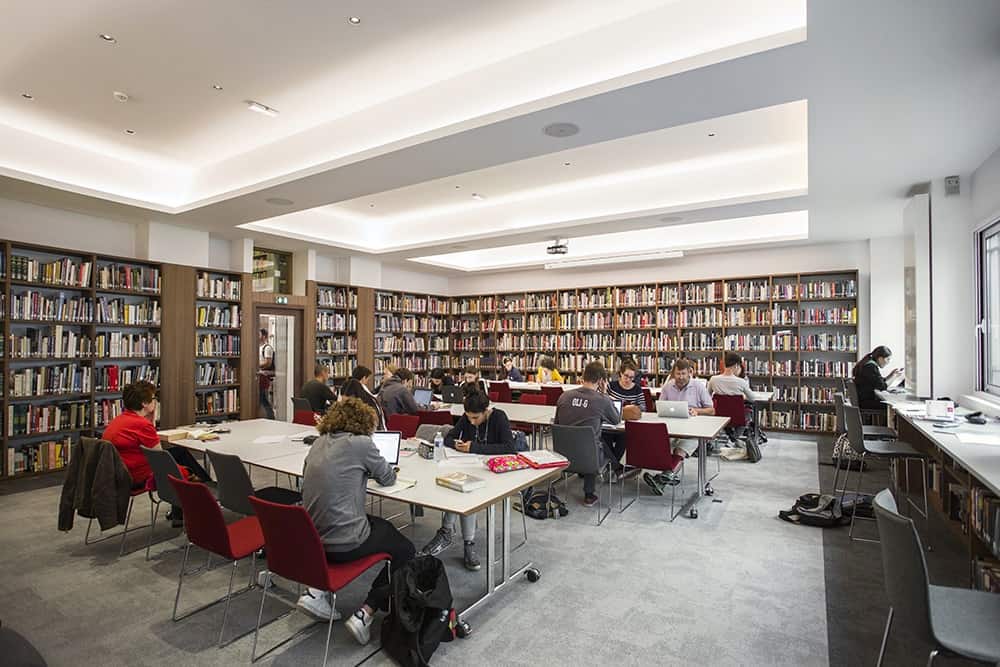 The American Library in Paris offers a comprehensive range of English-language materials and academic digital databases that suit the needs of students and faculty from universities, study abroad programs, bilingual and international schools, French lycées with the competitive OIB Anglophone section, and English language schools.
The American Library in Paris, established in 1920, hosts one of the largest English language circulating collections on the European continent with 100,000 English-language books and magazines. The Library also boasts a wide array of digital resources, including: EBSCO, JSTOR, ProQuest Ebook Central, World Book Encyclopedia, RBdigital, OverDrive, and The New York Times.
Located near the Eiffel Tower, the Library is the perfect place to study, whether alone or in a group, with a sound-proof reading room, conference room (for 12 people), two study rooms (for 4 people), and a second reading room (for up to 50 people). Reference librarians are available for research assistance. The Library has extended hours on Thursday evenings and is open Sunday afternoons.
Many lycées, colleges and universities operating in and around Paris benefit from discounted  institutional memberships tailored to the academic calendar and the needs of each institution.
To learn more about institutional memberships, please Communications and Outreach Manager Carolyn Lenske Dubol at dubol@americanlibraryinparis.org.
Institutional Membership Benefits
The American Library in Paris, in operation since 1920, is an independent, non-profit institution which offers its members access to over 100,000 books, inviting reading rooms and study/works spaces in the heart of Paris, and unparalleled programming for the entire family. Institutional membership has all the benefits of Library membership, including:
Borrowing privileges from our collection of 100,000+ books for all ages
Access to digital databases including e-books, digital magazines, scholarly resources, and a language-learning suite – accessible online from anywhere in the world
Research assistance
Use of two reading rooms, a conference room, a children's library, a teen mezzanine, and an A/V equiped classroom
Participation in popular book groups, conversation exchanges, workshops, and seminars
For a full listing of Library membership benefits, check here.
Another benefit of institutional membership is each partner school/institution receives one orientation per semester. The Library offers a variety of orientation formats that can be adapted to your students' needs.
The Library offers a variety of orientation formats that can be adapted to suit your students' needs. There is no orientation fee for partner schools/institutions that purchase memberships for their students and faculty. For all others, there is a flat fee of 35€ and 5€ per student. Please allow a two-week advance notice for Library orientations. To schedule a Library orientation, please contact Carolyn Dubol: dubol@americanlibraryinparis.org
Here are the Library orientation formats:
Welcome to the Library
(30 mins for 8–20 people)
General overview of Library history
Overview of Library programs and resources
Tour of the Library
How to join/support the Library
How to Use the Library's Research Resources
(45 mins for 8–40 people)
General overview of Library history and programs
Using the Library's collection and facility
Getting started with Library e-resources (how to login, conduct advanced searches, set up alerts, cite your sources, etc.)
Library Scavenger Hunt
(60 mins for 8–25 people)
Fun and interactive Scavenger Hunt through the Library
Adapted for ages 8–12 or 12–18
Welcome to the Library Story Hour
(45 mins for 8–30 children)
General overview of libraries
Interactive storytelling with age-appropriate material
Adapted for ages 3–5 or 5–8