Alexander Lobrano and Clothilde Dusoulier talk about French food and more…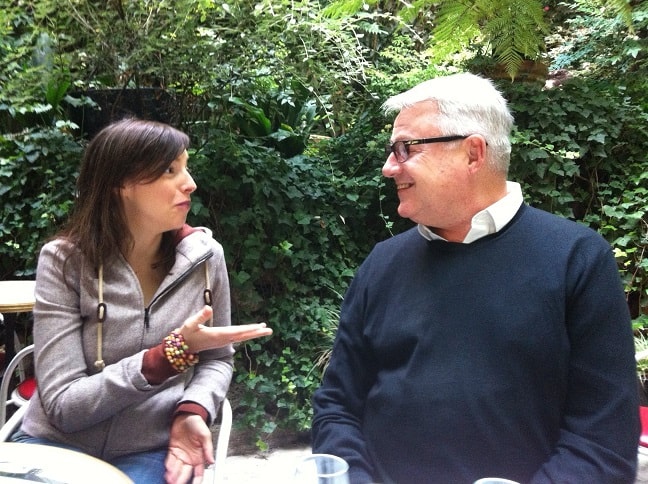 Food writers and bloggers Alexander Lobrano and Clothilde Dusoulier met with Library staff at Hotel Amour restaurant to talk about their recently published books, Hungry for France: Adventures for the Cook & Food Lover and Edible French: Tasty Expressions and Cultural Bites, respectively. Here are excerpts from their conversation over coffee, Perrier and orange pressé.
Clothilde: The spark for [the book] came with dinner with friends, with American friends six years ago. And the menu was decorated with some of these expressions and just the cover of the menu had these different types of expressions in different kinds of handwritten styles. And we just had fun while we were waiting for our food with my friends. I tried to translate them, tried to say why we said it that way and we tried to find English equivalents. And one of my friends said, "This could be a good idea for a blog post." Initially I had wanted to compile one big post with all those expressions but I had such a huge list within a few weeks that I decided to focus on one at a time. So I started a series. I kept the series going for a few years. I think it was 2 years ago now, that Mélina, she's a French woman but she lives in London. She got in touch with me and she said, "You know I do watercolors of food and I love your Edible Idioms series on the blog. And would you like me to illustrate them?" So she did a few, and I said, "You know what? Stop. Because we're going to turn this into a book." And I had always wanted to because the reaction to those posts had always been so enthusiastic. I tend to have, and I don't know if you feel that way with your blog, but I feel like my readers share both my love of food and of language and languages. And this was a great way to make those two interests meet. And I had always thought that it would make a good book but the visual element was the one that was the piece that was missing. Just a wordbook of expressions, it would be interesting but it wouldn't have the same vibrancy.
Alexander: I think one thing is that everybody attracts a different audience. I had a lovely message from some Australian banker the other day and he said, "when I see you've posted something it's my little treat because you tell a story." He said, "I love food, I love restaurants, and you're never just writing a restaurant review there's always much more going on." He said it was like a little keyhole into another life, a very appealing and interesting other life. And I think that that's another interesting subject. I think that there's just so much in the air right now. And finally it looks as if food is falling apart in France. And this article metronome of French food isn't very good anymore. All of a sudden, very recently starting to see articles that actually catching up with the reality of what food is like in Paris. That's something I look forward to talking a lot about through our event because I think that that cycle of going from the old British expression that, "You can't get a bad meal on the other side of the Channel" to French food isn't any good anymore. In that there was always this, sort of, chastising scolding, that they were always too fancy for their own good anyway.
Clothilde: Yeah, like, serves them right!
Alexander: I think the reality is much more nuanced. And it's a really interesting subject because if people eat well in Australia, Canada, UK, and US today it is because France has been so successful at exporting its idea of gastronomy and gastronomic cuisine to the rest of the world.
Clothilde: I think that something big in the French culinary culture is the transmission. It's the idea of passing something over. But I think it's because it's usually careers embraced by very young students who leave regular school system and start at 14. There's really that sense that it's older men training younger men and teaching them everything. Not just about food but also about life because they're 14. So I think there's a very strong parent-child relationship between an apprenti and his maitre d'apprentissage. And there's that very strong sense of responsibility from many French chefs that it's their job not just to run the restaurant but also to teach and inspire a young generation.
Alexander: It's in such contrast too when you look at the culinary landscape was in America where it was for a long time outside of hotel kitchens cooking was female and the fact that it was taught in school as home economics. What a poisonous, sad, ugly thing is that?
Clothilde: It reflected a real situation of if the day you get married you had no idea how to run a household and you up and spends everything that your husband earns on silly things and wasting stuff, that's not good for society.
Alexander: Or if you don't know how to make a nice meatloaf he might go next door. You had better be careful! [laughs]
Clothilde: And she actually took home economics! [laughs]
Join Alexander Lobrano and Clothilde Dusoulier at the Library on
Tuesday 14 October 2014
as they discuss writing about French food. Book sales and signing follow.