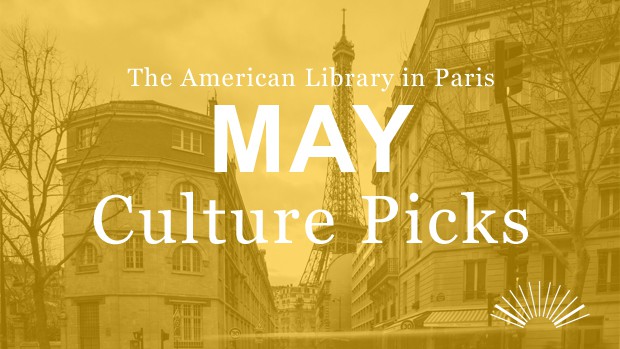 The American Library in Paris is pleased to share our selection of cultural events going on in the city each month. May is officially "do as you please" month! We've invited art historian Emmanuelle Day to curate this month's Library Culture Picks. Emmanuelle has chosen to focus on the great sculpture exhibitions going on in the city at the moment, including the incredible Rodin Centennial exhibition, Picasso and primitive art, and a rather ground-breaking exhibition on contemporary sculpture at the newly renovated. Monnaie de Paris. As always, we've selected some books from our collection to go along with your cultural visits. Happy visiting and reading!
Library Culture Picks: May 2017
WHAT: RODIN CENTENNIAL (exhibition)
WHERE: GRAND PALAIS
WHEN: 22 MARCH 2017 – 31 JULY 2017
The Centennial Exhibition at the Grand Palais looks at Rodin as a visionary and precursor to Modern Art movements and includes the works of Picasso and Brancusi. The exhibition also highlights the scandals that the sculptor generated with his assemblages and the expressive force of his work. Rodin was a humanist who excelled at creating emotion by working on the formal qualities of sculpture, scale, and proportion.
Recommended books to read from the Library collection:
……………………………………………………………………………………………………………………………….
WHAT: PICASSO PRIMITIVISM (exhibition)
WHERE: QUAI BRANLY MUSEUM
WHEN: 28 MARCH 2017 – 23 JULY 2017
The influence of African and Oceanic art on Picasso's work is legendary. This seminal exhibition brings together letters, objects, and photographs by the artist to illustrate the enduring influence of non-Western sculpture on Picasso's art during the span of his career. In addition, the exhibition establishes an aesthetic dialogue between Picasso's work and non-Western artworks in the Quai Branly's collection to address the theme of Picasso's relationship to the concept of "primitivism."
Recommended books to read from the Library collection:
……………………………………………………………………………………………………………………………….
WHAT: FLOOR-NAMENTS (exhibition)
WHERE: MONNAIE DE PARIS
WHEN: 31 MARCH 2017 – 9 JULY 2017
As part of the 40th anniversary of the Centre Pompidou, this exhibition of contemporary sculpture from the Pompidou's collection is an exploration of sculpture in the "expanded field" which encompasses practices as diverse as land art and performance art. As the title of the exhibition suggests, the sculptures are not presented on pedestals, but placed directly on the floor. A rare occasion to follow the development of contemporary sculpture with key works of art from Duchamp to Giacometti to Yves Klein.
Recommended books to read from the Library collection: