The Library is pleased to present the Culture Picks for the month of June, curated, researched and written by Library volunteer Mike Duffy.
June Culture Picks by Mike Duffy presents sharply contrasting artistic visions of domestic interiors and the outdoors in the works of late 19th Century Frenchmen (The Nabis and Decor, Bonnard, Vuillard, Maurice Denis…at Musée du Luxembourg) and a Danish contemporary of theirs (Hammershøi, The Master of Danish Painting at Musée Jacquemart André). The former are all about comfort and happy life at home and in the garden, while the latter paints seemingly solitary homelife in muted grays and browns. In addition, as the summer begins, contemporary Japan provides an engaging game-like experience for children (Monsters, Manga and Murakami at Le Musée en Herbe), a fantasy life outside of homes and gardens. Paris in June allows us to jump centuries, continents, styles, from magical, mysterious and monstrous to quiet, reserved, in grays and browns, to colorful, flowery and bright and then to realize that Japanese Manga can also be bright, flowery and colorful but rarely reserved.
As always, we've selected books from our collection to go with the cultural visits. These books are displayed in the Members' Lounge and available to be checked out.
Guest blogger: Mike Duffy lives in Paris following his retirement from a career in university teaching and management. He spent his first 30 years in Pennsylvania (born in Pittsburgh, college and grad school in Philadelphia), then spent a bit more than that in California where he taught accounting and finance at the Universities of California (Berkeley), Southern California and San Francisco. He can now be found in art museums, historic sites, and concert halls throughout the city.
---
MONSTERS, MANGAS, AND MURAKAMI
LE MUSÉE EN HERBE
Through 22 September 2019
For the summer and, indeed, for months beyond Le Musée en Herbe offers Monsters, Mangas and Murakami, a monstrous exhibition for people 3 to 103 years old. This exhibition is most alive and fun when it is made into a game for children by the outstanding guides who lead small groups through the rooms on a pictorial scavenger hunt. The scrolls, prints, manga boards and figurines present images, both directly and in hiding, for kids to find. Flowers with faces, the cult-figure super hero Astroboy, monsters and funny pictures fill out the four rooms of the museum. I watched a group of 3 to 5 year olds happily engaged in looking at and talking about what they were seeing. Some families opted to take the guide books and do the searches themselves while 8-to-11 year olds appeared satisfied to sit and read sample Manga and graphic books. What is it that captivated these boys and girls?
Of course, monsters capture the imagination of many children, but here it is the presentation through Manga and artwork that creates an especially rich environment. Manga is a form of graphic storytelling with historical antecedents and contemporary progeny. Pictures rather than words tell stories on Egyptian temple walls, Greek vases, Roman mosaic floors, stained glass windows and in both 9th and 19th Century Japanese pictorial tales. Modern comic strips, cartoons and graphic novels continue this rich tradition of using rather flat, often black and white, images to propel a narrative with little use of words. Expressive faces, large eyes which can convey love or fear, broad vaudeville gestures, conventional figures—these are the tools of the artists and storytellers in Manga and related forms. By the start of this century, close to half of all books and magazines sold in Japan were Manga, with its good-versus-evil, battle-filled, sometimes sexual, boy-oriented content, although now Manga are also written with female superheroes. (Interestingly, France is second only to Japan in sales of Manga.)
The very popular (and successful) artist Murakami Takashi (b. 1962) works in graphic storytelling, in complex and colorful designs, in sculpture, video, advertising, and above all, in commercializing his highly developed Pop-Art sensibility. On display here, a pretty, geometric pop-floral design carries a subtle environmental message, while in other work (not on display), he has worked on videos for Kanye West and Pharell Williams as well as on handbag design and merchandising display for Louis Vuitton. Like Andy Warhol whom he idolizes, Murakami recognizes no boundaries between art and commerce, seriousness and fun and in this exhibition a sculpture, Manga story boards and figurines delight with Murakami's inventive imagination. Also like Warhol, Murakami works with others with a cooperative, Kaikai Kiki, through which a team realizes works that Murakami designs. This also resembles the methods of contemporary artist Jeff Koons as well as that of mid-20th Century Victor Vasarely. Along with Warhol, Koons, and Vasarely, Murakami transcends traditional ideas of what art is and what an artist is to create signature Pop Art, Op Art, Manga images and figures.
Advance planning for a visit to Le Musée en Herbe will pay off. The guided groups for children were sold out through advance reservations when I visited, and the staff suggested calling several days ahead of your reservation if you would like some English language accommodation. For me, somewhere between 3 and 103, this experience was an introduction to several artistic expressions that I usually pass by quickly and a reminder that even the youngest among us can be thrilled and enchanted by the imaginative work of creative geniuses. Monsters, Mangas and Murakami, your kids will love it.
Recommended books from the Library collection: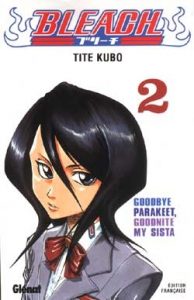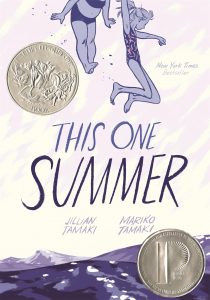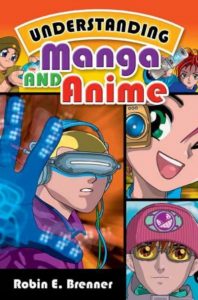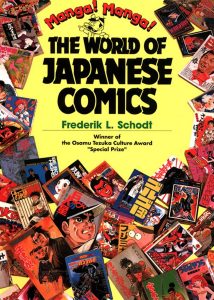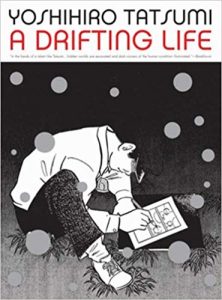 ---
THE NABIS AND DECOR — BONNARD, VUILLARD, MAURICE DENIS…
MUSÉE DU LUXEMBOURG
Through 30 June 2019
The Nabis and Decor — Bonnard, Vuillard, Maurice Denis…at the Musée du Luxembourg presents lively, colorful, interesting, little known works by a group of artists who called themselves Nabis (prophets) at the end of the 19th Century. The works on display, mostly intended for private residences, focus on the home and garden, enclosed places of quiet refuge to be enjoyed away from the bustle of the late 19th century commercial world that created the wealth with which the burgeoning bourgeoisie bought beautiful contemporary paintings, dishes, notably modern wall paper and more. The approach of these artists, like that of their British contemporaries in the Arts and Crafts movement, was to integrate art with daily life, to span the divide between fine art and decor, to provide enjoyment more than, say, enlightenment or edification, and to reflect a world in which women were central, if reserved, figures. If their goals and subject matter were a bit revolutionary, their style and techniques were much more so as they strove to move beyond the realism of both official and orthodox artistic practice and that of their immediate revolutionary predecessors, the Impressionists.
The Edenic garden, without any note of Satan, Original Sin or even God, and the private, interior rooms of the family home emphasize comfort, an inward focus, a rather satisfied domesticity. Two sets of exceptional wall paintings by Édouard Vuillard illustrate the use of gardens and interiors to enhance dining rooms, studies, parlors and libraries of the friends, families and patrons of these artists. The intensely rich room in one of these sets portrays the very room in which they'll hang peopled by the demure readers who will be sitting in those rooms. The figures are absorbed, perhaps the entire enterprise is a bit self-absorbed. In these paintings, as with the exhibition as a whole save those in the final room, there is no hint of religion. There may be a touch of contemplation, but the deeply religious fervor or the mystical spiritualism of the times is absent from these home-bound efforts. The somber tones of the Vuillard interiors give way, though, to lighter, brighter colors in paintings by Maurice Denis, for example, the depictions of the four seasons for the bedroom of a young woman (with a subtle narrative about preparing for marriage) or those in twilight blue relating to love and motherhood for other bedrooms.
The women in these decorative works are pretty, fully clothed, mostly domestic rather than goddesses or virtues, and perhaps a bit mysteriously alluring but never erotic or suggestive. The four great panels by Pierre Bonnard present stylized, elongated feminine figures, precursors to the famous Mucha posters of Sarah Bernhardt of the mid-1890s. There is no depth in these depictions à la Japanese screens, and the paint is thick like that of the recently deceased Van Gogh. These women clearly would be more comfortable in the calendar and poster art world of Alfons Mucha than in that of the Basilica of Sacra-Coeur which was being built at this time. The title of a large work by Denis, Poetic Arabesque, hints at two important themes in its portrayal of four women seeming to climb a ladder. The figures (in fact, all four are his fiancé) are poetic (not realistic) presentations of women with gracious, curving lines. Like the women in the impressive, large sequence by Paul Ranson who happily pursue work and relaxation in the fields, Denis' women are wholesome. In the Ranson work, as in all of the works in this exhibition, there is no social commentary about field workers or others. Instead there are outdoor activities which support life (drawing water, working in agriculture) as would be appropriate for a family dining room.
In these works and others, the Nabis pushed themselves to be modern, depicting daily life, rejecting the exact representation of contemporary painters and the new artists of photography. The direct influence of Japanese prints, recently readily available in Paris, is evident throughout the decorative art of this group. The Japanese predecessors and these works often offer a pleasant fantasy. The simplified, key elements—figures outlined in black, lack of perspective so the presentation is flat, bold colors, indistinct features so the people are types not individuals — are, in fact, very well suited to ceilings, wall decor and dishes. In this exhibition, there is a display of Japanese prints which would have been available to these artists along with a not-to-be-missed set of excellent covers of art dealer Sigfried Bing's 1888 magazine, Le Japon Artistique in a glass case below the prints. These magazine covers, in vivid color, would have been seen by many artists and art collectors and show everyday life, women in gardens, thus, in style and theme showing the Nabis a way to create domestically oriented, beautiful images.
These artists created the works displayed here free of the demands of dealers, of the marketplace; they were free to paint in new styles and on any theme. Their subject matter was the home and not so much the philosophy, religion, science or nationalism that they and their contemporaries would incorporate in more personal or public works. This exhibition brings peaceful and rather pretty works which paint a picture of the satisfied lives of the bourgeoisie in styles that will evolve into nature-filled art nouveau, the sinewy style Mucha and the brightly colored modernist fauves. It is a treat to find all of this at the Musée du Luxembourg.
Recommended books from the Library collection: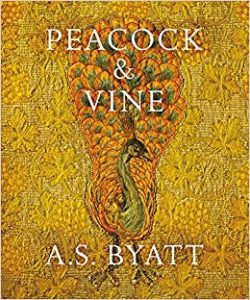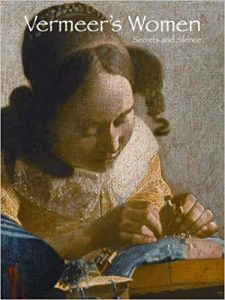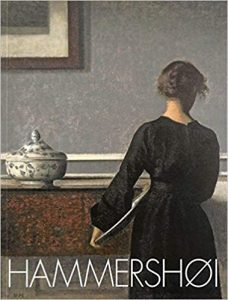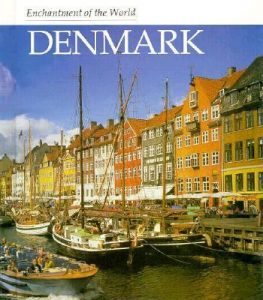 ---
HAMMERSHOI: THE MASTER OF DANISH PAINTING
MUSÉE JACQUEMART-ANDRÉ
Through 22 July 2019
After seeing Hammershøi, The Master of Danish Painting at Musée Jacquemart André you could conclude that Vilhelm Hammershøi's works are dark, depressing, based on the grays and browns with lone figures or no figures, and you would be half right, but only half, as this quintessentially Danish painter understands the wonder of faint sunlight coming through a window during seemingly endless winter.
In the first room, there are two paintings with several figures; this will be the last time you see people pictured together in the exhibition as Hammershøi paints single people, empty rooms and empty landscapes again and again. You will also see a slight smile on the face of one of the figures in Three Young Women (1895). That, too, will be the last you see as most of the figures in his paintings have their backs to you. Vilhelm Hammershøi (1864-1916) thought Five Portraits to be his greatest painting and it is both very modern and very 19th Century with the artist, his friends and brother sitting in a Last Supper-like setting, each seemingly without any relationship to the other. His single, large female nude in another room also betrays signs of modernism in its unflinching presentation of a human figure apparently exactly as she appeared with no brushing away any of the flesh. Yet these, to my mind, are not the important figurative works on display. Those are pictures of his wife, Ida.
In the next to the last room, all of the paintings are of Ida. She appears alone, mostly with her back to the viewer. In only one, Hvile or Repose (1905) does she seem to be a real individual, resting in a chair. It is, indeed, a lovely picture, but it is not typical of Hammershøi's repeated presentations of her. In picture after picture, Ida appears standing, alone, looking out a window or placing a cup on a table, always in their home, almost always from behind. The rooms are sparsely furnished and almost all without decorative elements, but what is glorious is the light coming through a window. While Hammershøi is often compared to another Northern European master of light shining into a room, Vermeer, it is the differences which are first noticeable. There is a color-filled vitality in the Vermeer works and a gray stillness in those by Hammershøi. Vermeer's works sparkle with all the glitter of the Dutch Golden Age, furnishings and clothing reflecting the wealth of the times and picture women facing the viewer. Hammershøi, in contrast, paints relatively bare rooms, a woman dressed in black facing away from the viewer. Yet, what they share is a sense of the importance and beauty of sunlight when it enters an otherwise dark home. (Another comparison might be to the work of American Andrew Wyeth who also painted plain interiors in a direct, realistic fashion.)
The final room, following the wonderful pictures of silent, still Ida, contains fantastic, utterly realistic paintings of the interior of the Hammershøi's home. Only one includes a person, the others allow us to see and understand what light must mean to those who live in far northern climes. Hammershøi often shows sunlight brightening a space just outside the doorway of a room, the sun streaming in through an unseen window, lighting up but not necessarily warming the home. There is a great play of light and shadow and a suggestion of silence. These may be stoic moments, but they are not necessarily sad. The white, brown and blue-gray colors are indeed muted tones and it is in the quiet, nearly contemplative scene that the irresistible attraction of the sun unfolds.
Three rooms, one each with landscapes, buildings or nudes, offer surprises. Hammershøi paints in the tradition of Danish and Dutch landscape artists who worked without dramatic mountains as backdrops and his pictures are flat, people-less, moving toward abstract bands of color. Seeing them, you realize that it was no wonder that Van Gogh whose painting career is fully contained within the lifespan of Hammershøi would go wild on finding the bright light and colorful sunflowers and wheat fields in Arles or San-Rémy-de-Provence. The quiet presentation, again people-less, of Hammershøi's The Guilford Street Jewish School (London) (1912-1913) bare, almost bleak, contrasts with a nearby 1911 painting of ruins by his brother. The latter is macabre, almost cartoonish while the former can be seen to have a serene beauty, and the single nude painted in his maturity stands interestingly in contrast to his other work. It was done as part of a commission and that may have led him away, momentarily, from his otherwise somber, impersonal approach.
Vilhelm Hammershøi was a true master of his craft, whose highly disciplined presentations often mimic the photography that he loved. Strangely, he cropped his canvasses the way one crops a photo, that is, he painted a large canvas, then cut out only that portion he wished to show others. He was thought to be terribly modern with his cold, distant portrayals of people and places and through his use of quick, short brushstrokes and smudges in many works. In the exhibition there are a few works by his contemporaries (his brother, brother-in-law and a friend). These highlight how much depth there is in Hammershøi's paintings, how great a painter he was, how he was, indeed, a master of Danish painting.
Recommended books from the Library collection: