Drop by the Members' Lounge this September to take a look at our display of books that have been challenged and/or banned, from Harry Potter to the Bible.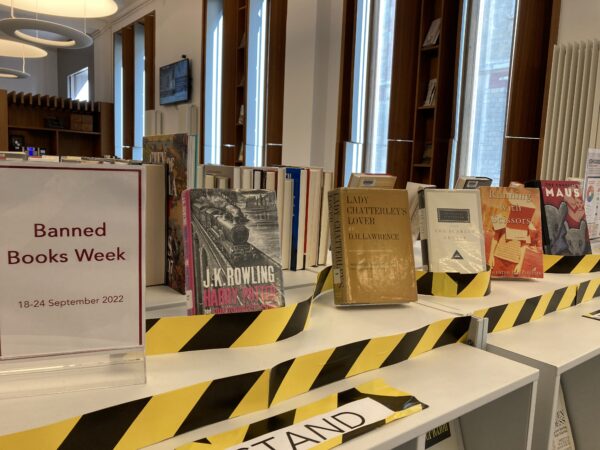 Banned Books Week, organized by the American Library Association (ALA), takes place every year in September to shine a light on books that have historically—and more recently—been banned or challenged by libraries, schools, and governments all over the world, as well as to celebrate the freedom to read.
Did you know that Harry Potter and the Sorcerer's Stone is the most challenged book of the 21st century due to accusations that it promotes the occult and glorifies witchcraft?
Did you know that Maus by Art Spiegelman, a graphic novel about the Holocaust, was banned by a Tennessee School Board due to concerns over its age appropriateness and graphic nature?
Did you know that The Handmaid's Tale by Margaret Atwood has been criticized for being anti-Christian and anti-Islamic, and for its depiction of sex and violence?
At the American Library in Paris, we are guided by the ALA's Library Bill of Rights, which states that "Libraries should provide materials and information presenting all points of view on current and historical issues. Materials should not be proscribed or removed because of partisan or doctrinal disapproval."
With this in mind, we're showcasing a selection of books that have been challenged, heavily criticized, or outright banned. Visit the Members' Lounge this September to browse and borrow some banned books.
You can also check out banned or challenged books from our digital library via Libby:
… banned for supposedly being anti-Stalinist propaganda. It is still banned today in China and Cuba
… banned and challenged for its sexual content as well as, for some, its pro-Communist agenda (although the book was actually one of Russia's bestselling books during the 2010s)
… repeatedly censored for its "pornographic and sexual" content
… banned in several school libraries for its supposedly anti-police message :
… banned because of its apparent promotion of drug use and promiscuity
You can read the full list of 10 Top Most Challenged Books in 2022 here.
If you have any questions about the books in our collection, please get in touch by emailing info@americanlibraryinparis.org