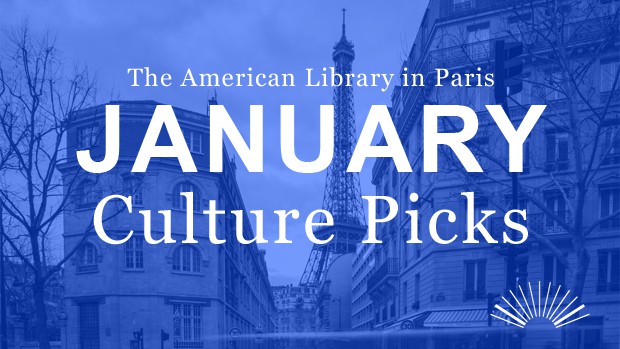 The American Library in Paris is pleased to share our selection of cultural events going on in the city each month. January is a good month to catch all of the great 2016 shows and exhibitions that will be closing soon. We've chosen our favorites along with the recommended books to go with your cultural adventures. Happy reading and visiting!
Library Culture Picks: January 2017
WHAT: THE SPIRIT OF BAUHAUS (exhibition)
WHERE: MUSÉE DES ARTS DÉCORATIFS
WHEN: 16 OCTOBER 2016 – 26 FEBRUARY 2017
Many people think of Bauhaus as a style or an art movement, but it was also an actual art school founded in Germany from 1919 and forced under Nazi pressure to close in 1933. The Musée des Arts Décoratifs pays major tribute to Bauhaus with an exhibition featuring no less than 900 works – objects, furniture, drawings, models, and paintings – created by many of the school's famous faculty members including Kandinsky, Klee, and Mies van der Rohe. An absolute must for art, architecture, and design enthusiasts!
Recommended books to read from the Library collection:
……………………………………………………………………………………………………………………………….
WHAT: HERGÉ (exhibition)
WHERE: GRAND PALAIS
WHEN: 28 SEPTEMBER 2016 – 15 JANUARY 2017
Just a few days before the Hergé exhibition at the Grand Palais closes, and it's definitely worth a visit. Best known for The Adventures of Tintin, Hergé is referred to as the father of the Europrean comic strip and considered an important contemporary artist. Spread out over 10 rooms, the exhibition focuses on Hergé's creative process, including the inspiration that he drew from cinema, visual art, and adventure novels. Even if you don't catch this exhbition before it closes in a few days, the Library's collection of Tintin books and those of Hergé are worth a closer look.
Recommended books to read from the Library collection:
……………………………………………………………………………………………………………………………….
WHAT: RENÉ MAGRITTE: THE TREACHERY OF IMAGES (exhibition)
WHERE: CENTRE POMPIDOU
WHEN: 24 SEPTEMBER 2016 – 23 JANUARY 2017
The Centre Pompidou presents a new exhibition on the works of Belgian surrealist René Magritte. The show explores Magritte's interest in philosophy and the relationship between words and images through the display of more than 100 drawings and paintings. This exhibition also reinterprets Magritte's work through the five elements to which Magritte made constant reference in his work: fire, shadows, curtains, words and the fragmented body.
Recommended books to read from the Library collection: