The Library recently welcomed a team of researchers from Hope College as part of a Paris Stories/Mellon Grand Challenges project. The team included Hannah Jones, English and women's/gender studies major '21 and Aine O'Connor, English and history major '20. The subject of their work focused on the Library's rare book collection of Janet Flanner (1892-1978), the long-time writer for The New Yorker. They kept a blog about their time at the Library, and you can find more stories about their research in Paris on their Paris Stories blog. Here is an excerpt from their first week with us.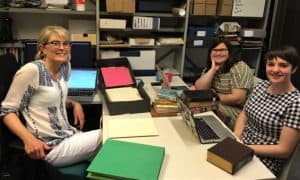 Over the past week, we have been delving into the Library's special collection on Janet Flanner. Flanner was a long-time writer for The New Yorker – many writers say she helped invent the magazine's unique, quippy style. She captivated twentieth-century Americans with her vivid descriptions of life in Paris, from the murders and political scandals of the elites to the everyday struggles of poor, post-WWII Parisians. At some point (we are still discovering the mystery of exactly how), some of Flanner's books were donated to the American Library in Paris. Our job over the past several days has been to catalog signatures, inscriptions, and annotations in each book in order to put together the story of Flanner in Paris. By examining her collection, we can glean information about who and what she loved, what worried her, frustrated her, excited her–in essence, we can begin to understand who she was.
What we've found has made us fall in love with Janet Flanner – or, at the very least, we've fallen in love with her humor, sass, and occasional straight-up savagery. One of the clearest themes we've found in the notes of her books is how well-liked she was. So many books include inscriptions full of warm admiration and love. In the circle of Americans in Paris in the post-WWII era, Flanner existed as a marginal figure, but her friendships with people like Gertrude Stein and Martha Gellhorn (the third wife of Ernest Hemingway) were close. And her connections were wide: at one point, she even received a letter from a special consultant to President Lyndon Johnson!
Some of the marginalia and notes in Flanner's books reveal a sharp, even cutting side. She would correct the writing, sometimes taking issue with the author's dates. Other books have pages full of comments and references. As you can see in the picture on the right, it is difficult to be charmed by Flanner's handwriting. We spent an entire morning attempting to decode one story about Gertrude Stein, Stein's partner Alice, and their poodle, Basket.
We have enjoyed every minute of our time at the library so far. Assistant Director Abigail Altman and the other members of staff at the Library have been welcoming, kind, and enthusiastic to our little group from Hope College, and it is truly an honor to work alongside them in Paris, telling stories and creating spaces where everyone belongs.