The list of books below are some of the finest books we've read this past year. Not all were published in 2013, so it's not quite the best books of 2013, but these were the books that we remembered the most. With the year coming to a close, we would like to share them with you and hope that you find the time to check them out for yourself at the Library. Happy reading!
An English Affair, reviewed by Charles Trueheart, Director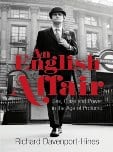 Most of the best reading I did this year was as a screener for the American Library in Paris Book Award, and I heartily recommend the
shortlist of five books
. The submissions, all about France, also included some insightful and highly readable books about France and World War II, including Fred Coleman's
The Marcel Network
, Charlie Glass's
Deserter
, and Mary Louise Roberts's
What Soldiers Do
.
Feeling the need to get out of France, I suppose, I read An English Affair, by Richard Davenport-Hines, which takes us back a half-century to the staid gray days of Harold Macmillan's stiff-upper-lip postwar Britain on the cusp of the revolution that would bring Carnaby Street and the Beatles. The book climaxes in the explosion of the Profumo affair, disgracing peers and cabinet ministers, turning Christine Keeler and Mandy Rice-Davies into household names, and unleashing the monster of the modern British tabloid.
A Fraction of the Whole, reviewed by Grant Rosenberg, Programs Manager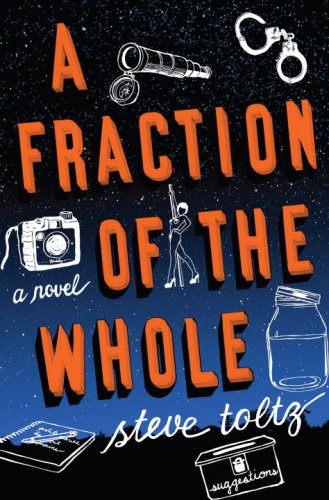 Steve Toltz's 2008 novel
A Fraction of the Whole
came to my attention after I learned that Steve was living in Paris and often working on his next novel at the Library. I immediately checked the stacks and found that his first novel was in our collection. It is rare for me to read a book I know absolutely nothing about beyond the title, and within a few pages of this masterful, epic, comic-tragic novel, I was hooked. Shortlisted for the 2008 Man Booker Prize,
A Fraction of the Whole
is one of the few novels that seems to include, as the saying goes, "everything but the kitchen sink," yet manages to deftly and assuredly tell its story without seeming overcrowded.
I would like readers to know nothing about it as they begin, so I will note only that it is an Australian novel by an Australian writer, and I'm embarrassed to say that it was the first Australian novel I'd ever read. If you like epic storytelling that is both macro and micro, that brings us into the personal lives of individuals while also keeping tabs on an entire nation and also spanning the globe, this book is for you. It's also brave and daringly funny and gets the notion of wonder and awe just right, as this
passage
illustrates.
House of Earth, reviewed by Krista Faurie, Development Assistant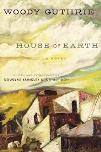 Nestled somewhere between Steinbeck's epic
The Grapes of Wrath
, and Guthrie's quasi-memoir
Bound for Glory
, I would imagine one might find Woody Guthrie's first published novel
House of Earth
resting comfortably. A sweet and sour tale set in 1930s West Texas, vignettes of fictional Tike and Ella Mae Hamlin's struggles with dust, banks, and hard times is beautifully contrasted against their love of land, honest work, and each other. Guthrie's use of southern drawl and down-home aphorisms lend readers a richness of time, place, and people in the same way his songs did, and continue to do.
Finished in 1947, and all but lost to history- this gem was discovered at the McFarlin Library at the University of Tulsa, and published in the summer of 2013. An introduction by both historian Douglas Brinkley, and general cool-o-phile Johnny Depp is like the icing on this Texas sheet cake.
"Gómez Palacio" in Last Evenings on Earth, reviewed by Samy Langeraert, Circulation Assistant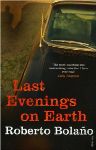 "Gómez Palacio" is one of the gloomiest stories I ever read by Roberto Bolaño. Sadness is never far away in his work but here, although it is quiet, as if muted, it surrounds everything. We don't know what went wrong – the narrator simply mentions personal "problems" that he wanted to get over by temporarily taking up a job in a provincial town. What we are given to read is an uncompromising account of the few dreary days that he spent there, as if nothing seemed to matter anymore to him. He basically describes himself as a robot, a strange being that could only see things and not be touched by them, as if there had been a thick glass partition between him and the world.
It is the same toneless, compelling voice as that of Albert Camus' narrator in The Stranger. But "Gómez Palacio" is less suffocating; there is no sense of doom in it. In Camus' short novel the character's lack of concern suddenly turns into madness and definitely cuts him off from the outside, whereas with Bolaño's it goes with a strange kind of awareness. I know these are usually opposite qualities but in Bolaño's story, they do go together – indifference and attention. It is as if you were dozing and waiting for something to happen at the same time; and then when something does happen (somewhere near the end of the story), it is a miracle that wouldn't have occurred had you been actively looking for it.
Mastering the Art of French Eating, reviewed by Pauline Lemasson, External Relations Manager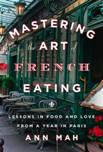 Trailing spouses heading off to Paris rarely get any sympathy from family and friends who don't get to come along. People are more inclined to emphasize that you get to live in Paris, a dream city of so many superlatives that any incoveniences of language and culture could easily be soothed by a pain au chocolat. Of course, for those who have actually migrated here, living in Paris requires tenacity, humor, and a very open mind. Ann Mah's Mastering the Art of French Eating is an excellent concotion of her year in Paris, meant to be shared with her diplomat husband, but ultimately is a journey she does on her own. Mah has written a book that is memoir, travelogue, cookbook and personal odyssey with keen observations and detailed descriptions as a newcomer still figuring out the intricacies of French and American interactions. Along the way she meets the people who will reveal to her the culinary secrets and historical context of the andouillette and choucroute and much more.

As a former Library alum, Mah also shares her experiences of meeting and working with her fellow colleagues, many of whom are described with just enough detail as to be recognizable by those who frequent the Library. Her humorous account of lunch time at the Library is preciously accurate.
For those who know Mah from her writings in The New York Times and Condé Nast or her first book Kitchen Chinese, there is no surprise that food and history play a big part of Mah's discovery of a new place. With Mastering the Art of French Eating, Mah has gracefully turned her year in Paris sans spouse into a glorious embrace of France and self discovery. The Library welcomes Ann Mah back for an evening program on 5 February.
Amy Falls Down, reviewed by Amelia Carlin, Librarian – Collections Management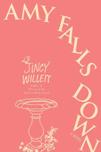 Amy Gallup is a retired author. Following early success, she now writes little: filling notebooks with snippets of overheard conversations and intriguing book title ideas. The charmingly surly protagonist, and her basset hound Alphonse, have their quiet hermits' life turned upside down by the consequences of a backyard mishap – an accident that shovels them back into the fast flowing waters of modern life and modern book marketing. Accompanied by Amy's mordant observations and dry humour that keeps this novel pulsing forward, the story somehow shapes itself around her. Willett's characters are a good mix of textured and flawed…and really, who could resist an author with the chutzpah to title another book Winner of the National Book Award?