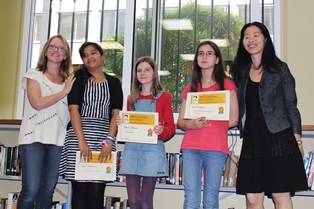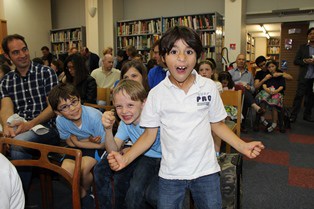 The American Library in Paris is proud to be the organizer of the Young Authors Fiction Festival, in collaboration with the Society of Children's Book Writers and Illustrators (SCBWI) and Time Traveler Tours.
The Fiction Festival aims to strengthen community among English-speakers in the Paris area through the art and craft of storytelling. The Festival is open to all students ages 5 to 18 in the greater Paris area who write in English. This year we had over 380 entries coming from 33 schools, homeschooling programs and writing classes located in and around Paris. Forty-two judges participated this year and we couldn't do it without the faithful support of our volunteer judges and the small but active YAFF 2013 committee who took care of all of the details along the way.
Thank you to the YAFF 2013 team and to the judges who made the Fiction Festival a success. We look forward to YAFF 2014, so until then ….
Happy Writing!
—————————
KINDERGARTEN / GRANDE SECTION
Honorable Mention: Strange Ghost Thomas Ravel
FIRST GRADE / COURS PREPARATOIRE
1st Place: 100 Shadows Maxence Krantz
2nd Place: My brother and the Magic soup Minha Lee
3rd Place: The Vegetable Fight by Luisa Peyrusaube
4th Place (a tie in 4th place): McSwofoo and the Monster Henry Everett
4th Place (a tie in 4th place): Ghota Versus the Emperor of the Red Eye Sean von Truetzschler Griggs
5th Place: The Dinosaur Rescue Raffaella Nava
Honorable Mentions: The Two Little Aleins Kaitlyn Jouin; Adventures With the Sky Megan Renaud; and The Apple Tower Lucien Wisman
SECOND GRADE / COURS ELEMENTAIRE 1
1st Place: Ping Zhi's Adventure Sienna Frederic
2nd Place: The Mouse That Travelled Mathilde André
3rd Place: The Forgotten Land Scarlett Crooks
4th Place: The Rainbow Flower Kiely Renaud
5th Place: The Blue Fairy Annette Walter
Honorable Mentions: The Super Chicken And The Bandit Pig Tulio Correa and Super Baby Lucy Pouquet
THIRD GRADE / COURS ELEMENTAIRE 2
1st Place: Toad Pandemonium Charlie Scales
2nd Place: My Drippy Career Jessica Amselem
3rd Place: Tastes of the World Ethan Murray
4th Place: A Hop Into Time Lily Petyt
5th Place: Rita Bosses and Complains Pascale Cartwright
Honorable Mentions: The Pirate Revolution Sandra Bobanovic; The Snapping Turtle & the Blue Cheetah Iris Collell; Best Friends Audrey Wise; and The Easter Egg Hunt Robelle Wisman
FOURTH GRADE / COURS MOYEN 1
1st Place: Mr. Ping and Mr.Pong Poppy Scales
2nd Place: Cocoa Power Ella Harrigan
3rd Place: Jack Dickens. Story No.1:The Mad Burglar Jonathan Smith-Brière de l'Isle
4th Place: The Three Tree Frogs, Chapter 4: The Invasion of the Giant Flies Julia Henry
5th Place (a tie in 5th place): Abandoned Sian McAllister
5th Place (a tie in 5th place): Paris Winter Mystery Clarice Wu
Honorable Mentions: The Mysterious Robberies Maxime Afrazmanech and The Anonymous Place Ariana Freire Ramos
FIFTH GRADE / COURS MOYEN 2
1st Place: Death Among the flowers Naomi Vereecke
2nd Place: The Red Hooded Rider Louis Fulham
3rd Place: The Magic Wart Johan Tenaillon
4th Place: Unexpected Goblins Kate Souami
5th Place: Jake and the Paperman Ella Bernard
Honorable Mentions: Pavel Caspar Lynch; The Icicle Ginger Trask; and The Curse Phoebe Wilson

SIXTH GRADE / SIXIEME
1st Place: Fujiwaka and his Magic Garden Idil Delmas
2nd Place: Checkmate Jules Odolant
3rd Place: Twinzies Francesca Poupel
4th Place: The Dog's Tale Dermot McGrath
5th Place: The Boy with the Elephant Necklace Montserrat Deolarte Ruiz
Honorable Mentions: Every Cloud has a Silver Lining Camille Easton and Unprepared for the Test Dave Pranshu
SEVENTH GRADE / CINQUIEME
1st Place: Life of a Tooth Claire Hedaycker
2nd Place: I Am Edgar Chanho Kim
3rd Place: My butterfly Victoria Koch
4th Place: The Darkest Knight Fran Rajic
5th Place: Seasons Change, People Change Michela Macke
Honorable Mentions: Helly Cream- A satire short Story of World War 2 Abhay Bhandari; Secrets of the Past Anne Lee; and Wheels Emilie Shagrin
EIGHTH GRADE / QUATRIEME
1st Place: The Last Bell of Midnight Emma Black
2nd Place: Letters to Paige Steffi Xinrong Tan
3rd Place: Hope for a New Best Friend Robine van der Eijk
4th Place: The Boy in the Back Chloe Drape
5th Place: Catpocalypse Now! Tabitha Collingridge
Honorable Mentions: The Other Side Mira Hobbs; Regrets Nesengani Nakisani; and A Christmas Dream Marie Merveilleux du Vignaux
HIGH SCHOOL/LYCEE GRADE 9
1st Place: The Librarian's Son Sophie Stretch
2nd Place: No Regrets Sarah Nocquet
3rd Place: The Edge of Steel Constance Destais
4th Place: Papers Charlotte de Wolf
5th Place: Dreaming of Paradise Julia Koetsier
Honorable Mentions: Interrogation Namanh Kapur; The Friend Eunho Kim; The Taste of Feelings Chloe Leblanc
HIGH SCHOOL/LYCEE GRADE 10
1st Place: First is the Worst, Second is the Best Ambre Bourdier
2nd Place: Focus Bilal Choho
3rd Place: Living in the Wild Juliana Mee
4th Place: Tree Sevana Holst
5th Place: November Anniina Ruonala
Honorable Mentions: The Not So Secret Life Of Homo Adolescentus Sophie Benson; Flying Changes Eleonore Duroyon; Medusa Maxime Jarquin; and The Work of a Genius Kelly Alkhouli
HIGH SCHOOL/LYCEE GRADES 11-12
1st Place: The End Alana Juric
2nd Place: Chaetophobia Louis Jamart
3rd Place: My Everything Therese McCarry
4th Place: The Grain of Salt Daniel Nascimento
5th Place: The Name of the Game is Winning… Isn't It? Alizee Baumert
Honorable Mention: Fireworks Liliana Hertling