And the 2014 YAFF winners are…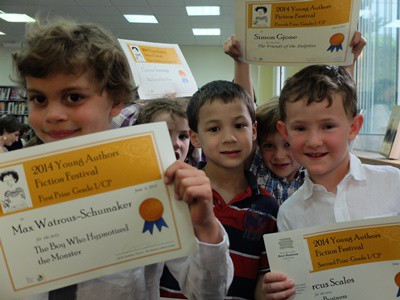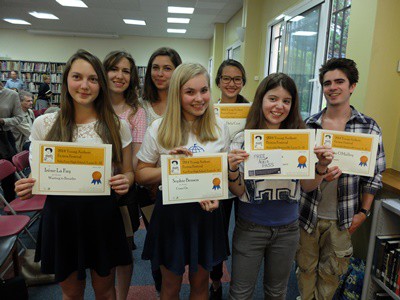 The 2014 Young Authors Fiction Festival culminated with a celebration event on Friday 6 June 2014. Over 240 people attended the celebration event, including the young author finalists, parents and teachers. Each finalist was awarded a certificate and many of them also received a bookmark with some comments from the judges about their stories. YAFF celebration booklets were printed that include the full stories of all the 1st to 5th place winners. Honorable Mention stories are also listed along with their authors. Each celebration booklet is available for 10 euros each.
This year we had over 340 entries coming from more than 25 schools, homeschooling programs and writing classes located in and around Paris. The Library thanks the forty-four judges participated this year, as well as the small but active YAFF 2014 committee who took care of all of the details along the way. The 2014 YAFF committee include Elizabeth Fay, Eric Hengesbaugh, Pauline Lemasson, Olympia MacKendree, Robin Motheral, Celeste Rhoads, Sarah Towle and Sarah Woolley. Special thanks also goes to Claire Livingston for the design of the celebration booklet and to Charles Trueheart, Naida Kendrick Culshaw, and Hadley Seward for their support and guidance.
The American Library in Paris is proud to be the organizer of the Young Authors Fiction Festival, in collaboration with Time Traveler Tours. The Fiction Festival aims to strengthen community among English-speakers in the Paris area through the art and craft of storytelling. The Festival is open to all students ages 5 to 18 in the greater Paris area who write in English.
We look forward to YAFF 2015, so until then …. Happy Writing!
Photos: Winners of CP/1st Grade (left) and winners of Seconde-Terminale/11th Grade-12th Grade.
Photo credits: Eric Hengesbaugh
CP / Grade 1
1st: The Boy Who Hypnotized the Monster by Max Watrous-Schumaker
2nd: Bear Business by Marcus Scales
3rd: Super's Birthday Party by Thomas Ravel
4th: The Friends of the Dolphins by Simon Gjone
5th: John the Groundhog by Zachary Vaughn
5th: The three kids and the horse by Chloe Garcia-Pelayo
5th: The Lizard by Cyrus Brumm-Zavosh
Honorable Mention
The Sun and the Moon by Caspar Jennings
Amusement Park by Maxime Houel
Superhero Rescue by Max Lewis
CE1 / Grade 2
1st: Dorothy Gets a Job by Luisa Peyrusaubes
2nd: Adventures of a Jellyfish by Roman Blanco
2nd: The Little Worm by Sorcha McAllister
4th: Nick gets lost in Paris by Toby Loftus
5th: Mark and the Slave Owners by Dorian Echasseriau
Honorable Mention
The Flying Ship by Clarisse Farkas
CE2 / Grade 3
1st: An Easter Mate by Olivia Hadley
2nd: Emily's Diary by Sienna Frederic
3rd: Tulips in February by Venise Hannoyer
4th: The Princess and the Pineapple by Lauren Lendrevie
5th: The Tail of the Great and Almighty Sugar by Rose Thomas
Honorable Mention
The Magic Stick by Sarah Darzacq
The Invincible Fireman by Vardhana Wu
The Story of Frankie by Eli Goldsztejn and Gaspard Millner
CM1 / Grade 4
1st: Beyond the Sea by Pascale Cartwright
2nd: "Fresh" Tomatoes by Lillian Leblanc
3rd: Emmet and The Magic of His Bunny Rabbit by Alexandre Ravel
4th: Hope by Jessica Amselem
5th: The Tail of Gigi by Jacob Faulise
Honorable Mention
How I got a Pet by Katie Tenaillon
The Tale of Hobbs the White Rabbit by Charlie Scales
The Pocket Squirrel by Max Wilson
Mudkip of Minecraft by Kay Evans
CM2 / Grade 5
1st: The Fish in the Dress by Orane Bloch
2nd: Frozen in Time by Martin Personnaz
3rd: The Time Machine by Sian Mcallister
4th: Summer Love by Sophie Salvetti
5th: Breaking the Ice by Alon Haas
Honorable Mention
S.O.S. Ghost by Madeleine English
Sleeping Zoe by Sarah Gonzalez Pepe
The Princes, the Jellybeans and the Bee by Nirali Jain
6ème / 6th grade
1st: Beyond Oliver by Ella Titterington
2nd: Steps from the Past by Anaelle de Serres
3rd: My First Real Valentine's Day by Rosa Silberztein
4th: A Move to the City by Robert Moleni-Jere
5th: Soul Bound in a Rising Storm by Jacqueline Faulise
Honorable Mention
I Give You My Hat by Rio Monier
Swanwings by Kate Souami
Ice Cream Boy by David Hannoyer
5ème / 7th grade
1st: Caged by Trixie Willems
2nd: Stone and Ashes by Juliette Odolant
3rd: 2267 by Ronan Steensprang
4th: The Other Rachel by Sarah Amselem
5th: The Masai and the Lion by Victor Pailloux
Honorable Mention
The Word Lords by Anatoly Grablevsky
4ème / 8th grade
1st: Elijah by Nicholas Julian
2nd: Feelings by Emily Shagrin
3rd: Deemed Unfit for Man by Max Simon
4th: Salt by Mosa Molapo
5th: The abyss down below… the stars above by Morgane Ropion
Honorable Mention
Locked up by Elise du Crest
Bucket List by Anne Lee
To Draw a Dragon by Chloe Erny
3ème / 9th grade
1st: The Life, Times and Moustache of Peter S. Thomas by Emma Black
2nd: Trips and Falters by Anne-Laure Razat
3rd: Metro Story by Ilana Amselem
4th: Innocence. By Mira Martini
5th: Code by Sia Zizliauskas
Honorable Mention
hangman's hill by Louis Dunbar-Johnson
Untitled by Camille Hamant
Code Breaker by Carla Laure
Seconde / 10th grade
1st: No Man's Land by Sarah Nocquet
2nd: Disabled for a day by Thibaut Benefice
3rd: The Escape by Caroline Reynier
4th: The Crush by Eunho Kim
5th: The Monster by Ada Naiman
Honorable Mention
The Blue Daisy by Paula Danne
Rose and the golden lady by Thibaud Kegels
Treacherous Knowledge in the Hands of a Disillusioned Autodidact by Violine Silier
Stones by Aline Messi
Première et Terminale / 11th and 12th grade
1st: Come On by Sophie Benson
2nd: The Saving by Rebecca Lafon
3rd: Gaia by Rachel Picard
4th: Ray of Light by Candice Dela Cruz
5th: Waiting to breathe by Irène La Fay
Honorable Mention
The Christopher Project by Molly Griffiths
Two Flowers by Philippe O'Malley
A wide new world by Liam Morse