The Legacy of the Second Empire in Paris Today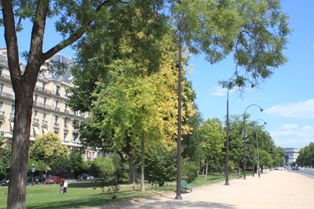 Those of us who live in Paris are reminded daily of the city's Second Empire legacy. Even if we are fuzzy on the dates, we know what a "Haussmannian" building is, we have some idea of the origin of the avenues that cut across our city, and we sense something of the common quality of the Opéra Garnier, the Théatre de Châtelet, the train stations, town halls, churches, schools, and so on. The signs of the extraordinary recreation of Paris in the 1850s and 1860s constantly surround us.
With a little bit of luck, we catch parts of the story. We may learn about the transformation of the Bois de Boulogne from grounds criss-crossed by boring hunting paths into a beautiful park for the enjoyment of Europe's elite. Or about the story of the building of the Opéra, a campaign of construction led by a remarkable architect that lasted thirteen years and continued through a siege and a civil war. We may hear about Baron Haussmann and his outsized financial dealings to fund the rebuilding of the city and the political campaign that brought him down.
My ambition in writing Paris Reborn was to bring the whole thing together into one story, to make it easy and enjoyable for non-specialists to understand the many things that converged in a decisive period of history to make this city we love what it is.
This is all relevant to us today because, for the many of us who love, Paris, we cannot be indifferent to how it became what it is. We are inevitably touched by those who loved this city so much that they wanted to make it a sort of home for all of humanity, and who managed to achieve that objective.
More broadly, this story has extraordinary relevance in an age when our urban infrastructure has once again become one of our greatest priorities. As human societies across the globe become predominantly urban, we need to ask ourselves what values should be driving our decisions about our cities. While not everything about the Second Empire transformation of Paris is exemplary, it remains one of the most extraordinary successful urban undertakings in history, one that I am convinced we can continue to learn from.
Stephane Kirkland
will present his book
Paris Reborn: Napoléon III, Baron Haussmann, and the Quest to Build a Modern City
, at the Library on June18th.