Thank you for a great Halloween!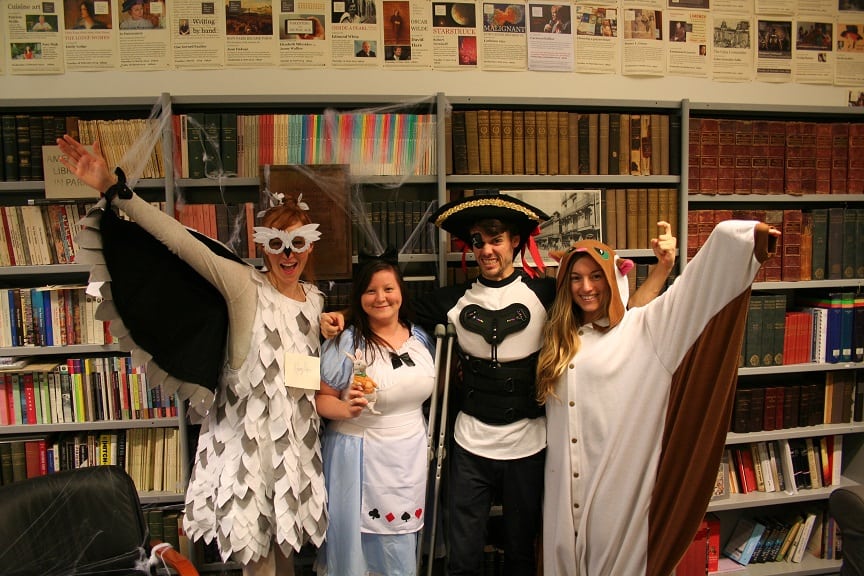 This year the Library welcomed hundreds of guests for our annual Halloween Extravaganza on 31 October! Eric the Macigian, Matt Black and Kids&Us joined us to perform at our children's parties during the day and then at dusk Liv Barrell of Paris As You Please hosted ​historical walking tours around the 7th arrondissement while staff and volunteers prepared the inside of the Library for our Horror Fest: an event for teens and adults that showcased films made by the Library's teen film club and stories and monologues written by members of our Teen Writing Group.
A big thank you goes to Marks & Spencer Beaugrenelle for their generous gift of refreshments and candy for trick-or-treaters, to Starbucks Saint Dominique for the coffee and tea which fueled many parents throughout the day, and to the neighborhood businesses who opened their doors to trick-or-treaters. We also have to thank the many volunteers who made the event possible by contributing their time and talents before, during and after the event.
We're continuously surprised by how many people want to come and celebrate Halloween at the Library – it's a celebration that has grown enormously over the years. While we have tried to accommodate the ever-growing numbers of guests by expanding our activities outside our doors and including events throughout the day for various age groups, we want to be sure that the Halloween Extravaganza remains first and foremost a fun and enjoyable event for Library members, as so next year we will be selling tickets in advance for this event, with first sales for members. Details will be announced next fall, but rest-assured, we are already planning how to make Halloween 2016 an even more extravagant Extravaganza!
– Celeste Rhoads, children's and young adults' services manager