2015 Paris Spelling Bee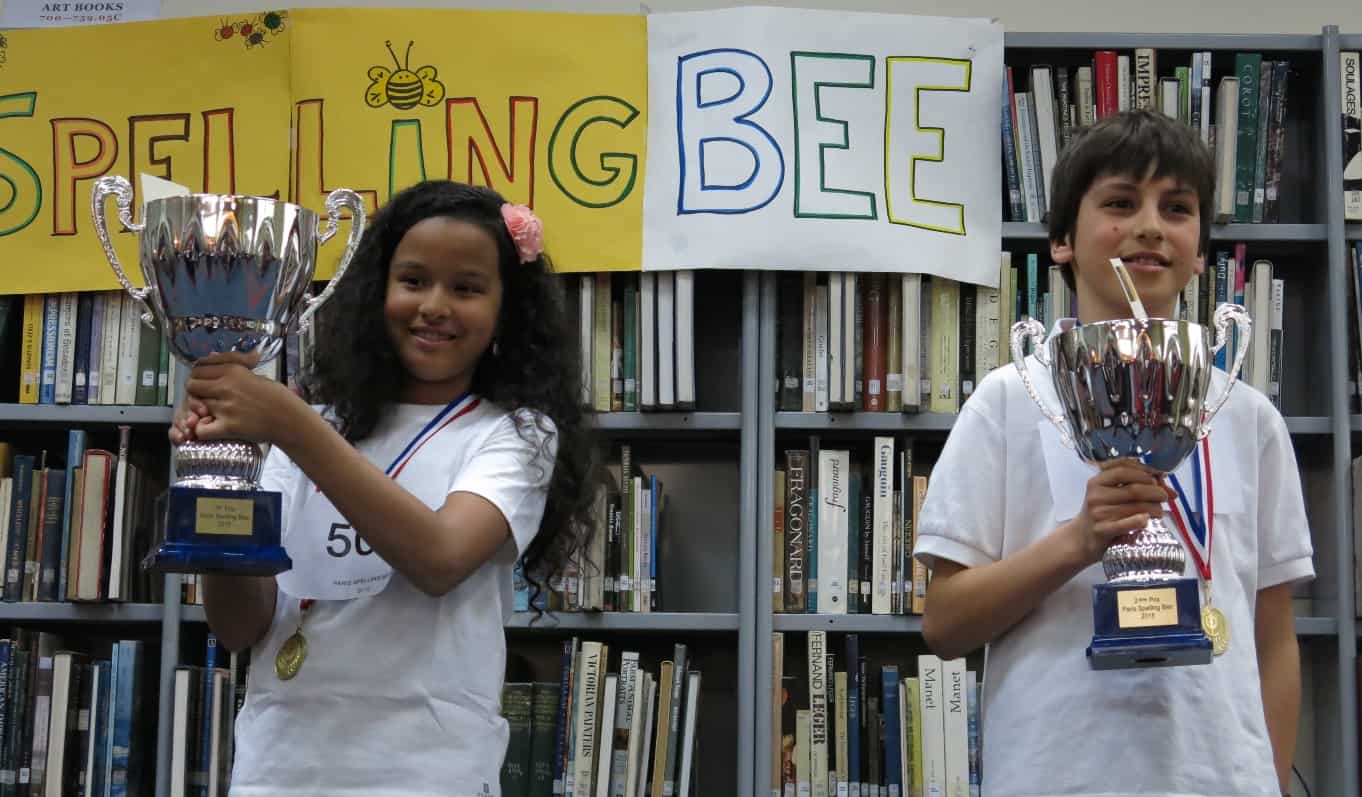 Twenty-one finalists from the fourth to sixth grades (CM1-6ème) competed in the seventh annual Paris Spelling Bee at the American Library in Paris on Sunday 15 March 2015.
In the 24th round, fourth-grader Riti Adrija Nalukurti took the top prize by spelling composition correctly, after successfully spelling ruckus and triathlon. The second prize went to 10-year-old Alec Le Helloco who spelled words such as unduly and referee before missing the word cyst.
Before judges moved off-list, Riti spelled words like voortrekker, subterfuge, insidious, illusion, altruism and didactic; while Le Helloco fielded words such as perestroika, ridiculous, alderman, laboratory and patriarch. Riti and Alec are both from EIB Victor Hugo School. Each winner received a trophy and a complimentary annual family membership to the Library.
Tying in third place were fifth graders Emma Mieszala from Lycée International St Germain en Laye, Wazeen Karkachi from École Élémentaire Louis Pasteur, and Alex Ravel from École Jeannine Manuel.
The Paris Spelling Bee is a community enrichment event organized and sponsored by Gifted in France in collaboration with the American Library in Paris, which hosted the event on Sunday. The pronouncers were Library director Charles Trueheart and Anne Swardson, editor-at-large at Bloomberg News.
The Library thanks the amazing 2015 Paris Spelling Bee team (Kim Siew Ngoh, Ashley Miller Benz, Jenny Bateman-Irish, Karen Simpson, Jude Smith Matisse, Pauline Lemasson, Celeste Rhoads, Shannon Connelly, Laetitia Nail, Clarence Tokley, Jan Smith and Scott Smith), under the leadership of Helen Sahin Connelly, who helped to make the Spelling Bee a smashing success.
For more information about the Paris Spelling Bee, please check their blog. For more photos of the 2015 Paris Spelling Bee, check out the Library Flickr album.