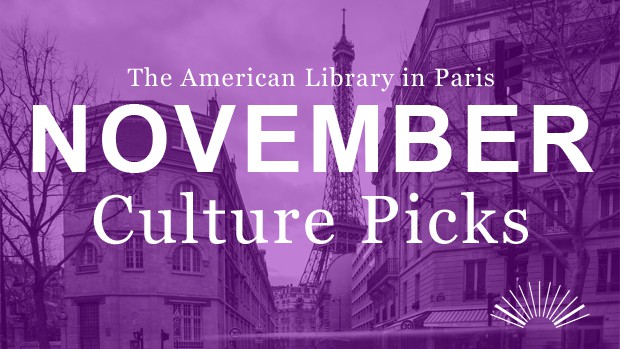 The American Library in Paris is pleased to share our selection of cultural events going on in the city each month. As the days get shorter and the weather cooler, it's a good time to take some refuge in one of many cultural institutions in Paris. As always, we've selected some books from our collection to go along with these cultural excursions. Happy visiting and reading!
Library Culture Picks: November 2017
INAUGURAL DISPLAY
MUSÉE YVES SAINT LAURENT
3 OCTOBER 2017 to 9 SEPTEMBER 2018
Over fifteen years after the haute couture house closed, the Musée Yves Saint Laurent Paris opened on 3 October 2017. It will be located in the legendary hôtel particulier at 5 avenue Marceau where Yves Saint Laurent spent nearly thirty years designing his collections from 1974 to 2002. The Musée Yves Saint Laurent Paris will focus on both the couturier's creative genius and the process of designing a haute couture collection.
Recommended books to read from the Library collection:
……………………………………………………………………………………………………………………………….
DADA AFRICA: NON-WESTERN SOURCES AND INFLUENCES
MUSÉE DE L'ORANGERIE
18 OCTOBER 2017 to 19 FEBRUARY 2018
Dada, a prolific and subversive art movement, first emerged in Zurich during the First World War, and then spread to centres such as Berlin, Paris, and New York. Through their new works – sound poems, collage, performance – the Dada artists rejected the traditional values of civilization, while appropriating the cultural and artistic forms of non-western cultures such as Africa, Oceania, and America. The Musée de l'Orangerie is presenting an exhibtion on these exchanges with African, American Indian, and Asian works alongside those of the Dadaists – Hanna Hoch, Jean Arp, Sophie Taeuber-Arp, Marcel Janco, Hugo Ball, Tristan Tzara, Raoul Haussmann, Man Ray, and Picabia, among others.
Recommended books to read from the Library collection:
……………………………………………………………………………………………………………………………….
THE ART OF PASTEL FROM DEGAS TO REDON
PETIT PALAIS
15 SEPTEMBER 2017 to 8 APRIL 2018
Out of its collection of more than 200 pastels, the Petit Palais is presenting a selection of close to 150 of them for the first time, offering an exhaustive overview of the main artistic currents of the second half of the 19th-century, from Impressionism to Symbolism. The exhibition showcases the collection's best paintings, including the works of Berthe Morisot, Auguste Renoir, Paul Gauguin, Mary Cassatt, and Edgar Degas; along with symbolist artists such as Lucien Levy-Dhurmer, Charles Leandre, Alphonse Osbert, Emile-Rene Menard, and a particularly remarkable collection of works by Odilon Redon; as well as society painters such as James Tissot, Jacques-Emile Blanche, Victor Prouve, and Pierre Carrier-Belleuse.
Recommended books to read from the Library collection: