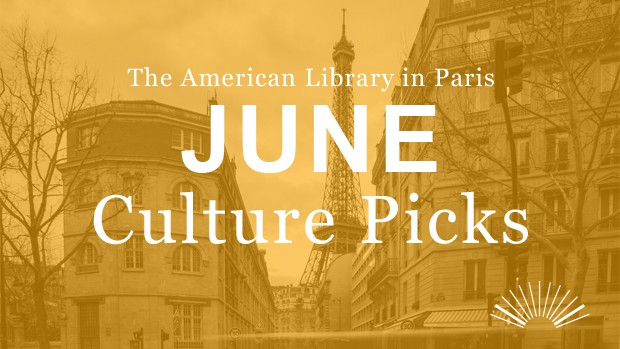 The American Library in Paris is pleased to share our selection of cultural events going on in the city each month. June is the start of the summer and there's plenty to do in the city, including exhibitions that are worth the waiting in line! One of the best exhibitions for photography lovers is the Walker Evans retrospective at the Centre Pompidou, which will give viewers a deep understanding of American society at the start of the Great Depression and into the 1930s. We also salute the reopening of the Franco-American Museum at the Château de Blérancourt after nearly a decade of reconstruction. Their post-WWI origins match the beginnings of the American Library and is worth the 50 minute drive from Paris. As always, we've selected some books from our collection to go along with these cultural excursions. Happy visiting and reading!
Library Culture Picks: June 2017
WHAT: GRAND REOPENING
WHERE: MUSEE FRANCO-AMERICAIN DU CHATEAU DE BLERANCOURT
WHEN: 25 JUNE 2017
The Franco-American Museum, Château de Blérancourt will reopen to the public on 25 June 2017 after many years of reconstruction. The museum houses the rare historic documents and memorabilia that attests to its origins as well as artwork of many genres by French and American artists. Founded by Anne Morgan who spearheaded the reconstruction efforts in the devasted Picardy region after WWI, the museum is the only French national museum that celebrates the French-American friendship. The renovated site will include a new exhibition hall, multimedia components, a Franco-American library, and the Anne Morgan Pavilion.
Recommended books to read from the Library collection:
……………………………………………………………………………………………………………………………….
WHAT: AUTOPHOTO (exhibition)
WHERE: FONDATION CARTIER
WHEN: 20 APRIL 2017 – 24 SEPTEMBER 2017
The exhibition Autophoto at the Fondation Cartier explores how the car provided photographers with a new subject, new point of view, and new way of exploring the world. Since its invention, the automobile has expanded our geographic horizons, our perception of freedom and mobility, and our sense of time and space. The show brings together 500 works made by 100 historic and contemporary artists from around the world including Jacques-Henri Lartigue, Lee Friedlander, Robert Adams, Eve Arnold, William Eggleston, and Seydou Keita.
Recommended books to read from the Library collection:
……………………………………………………………………………………………………………………………….
WHAT: WALKER EVANS (exhibition)
WHERE: CENTRE POMPIDOU
WHEN: 26 APRIL 2017 – 14 AUGUST 2017
The Walker Evans exhibition at the Centre Pompidou is one of the best of the season for photo enthusiasts and those interested in American cultural history. Walker Evans began taking photos at the age of 27 and found immediate success. He worked with magazines such as Time and Fortune and captured some of the most poignant photos of Americans struggling during the Great Depression and the 1930s. Through 300 photographs and 100 rare documents, the exhibition is a full immersion of segment of American society from the perspective of a master documentary photographer.
Recommended books to read from the Library collection: