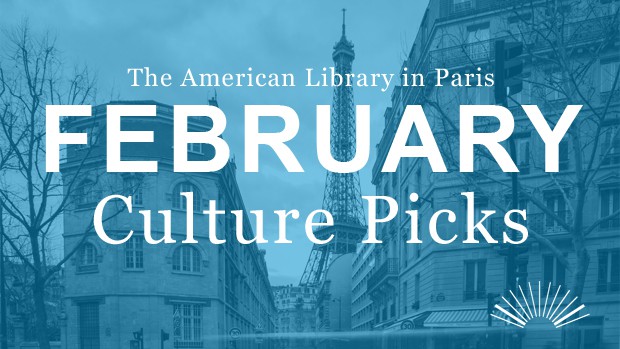 The American Library in Paris is pleased to share our selection of cultural events going on in the city each month. The cold weather means we're always looking for ways to spend indoors, and there's no shortage of things to do and see in the city. Here are our Culture Picks for February 2017 along with recommended books. One particular favorite is the Icons of Modern Art: The Shchukin Collection which has been extended at the Louis Vuitton Foundation until early March. Enjoy reading and visiting!
Library Culture Picks: February 2017
WHAT: ICONS OF MODERN ART: THE SHCHUKIN COLLECTION (exhibition)
WHERE: FONDATION LOUIS VUITTON
WHEN: 21 OCTOBER 2016 – 5 MARCH 2017
The exhibition honors one of the early 20th century's greatest art patrons, Sergei Shchukin, a visionary collector of French modern art. The 130 works of art on loan from the Pushkin State Museum of Fine Arts in Moscow and the Heritage Museum in Saint Petersburg demonstrates the collectors daring artistic choices and the swiftness in which he brought together one of the most significant collections of modern art from the early 20th century, including works from Monet, Matisse, Picasso, Gauguin, Le Douanier Rousseau and Derain. This exhibition has been extended a few extra weeks, with extended hours from 7h00 to 23h00 the last week, so don't miss it.
Recommended books to read from the Library collection:
……………………………………………………………………………………………………………………………….
WHAT: BEAR SPECIES! (ESPECES D'OURS!) (exhibition)
WHERE: MUSEE D'HISTOIRE NATURELLE
WHEN: 12 OCTOBRE 2016 – 19 JUNE 2017
This exhibition on the truly amazing world of bears is one to definitely miss! Through five sections, visitors can get a closer look at these wild animals and the eight species that currently inhabit our planet. The exhibition also looks at their biology, habitat, evolutionary history, and their relationship with humans and the question of their future. As well, it looks at the myths and legends of bears and how such a ferocious animal created the most loved childhood toy: the teddy bear.
Recommended books to read from the Library collection:
……………………………………………………………………………………………………………………………….
WHAT: APPROPRIATE ATTIRE PLEASE! (TENUE CORRECTE EXIGEE!) (exhibition)
WHERE: LES ARTS DECORATIFS
WHEN: 1 DECEMBER 2016 – 23 APRIL 2017
Every age, every season has its fashions, but in the street or in parliament, at work or at play, what we wear is subject to rules. And of course those rules are there to be broken. This exhibition revisits the scandals that have marked the great turning points in fashion history from the 14th century to today.

Recommended books to read from the Library collection:
……………………………………………………………………………………………………………………………….
WHAT: BERNARD BUFFET RETROSPECTIVE and BERNARD BUFFET: AN INTIMATE PORTRAIT (exhibition)
WHERE: MUSEE D'ART MODERNE and MUSEE DE MONTMARTRE
WHEN: 14 OCTOBRE 2016 – 5 MARCH 2017 (both venues)
A divisive and controversial figure in 20th century art, Bernard Buffet has two exhibitions in Paris dedicated to his works. A major retrospective is on display at the Musee d'Art Moderne, featuring his artwork spanning from the 1940s to 1990s and exploring the many recurring themes in his work notably religion and mythology. The exhibition at the Musee de Montmartre focuses on Buffet's connection with Montmartre, where he was born and raised. This intimate show features 100 works including personal photographs and souvenirs, as well as drawings and paintings.
Recommended books to read from the Library collection: