Les Enfants du Paradis:
An Appreciation of a Landmark Film in the History of French Cinema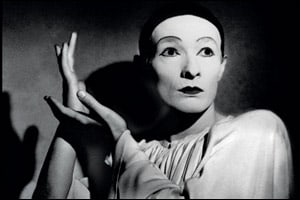 I have always been enamored of French film – whether it's the very early cinema of the Lumière brothers and Georges Méliès or the Surrealistic and avant-garde films of the 1920s and 30s – or the "Golden Age" of French classical cinema. I'm also enthralled by the Nouvelle Vague and the Cinéma du Look as well as with the more recent French Heritage films.
One of my favorite films is Les Enfants du Paradis (1945), widely considered to be one of the greatest French films ever made. Written by the great poet Jacques Prévert and directed by acclaimed French filmmaker Marcel Carné, this lushly romantic epic has been compared to Gone With the Wind, not only in its richness and scope, but with its strong central female character. In 1945, Les Enfants du Paradis was the most expensive movie ever made (25 million francs/$1,250,000), five times the cost of the average production at the time. Critics, historians, and audiences alike have long heralded Les Enfants du Paradis as a masterpiece.
Jacques Prévert and Marcel Carné had already established their own individual creative reputations before they worked together in cinema. Their early film collaborations include Jenny (1936), Drôle De Drame (1937), Le Quai Des Brunes (1938), Le jour Se Lève (1939) and Les Visiteurs Du Soir (1942).
Les Enfants du Paradis was filmed in Paris and Nice in 1942-43 during World War II. Because of the constraints of the German Occupation, there were chaotic shooting conditions and extreme circumstances. Under the Vichy government, there were shortages of film stock, scarcity of electricity, limited transportation and communication, and constant interruptions by air raid alarms.
In addition, the art director, Alexandre Trauner, and the composer, Joseph Kosma, were Jewish and had to work clandestinely – as they were being hunted by the Gestapo. Robert Le Vigan, the actor who was playing the part of the "Old Clothes Man" and was reportedly a Nazi collaborator, mysteriously disappeared during production (his replacement was Pierre Renoir, brother of film director Jean Renoir – and son of Pierre-Auguste). Furthermore, many of the film's banquet scenes had to be cut – as the starving extras kept eating the food before shooting was complete.
The film takes place in Paris during the 1830s. It's set in and around the celebrated Théâtre des Funambules on the teeming Boulevard du Temple (nicknamed the Boulevard du Crime). Based on actual historical figures during the time of King Louis-Philippe, the story revolves around the beautiful Garance, the enigmatic courtesan-muse and the four men who love her: Baptiste the sensitive lovelorn mime artist, Frédérick Lemaître the womanizing classical actor, Lacenaire the intellectual dandy-criminal, and Comte Édouard de Montray the wealthy aristocrat. Amidst the tumultuous relationships and interlocking stories swirl a world of acrobats and jugglers, weightlifters and dancers, prostitutes and pickpockets. It's a world of comedy and tragedy, melodrama, romance, and farce.
Nearly three hours in length (and divided into two parts: "Boulevard du Crime" and "L'Homme Blanc"), Les Enfants deals with the themes of passion and art, truth, treachery, and Fate. All the world's a stage – and we see this played out in the characters' private lives and in their onstage roles. It's a milieu of pantomime, carnival, Commedia dell'Arte, and Shakespeare.
The cast is extraordinary. Jean-Louis Barrault, who plays the desperate Baptiste, was a brilliant renowned mime (as well as a stage and screen star, director, and scenic designer). His character in the film, the tortured, white-faced Pierrot, is heartbreaking. Pierre Brasseur, also a well-known stage and screen actor, plays the brash and witty Frédérick Lemaître. Marcel Herrand, often cast as a villain, plays Lacenaire, the writer-assassin, and Étienne Decroux, who plays Baptiste's father, was a mime himself and the teacher of Barrault (as well as Marcel Marceau). Arletty, reminiscent of Garbo and Dietrich, plays the independent, sexually–assured Garance. (An additional note: Arletty was briefly imprisoned in 1945 for her wartime affair with a German officer).
With 1,800 extras, huge outdoor scenes, elaborate sets, expressive costumes, and meticulous period details, the production is a glorious visual feast. Prévert's script is filled with poetic beauty and Carné's use of deep-focus compositions, long pans, and close-ups celebrate theatre, cinema, and by extension, life. The film's title, Children of Paradise, refers to the "gods," the cheapest balcony seats where ordinary audience members witness- and participate in – the whole spectacle. Like the actors, characters, and filmmakers who are also children of paradise, so are we, the viewing audience. A landmark in French film history, Les Enfants du Paradis is filled with grandeur and beauty – and, ultimately, universal in its humanity.