We know a lot of book lovers, and that it can be tough to chose the right gift book for a voracious reader.
Whether you're shopping for a birthday present, or a gift for the holidays, we know it can be difficult to choose books for the young readers in your lives. Our Children's and Teens' Services librarians are often asked for recommendations for gift books, so here, we're offering a few suggestions.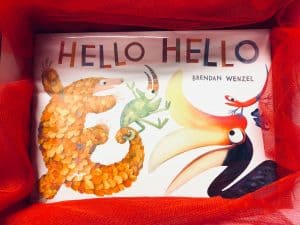 These recent publications would make lovely presents for children ages 0-5: I Got a Chicken for My Birthday by Laura Gehl is a great choice for children who enjoy funny books, A Big Mooncake for Little Star by Grace Lin is a sure hit for kids who like to snuggle, and ask for more books at bedtime, Hello Hello! by Brenden Wenzel is a deceptively simple book that will delight animal fans of any age, The Day You Begin by Jacqueline Woodson will resonate with young children who straddle two cultures (or more!), and Drawn Together by Minh Le would make an especially poignant gift from grandparents to grandchildren living far away.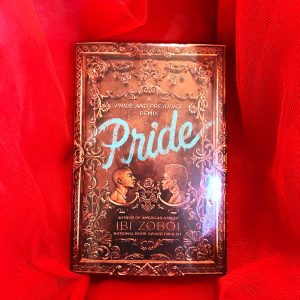 For older children, The Language of Spells by Garret Weyr would make a great gift for fantasy fans, Rebound by Kwame Alexander is one for fans of poetry, basketball, or Alexander's Newbery Medal-wining The Crossover, The House in Poplar Wood is sure to please fantasy fans who enjoy some mystery thrown in, while Itch! Everything You Didn't Want to Know about What Makes You Scratch is a healthy mix of fun and gross for the reader who wants answers. We also recommend I'm Just No Good at Rhyming and Other Nonsense for Mischievous Kids and Immature Grown-Ups by Chris Harris and Lane Smith (because the title says it all).
For teens and tweens, we recommend: Piglettes by Clementine Beauvais (a witty read for the Francophile, set in France and translated by the author herself), Pride by Ibi Zoboi (Pride and Prejudice revised for fans of contemporary romance), Skinful of Shadows by Frances Hardinge  (for the fantasy fan who's read everything), Darius the Great is Not Okay by Adib Khorram (for the third-culture kid in your life), Dread Nation by Justina Ireland (for fans of action and zombies), A Heart in a Body in the World by Deb Caletti (for teens who like to talk about current events, and want novels that pack a punch), Neanderthal Opens the Door to the Universe by Preston Norton (for teens who need a laugh), The Stars Beneath Our Feet David Barclay Moore (for tweens and teens who love or used to love LEGOs), The Princess and the Dressmaker by Jen Wang (for graphic novel lovers), and Orphan Monster Spy by Matt Killeen (for mystery fans).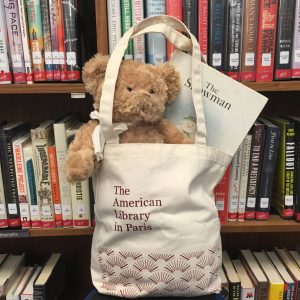 Local bookstores such as The Red Wheelbarrow Bookstore, Shakespeare and Company, WH Smith and The Abbey Bookshop all offer a wide and varied selection of titles, and many of those we recommend above.  Our Children's and Teens' Services Manager, Celeste, orders books for friends in the States via a local independent bookshop that ships anywhere in the US. Of course, the titles above can also be borrowed from our collections, and and a Library membership is a great choice for those looking to give a gift that will last all year-long. You can sign-up for a Library membership here, or ask a member of our staff about gift certificates. Library tote bags are a great way to deliver all of your gifts to book lovers, and come in an array of colors.