Lettres d'Amérique: Tommy Orange in conversation with Robert Warrior
September 6 @ 19 h 30 min

-

21 h 00 min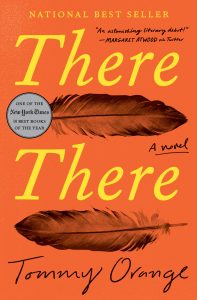 This September 2021, the American Library in Paris invites you to discover the new voices in American literature. A virtual series, Lettres d'Amérique (6–27 September) will explore issues at the heart of contemporary America: race, immigration, citizenship, historical trauma, addiction, and gun violence. The range of this year's speakers is as rich as it is diverse. There is ferocity and humor from Tommy Orange and Jenny Zhang; there is violence and memoir from Laila Lalami; and there are dark portraits of American society from Yaa Gyasi and Nana Kwame Adjei-Brenyah.
 In its mission to showcase the brightest American literary talents to a French audience, Lettres d'Amérique serves as a robust preview of Festival America's twentieth anniversary celebration next September 2022. The series is co-sponsored by Festival America and the U.S. Embassy in France, in partnership with Transfuge magazine.
••••••••••
Tommy Orange's debut novel, There There, explores the plight of the urban Native American in a relentlessly paced multigenerational story about violence and recovery, memory and identity, dispossession and belonging. Orange weaves beauty and despair into this complex history of a nation and its people.
Born in 1982, Orange grew up in Oakland, California, but his roots are in Oklahoma, where he is an enrolled member of the Cheyenne and Arapaho Tribes. Orange is a recent graduate from the MFA program at the Institute of American Indian Arts. A finalist for the Pulitzer Prize, There There exploded onto the American literary scene. Orange's next novel, Wandering Stars will be published by Alfred A Knopf in 2022.
This conversation is part of the Lettres d'Amérique conversation series organized by the American Library in Paris, the U.S. Embassy in France, Festival America and Transfuge magazine. For more information about the series, please visit: americanlibraryinparis.org/lettres.
••••••••••
En septembre 2021, the American Library in Paris vous invite à découvrir les nouvelles voix de la littérature américaine. Une série virtuelle, Lettres d'Amérique (6–27 septembre) explorera les questions au cœur de l'Amérique d'aujourd'hui : race, immigration, citoyenneté, traumatismes historiques, addiction et violence armée. L'éventail des intervenants de cette année est aussi riche que varié. De la férocité et de l'humour avec Tommy Orange et Jenny Zhang ; à la violence et aux mémoires avec Laila Lalami ; en passant par les sombres portraits de la société américaine de Yaa Gyasi et de Nana Kwame Adjei-Brenyah.
Dans sa mission de présenter les plus brillants talents littéraires américains à un public français, Lettres d'Amérique sert d'avant-première à la célébration du vingtième anniversaire du Festival America en septembre 2022. La série est soutenue par le Festival America, l'ambassade des États-Unis d'Amérique en France et Transfuge.
••••••••••
Le premier roman de Tommy Orange, There There, explore la détresse des Amérindiens urbains dans une histoire multigénérationnelle au rythme effréné abordant la violence et la récupération, la mémoire et l'identité, la dépossession et l'appartenance. Orange tisse la beauté et le désespoir dans cette histoire complexe d'une nation et de son peuple.
Né en 1982, Orange a grandi à Oakland, en Californie, mais ses racines sont en Oklahoma. Il appartient à la tribu des Cheyennes du Sud. Diplômé de l'Institute of American Indian Arts, il a fait sensation sur la scène littéraire américaine avec ce premier roman. Le prochain roman d'Orange, Wandering Stars, sera publié par Alfred A Knopf en 2022.
Cette conversation fait partie de la série Lettres d'Amérique organisée par the American Library in Paris, Festival America, L'Ambassade des États-Unis d'Amérique et Transfuge. Pour plus d'informations, vous pouvez consulter le site : americanlibraryinparis.org/lettresfr.