Lettres d'Amérique: Jenny Zhang in conversation with Roberto Rodriguez-Estrada
13 September 2021 @ 19 h 30 min

-

21 h 00 min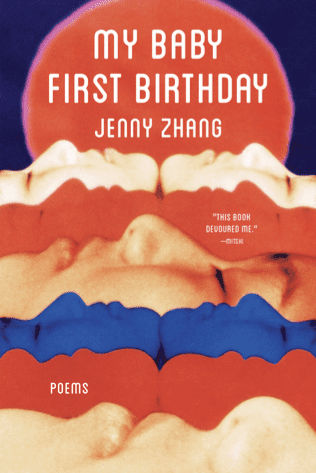 This September 2021, the American Library in Paris invites you to discover the new voices in American literature. A virtual series, Lettres d'Amérique (6–27 September) will explore issues at the heart of contemporary America: race, immigration, citizenship, historical trauma, addiction, and gun violence. The range of this year's speakers is as rich as it is diverse. There is ferocity and humor from Tommy Orange and Jenny Zhang; there is violence and memoir from Laila Lalami; and there are dark portraits of American society from Yaa Gyasi and Nana Kwame Adjei-Brenyah.
 In its mission to showcase the brightest American literary talents to a French audience, Lettres d'Amérique serves as a robust preview of Festival America's twentieth anniversary celebration next September 2022. The series is co-sponsored by Festival America and the U.S. Embassy in France, in partnership with Transfuge magazine.
••••••••••
Jenny Zhang's latest poetry collection, My Baby First Birthday, interrogates what it means to be born into and grow up in a world that fetishizes womanhood, upholds the patriarchy, and extols whiteness. All the while implicating her reader, Zhang offers moments of tenderness, radiant beauty, and compassion.
Zhang was born in Shanghai and grew up in New York. An author, poet and essayist, her work has been published in the New York Times, BuzzFeed, and Rookie, among others. A graduate of the Iowa Writers' Workshop and Stanford University, Zhang has also written for television and TV. She lives in New York City where she is working on a novel and screenplay.
This conversation is part of the Lettres d'Amérique conversation series organized by the American Library in Paris, the U.S. Embassy in France, Festival America and Transfuge magazine. For more information about the series, please visit: americanlibraryinparis.org/lettres.
••••••••••
En septembre 2021, the American Library in Paris vous invite à découvrir les nouvelles voix de la littérature américaine. Une série virtuelle, Lettres d'Amérique (6–27 septembre) explorera les questions au cœur de l'Amérique d'aujourd'hui : race, immigration, citoyenneté, traumatismes historiques, addiction et violence armée. L'éventail des intervenants de cette année est aussi riche que varié. De la férocité et de l'humour avec Tommy Orange et Jenny Zhang ; à la violence et aux mémoires avec Laila Lalami ; en passant par les sombres portraits de la société américaine de Yaa Gyasi et de Nana Kwame Adjei-Brenyah.
Dans sa mission de présenter les plus brillants talents littéraires américains à un public français, Lettres d'Amérique sert d'avant-première à la célébration du vingtième anniversaire du Festival America en septembre 2022. La série est soutenue par le Festival America, l'ambassade des États-Unis d'Amérique en France et Transfuge.
••••••••••
Le plus récent recueil de poèmes de Jenny Zhang, My Baby First Birthday, interroge ce que cela signifie que de naître et de grandir dans un monde qui fétichise la féminité, soutient le patriarcat et exalte la blancheur. Tout en impliquant son lecteur, Zhang offre des moments de tendresse, de beauté radieuse et de compassion.
Zhang est née à Shanghai et a grandi à New York. Une écrivaine, poétesse et essayiste, elle a publié ses écrits dans le the New York Times, BuzzFeed, Rookie, et ailleurs. Titulaire d'un B.A. de l'Université de Stanford et d'un MFA de Iowa Writers' Workshop, Zhang a également écrit pour la télévision et le cinéma. Elle vit à New York City où elle travaille sur un roman et un scénario.
Cette conversation fait partie de la série Lettres d'Amérique organisée par the American Library in Paris, Festival America, L'Ambassade des États-Unis d'Amérique et Transfuge. Pour plus d'informations, vous pouvez consulter le site : americanlibraryinparis.org/lettresfr.