By Blandine Marcé
"Libraries should be humanized. They should radiate a sort of inner warmth." Harry Goldberg to Ms. Malavelle of Toulouse University, 13/11/1975
My grandmother, Colette, died when I was around one year old. She is described by everyone that knew her as the sweetest woman they have ever met, beautiful inside and out. She died fairly young, in her sixties, and it was devastating for my grandfather, Harry Goldberg, for she really was the love of his life.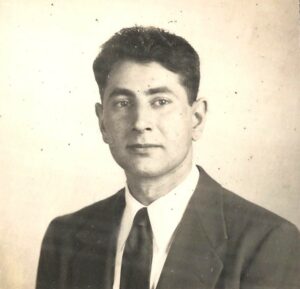 Harry Goldberg. Photo: Courtesy of the author.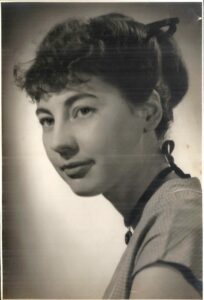 Colette Goldberg. Photo: Courtesy of the author.
My mother told me that Harry met Colette at the Cité Universitaire in Paris in the early 1950s. In a letter from October 12th, 1976 that I found in the Library's archives, Harry mentions meeting Colette in Paris in 1952. I'm guessing he went there to study French, or perhaps as an exchange student, for my grandmother was teaching French to foreign students. By 1955, Harry had earned an MS degree in Library Science from Drexel Institute of Technology in Philadelphia. He married Colette in 1956 in Philadelphia, and by 1957 they had moved to Paris and he was appointed Chief Librarian of the American Library in Paris. They had two children: my uncle Michel, the eldest, and my mother, Anne.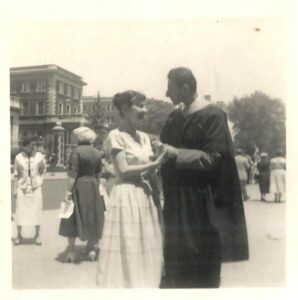 Harry and Colette at Harry's graduation, 1955. Photo: Courtesy of the author.
After Colette passed, Harry was never the same. My mother and I lived not too far from him, so we went to see him regularly. I just recall someone who was very quiet. He was loving, I'm sure of it, but he wasn't a cheerful person, and definitely not a cheeky one. He was very intelligent, this I could see. He loved to record every classic film and animal documentary he could. He was also an artist: his passion was creating mosaics, and he was very good at it. I remember him, in my younger years, as someone who didn't talk much, typed on his typewriter, created mosaics, and ate with us—but never meat, as was a resolved vegetarian, and occasional pescatarian.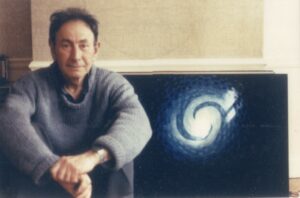 Harry Goldberg with one of his mosaics. Photo: Courtesy of the author.
Eventually, he was diagnosed with Alzheimer's, and my mother took care of him until he passed, when I was fourteen. In the last years of his life, he became a bit more talkative, and I have fond memories of him. But he always appeared to me as a broken man, solitary, and quiet. Something, or someone, was missing.
I love doing genealogy research. I knew a lot about the French side of my family, but not about Harry's history. After he died, I tried to reconnect the pieces of Harry's life as best I could, but I still didn't have a lot of information on Harry himself, except what my mother told me. Because of my background as an historian and in archival research, oral sources weren't enough for me. (In contrast to my mother, who is a professional storyteller, conteuse in French; she knows about 200 folktales from all over the world). I wanted documents, proof, something concrete.
Harry was of Romanian and German descent: His father was born in Iasi, Romania, and his mother either in Iasi or Bucharest. They emigrated to the US before 1917. A great deal of Romanian archives were burnt during the Second World War, making genealogy research very difficult. I've done a lot of work to retrace their date of arrival, their life in the States, and I've reconnected with most of my American family, especially Harry's niece, Elisa Goldberg, the daughter of his beloved brother Barney.
In searching my mother's papers, I was able to trace back a lot of Harry's youth and studies, including his time in the US army during WWII. He worked there first as a welder, and then as an interpreter. According to my mother, he was a polyglot, speaking eight languages, including English, French, German, Spanish, Italian, Portuguese and Russian. While research helped me reconnect with my extended family, and find a wonderful picture of Harry and his siblings when they were children, I was very frustrated to not know anything about his time as the Director of the American Library in Paris. When I searched online, I found only mentions, but nothing extensive. I wanted to know more about his time there. So I emailed the American Library.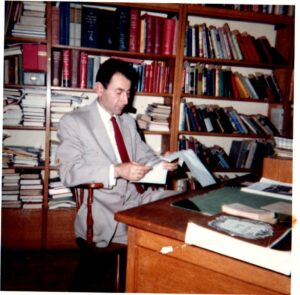 Harry Goldberg in his office at the Library at 129, rue des Champs-Elysées, circa 1960. Photo: Courtesy of the author.
I received an enthusiastic response from Abigail Altman, Assistant Director of the American Library and manager of the Library's institutional archives: "Your grandfather is a legend at the American Library, and one of my professional heroes." I was surprised that this quiet man I had known for the last fourteen years of his life was still held in such high regard. When I received Abigail's message, my archivist sense tingled. I had two months before beginning a new job, and I suggested that I come and take a look at Harry Goldberg's archives, and maybe even give a hand in classifying them. Abigail agreed, and I found myself at the Library in the summer of 2020, searching boxes of photographs, documents, and especially, letters. It was in his letters that I discovered a Harry that I had never met.
First of all, Harry was funny. His letters are full of humor and wit. As he writes in his letter to his good friend, and Library Trustee, Helen Walters, on 29 December 1977: "I managed to extricate your package from the customs after an expedition richer in adventures than Stanley Livingstone's. An experience that beats sitting in the dentist's chair, discarding library books or hitting yourself on the head with a hammer."
In the archives I discovered that Harry's main project was the development of the Library's "Student Branches," affiliated with French universities outside of Paris, a project on which he worked relentlessly. Harry pushed hard for his branches, writing "The branches represent an indispensable element as 'antennae' of the Library in the provinces," in a letter addressed to John L. Hedges, in 1980. Between 1964 and 1976, five extensions of the ALP were created in French universities in Nantes, Grenoble, Toulouse, Montpellier and Nancy.
"[My] 'system' rests on a conception of the dignity of every person working in the Library, […] an awareness of the appreciation felt for the contribution that each makes to the common effort." Letter to Robert Blake, December 22th, 1968.
As passionate as Harry was about his ambitions for the Library and its branches, I learned through his letters that he was equally concerned about his staff. "The library has a tremendous workload for the small staff it has," he wrote to Larry Bone in 1968, "and depends very much on the good will of the staff to get things done in a cooperative spirit." His management style was based on respect, recognition, and communication to resolve conflicts. His letter to Larry Bone continues, "If there were any suggestions for changes or improvements, simply a casual observation or suggestion sufficed. If the detail seemed more important, I usually discussed it with the person and often succeeded in convincing him. If not, when the matter concerned nothing more than a clerical routine handled by the employee himself, it has always been my policy to let the matter ride, rather than marshalling all the strength of my authority."
Harry's humanism, he believed, did not diminish his authority. On the contrary, it earned him respect: "When a lot of people were revolting against 'authority' in Paris last May [1968], our staff rallied around its Library and Librarian in a way we will always be proud of ."
"For many years, my name and that of the Library were closely identified. […] I shall always feel attached to this Library as something very special in the rather humdrum world of libraries." Letter to Dorothy Kidder, April 21th, 1981
When I first started my research, one of my primary motivations was to understand why almost nowhere, not even in many of the American Library's own documents, was Harry Goldberg mentioned as a Director of the Library. As his granddaughter I knew that he had been the Library's Director, but most Library records either designate him as a Head Librarian, Associate Librarian or Director of the Branches. I found the answer to this mystery in the archives.
Harry was hired as Head Librarian in 1957, though he was referred to as the Director in 1967. ("Director of the American Library in Paris," in BF, Franco-American Center Consultation, December 1967.)  I found a 1959 memo where he wrote that he was "Librarian, or Director, since in the US either of these titles may designate the chief administrative officer of a library."(Letter of Oct 27th, 1969, bb Memo 1.)  In short, it seems as though these titles were used interchangeably at the time.
By 1971, Harry had gone years without taking a vacation. He asked for a deputy librarian who could permanently take on some of his administrative functions, including fundraising. Clifford deRoode was chosen, and Harry went on an unpaid leave of absence for several months. Upon Harry's return to the Library, administrative roles and titles had shifted, and title of Director was handed to Clifford deRoode. Harry was designated Head Librarian, and in a sense, his previous status as Director was wiped from the official record. From this point on, Harry took care of book selection and the management of the staff, and the Director took care of fundraising, public relations and some administrative functions.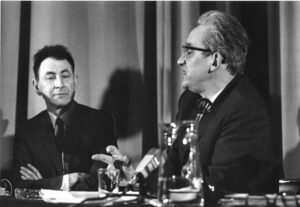 Harry Goldberg (l) and a speaker at the Library's 50th anniversary debate series "Aujourd'Hui L'Avenir de Demain," in 1970. Photo: ALP archives
One of the first letters I found in the archives was an exchange between Harry and deRoode, from January 1st, 1975. To say there were tensions between them is an understatement. But despite the rivalries that emerged with deRoode, Harry did not seem to be an arrogant man. In a letter of October 19th, 1975 addressed to Benjamin T. Pierce, he declares, "This sort of 'quarrel' has no interest or meaning for me. I am not here to build up my ego or to pit myself against anybody. I want only to do all that I can for the good of the Library." Harry's dedication to the Library remained strong, and he stayed at the Library for the remainder of his career, retiring after twenty-five years in 1981.
While researching the archives, I had the pleasure of seeing photographs showing Harry's mosaics on the wall in the Library's offices. I recognized, in every letter, the darker ink of his typewriter. While holding his correspondence, I had the feeling of being closer to him than I had ever been. I've learned about my family, as Harry mentioned my grandmother Colette, my mother Anne and my uncle Michel in his letters. I had the feeling of finally meeting my grandfather, for the respected leader that he was at the American Library, a vivid personality, brilliantly intelligent, passionate and admired for his work. Helen Walters wrote to Harry in 1977: "Your contributions to the Library have been incalculable." I even had the pleasure of finding a picture of me in the archives, taken in March 1998 during a Peter Pan event in the Library, long after my grandfather retired in 1981. I don't remember coming to the Library as a child, but finding this picture was as if the Library told me I already belonged there.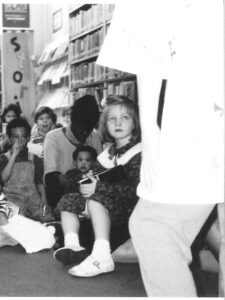 The author, in white shoes in 1998. Photo: The Library Archives.
I will do my best not to let his memory fade. We need people to look up to, and Harry Goldberg's passion and compassionate leadership could be something to inspire others.
Thanks
I have met wonderful people at the American Library in Paris. This Library is very friendly and has a great collection of books, two things I love. I really want to thank Simon Gallo, former Collections Librarian at the American Library, for meeting with me and answering some of my questions. He knew my grandfather very well. My gratitude goes to every single person I've met in the Library for their kindness and the good moments I've shared with them. I really felt welcome here, like a family reunion. Thank you Abigail Altman for your enthusiasm, and thank you to everyone who has supported me in my research.
About the Author
Blandine Marcé is a Document Controller for a company working in nuclear energy. She has a degree in History and the History of Art, and two master's degrees in Collection Management and Documentation. In addition to her interests in cultural heritage, she is deeply passionate about social justice, ecology and working towards a better, cleaner world.
Sources 
• Archives D2.6, American Library in Paris
• "DIVERS ITEMS AND ACTIVITIES." Newsletter (Association of American Library Schools), vol. 10, no. 1, 1958, pp. 29–33. JSTOR, www.jstor.org/stable/43945344. Accessed 4 Oct. 2020.
• "Libraries," A Touch Of Paris, Fall 1980, p.52
• "The Law : Downgrading Citizens," Time Magazine US Edition , May 10th, 1971, p.42
• "La bibliothèque américaine s'installe dans son nouvel immeuble," Le Monde, 14 octobre 1964
• "Advertisement about the ALP," International Herald Tribune, 7 March 1969, Page 3
• "UN APPEL POUR LA BIBLIOTHÈQUE AMÉRICAINE DE PARIS , "Le Monde, 6 mars 1976
• "Un cadre prestigieux pour la bibliothèque américaine," Le Républicain Lorrain, 15 novembre 1974
• "La cinquième bibliothèque américaine de France ouvre à Saint-Epvre," L'Est Républicain, 16 novembre 1974