And the 2016 YAFF winners are…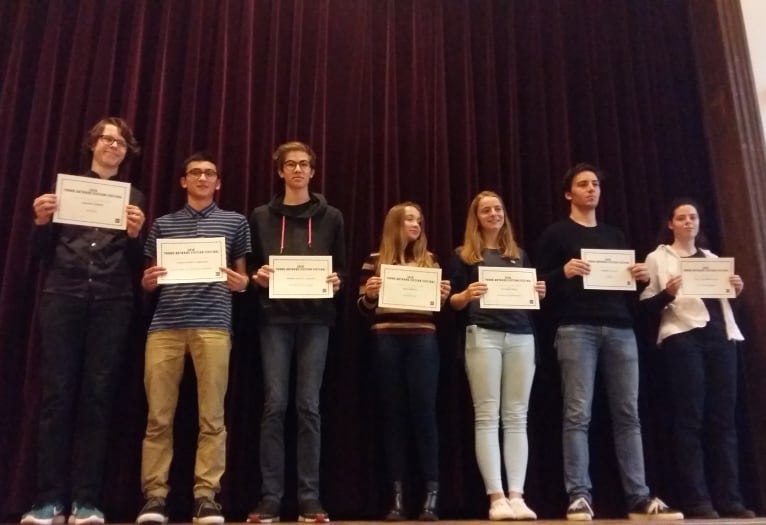 The 2016 Young Authors Fiction Festival culminated with a celebration event on Friday 3 June 2016 at the American Church in Paris. Over 300 people attended the celebration event, including the young author finalists, parents and teachers. Each finalist was awarded a certificate. YAFF celebration booklets were printed with the full stories of all the 1st to 5th place winners. Honorable Mention stories are also listed along with their authors. Each celebration booklet is available for 15 euros each.
This year we received 420 entries, our biggest intake ever, from more than 25 schools, homeschooling programs and writing classes located in and around Paris. The Library thanks the forty-four judges participated this year, as well as the small but active YAFF 2016 committee who took care of all of the details along the way. The 2016 YAFF committee include Brooke Burns, Eric Hengesbaugh, David Lawrence, Pauline Lemasson, Celeste Rhoads, Jan Smith. Special thanks also goes to Petra Zehner for the design of the celebration booklet and to director Charles Trueheart for his support and guidance.
The American Library in Paris is proud to be the organizer of the Young Authors Fiction Festival. The Fiction Festival aims to strengthen community among English-speakers in the Paris area through the art and craft of storytelling. The Festival is open to all students ages 5 to 18 in the greater Paris area who write in English.
We look forward to YAFF 2017, so until then…Happy Writing!
————————-
CP / 1st Grade
1st: Bottled House by Sami Merad
2nd: The Flying Cat at the Broken Down Beast by Julie Papin
3rd: Halloween Dark Maze by Aaron Dussaucy
4th: Beyond the Stars by Oskar Lewis
5th: My Grandma's Birthday by Sienna Fawke
5th: My Grandma's Birthday by Sienna Fawke
Honorable Mention
The Cat and the Pigeon by Manolis Diakosavvas
The Family With a Baby by Isaac Hadida
The Rabbit Who Could Not Say Anything by Louis Khan
CE1 / 2nd Grade
1st: Greg's Tiny Secret Toys by Roland Peyrusaubes
2nd: The Unlikely Heroes by Edvard Bassey-Holmes
3rd: Ferragosto's Adventure by Maria Guilia Larcinese
4th: The Shooting Star by April Hanauer
5th: Napoleon's Real Adventure by Emilien Kofoed
Honorable Mention
Friendship by Paloma Estay Hollands
The Volcano by Arabella Loftus

CE2 / 3rd Grade
1st: The Pyjama Boy by Max Lewis
2nd: Storyworld by Lily Thébaut
3rd: A Cheetah for Christmas by Thomas Ravel
4th: Don't Fly. Swim! by Maureen Shema
5th: Gabriel's Secret by Perle Hannoyer
Honorable mention
The Grocery Delivering Robot by Changhyun Park
Cheese at the Louvre by Charles Lucas
When My Sister Fell in the Water by Hektor Ferdinand Hyll-Muller

CM1 / 4th Grade
1st: The Life Key by Maho Katsumura
2nd: Madame Voiture by Naho Katsumura
3rd: Snake in a Box by Ryan Taoutaou
4th: The Cat's Revenge by Luisa Peyrusaubes
5th: Simon and the Stressful Spelling Test by Rose Dawson
Honorable mention
The Accidental Memory Loss by Theodore Paulin-Elgar
The Fire Dragon by Colman Delarozière
Knights of the Square Table by Sacha Zabotto Devitt
CM2 / 5th Grade
1st: Isabella and the Haunted House by Tamara Bafi
2nd: The Legend of the Prickles by Saachi Jain
3rd: It's An Amazon Life… by Sienna Frederic
4th: Unconditional Love (The Sequel) by Oscar Merlot-Reynolds
5th: Secret of the Alps by Lauren Lendrevie
Honorable mention
Life Changing Adventure by Claire Ernandes
Dumbfounded by Charlotte Leech
Dog Monologue by Paige Driver
6ème / 6th grade
1st: Lobster for Lunch? by James Taoutaou
2nd: Gus and the Mighty Thunder Bolt by Antoine Haghoust
3rd: A Not So Short Story by Louise Besnier
4th: Fearless by Caterina Colzi
5th: Missing in Action by Pascale Cartwright
Honorable mention
The Defeater by Laura Marquez
The True Cost by Isabel Montalvan
A New Beginning by Alba Azzarello
5ème / 7th grade
1st: The Masterpiece by Nirali Jain
2nd: Upgrade by Ciara Balhi
3rd: Black and White by Matteo Mastrangelo
4th: The Plank by Elena Sofia Massacesi
5th: Violet by Alix Levet
Honorable mention
I Saw Her by Clotilde Pedron
Get Out by Laurent Tarabout
The Library by Maia Lundy
4ème / 8th grade
1st: The Tracks by Jack Wessels
2nd: A Belated Thank You by Mana Katsuno
3rd: Hope Flowing Down the Amnok River by Jeongwoo (Brian) Park
4th: Introvert by Lachlan McAloon
5th: Identity by Sara Park
Honorable mention
The Old Lady in the Hijab by Christine Hodgson
Nothing in Sight by Daisy Bachofen
3ème / 9th grade
1st: The Race by Lydie Hua
2nd: Agent X and the Not-So-Terrible-But-Still-Kinda-Evil Laser by George Hellouin de Menibus
3rd: S is for Suspicion, and Sisters, and a Potential Murderer-to-be (Which Doesn't Start with an S But Was Worth Mentioning) by Olivia Vaaranmaa
4th: Seizure by Philine Rouwers
5th: Incubus in the Sky by Sophie Kane
Honorable mention
The Spirits Board by Ugo Sandrin

Seconde / 10th grade
1st: Stranger by Pauline Delarue
2nd: My Maze by Victoria Koch
3rd: Balance Boy by Ito Choho
4th: The Miscarriage by Grace Baghdadi
5th: Revival by Delphine Victoria Chiffaudel
Honorable mention
Dream Becoming Reality by Mina Kim
What Doesn't Kill You Makes You Stronger by Marine Coispeau
Orange Juice by Zola Mooney
Première et Terminale / 11th and 12th grade
1st: The Sands See All As Equal by Andrei (Ricky) Longley
2nd: Life & Its Inconveniences by Victoria Tefra
3rd: Lisa's Many Mornings by Polly Dellière-Moor
4th: The Faulty Part by Ada Enesco
5th: Confined by Gabriel Di Lullo
Honorable mention
Drastic Times Calls For Drastic Measures by Christopher Corrigan
The Needle by Kennan Penner