Reading and Eating in Paris

For me, the only thing better than eating in Paris is reading in Paris. Happily for us Anglophones, the City of Light offers a bevy of quirky, quaint and eclectic English-language bookshops, a veritable book lover's feast. But if you're anything like me, shopping makes you hungry. Here, then, are some of my favorite bookstores, paired with a nearby restaurant, so you can read and snack to your heart's content.

The Abbey Bookshop (29 rue de la Parcheminerie) — The small space overflows with new and used books, and the author reading events sometimes spill over into the small pedestrian street outside with people sipping wine and chatting about literature late into the night. Owner Brian Spence offers astute reading suggestions and is wonderfully supportive of local writers. Food tip: I love the chilled soju cocktails and Japanese tapas at Lengué (31 rue de la Parchemnierie), the restaurant next door.
Galignani (224 rue du Rivoli) — This is an elegant grande dame of Paris, with dark wood paneling and a polished calm. The store offers a solid assortment of photo books, English-language guides on France, as well as gorgeous art books. Food tip: After browsing here, continue your decadent tour next door with a visit to the luxurious tea room, Angelina (226 rue du Rivoli), for a pot of their famously thick hot chocolate.
Shakespeare & Co (37 rue de la Bûcherie) — A Parisian landmark for book-lovers, this rambling shop on the Left Bank hardly needs an introduction. A visit here is part shopping expedition, part pilgrimage to honor the men and women of letters who once browsed the shelves. The young and penniless still lend a hand in the store in exchange for lodging — they're called Tumbleweeds. Food tip: After a visit to Shakespeare & Co.'s narrow, crowded, claustrophobia-inducing aisles a brisk walk is in order. I suggest strolling across the Seine to the Ile St-Louis and getting an ice cream from Berthillon (31 Ile St-Louis). My favorite flavor is black currant sorbet.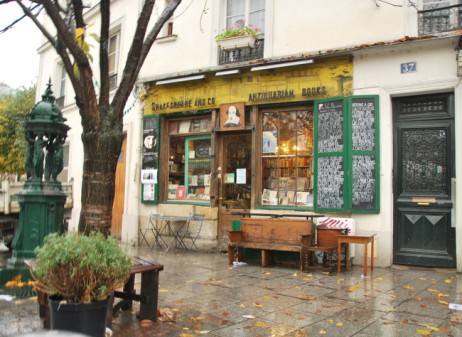 WH Smith (248 rue du Rivoli) — The bright and bustling British chain stocks the latest in UK and US bestsellers, and also offers a wide selection of English-language magazines and newspapers. I'm also fond of the British snacks (like Twiglets, or salt and vinegar crisps) on offer on the second floor. Food tip: I like to buy a bag of chips and eat them in the Jardin des Tuileries, located just across the street.
The American Library in Paris (10 rue du Général Camou) — Full disclosure: I used to work at the Library, so I have a soft spot for this wonderful center of community and literature. I'm honored to speak here on Wednesday, 5 February with Patricia Wells! Food tip: Les Deux Abeilles (189 rue de l'Université) is a lovely tearoom with delicious quiche and a chocolate-almond cake that I dream about. (Unfortunately, they're closed in the evenings.)
Ann Mah will discuss her book
Mastering the Art of French Eating
at the Library on
Wednesday 5 February
.