Young Authors Fiction Festival (YAFF)
The American Library in Paris is proud to be the organizer of the Young Authors Fiction Festival (YAFF). The YAFF is a the only creative writing intiative that aims to strengthen community among English-speakers in the Paris area through the art and craft of storytelling. The Library believes that creative writing plays an important role in a child's literacy development. Creative writing is fun and a great tool to help broaden a child's imagination and foster a life-long love of reading and writing.
The YAFF is free of charge and open to all students ages 5-18 in the greater Paris area who write in English. The Young Authors Fiction Festival originated as The Red Wheelbarrow Writing Contest, which began in 2001 with l'Ecole Massillon and a handful of Paris-based members of the Society of Children's Book Writers and Illustrators (SCBWI), who acted as judges. YAFF is now a highlight of Library programming and the only creative writing initiative for children in Paris, with 450 entries (and growing each year!) submitted from more than 25 schools and writing programs. The YAFF team consists of Library staff and volunteers and includes the involvement of 60 judges from the Library's community and beyond.
We encourage parents, teachers, educators, and schools to help nurture and develop a passion and practice for creative writing in children. The Library offers many resources for creative writing, including books, creative games, and writing workshops offered many times throughout the year. Together, and with YAFF, the Library hopes to raise and nurture the next generation of writers and authors!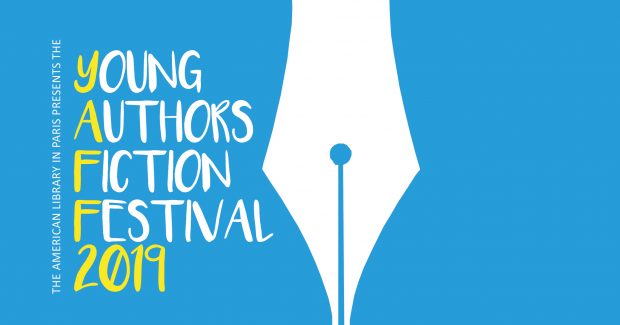 The 2019 Young Authors Fiction Festival
The 2019 Young Authors Fiction Festival is now closed. The YAFF submissions team will be processing the submissions for the rest of this week. If you have not had a response email by Wednesday 5 April 2019 please contact yaff@americanlibraryinparis.org
The deadline for the 2019 Young Authors Fiction festival has passed. The deadline for submission was 1 April by 22h00 and submission was open online until then. Submission is now closed. 
The 2019 Flyer and Submission Guidelines are available here.
For questions, contact the YAFF Team at yaff@americanlibraryinparis.org.
YAFF 2019 in partnership with the

For a full list of all the 2018 YAFF winners, read the Library blog or check out the 2018 YAFF Celebration Booklet from the Library collection. For more photos from the 2018 Celebration Event, check them out on the Library Flickr.
Frequently Asked Questions