What is la rentrée littéraire?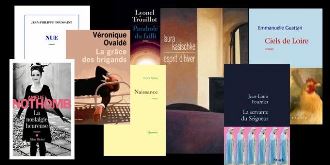 In France the first weeks of September are of course synonymous with la rentrée – the end of summer holidays, going back to school and work, renewing memberships and all the little things that mark the beginning of a new academic year. As well, if you walked past a bookstore or read any French newspaper or magazine in early September, you will notice another illustration of the French cultural exception: la rentrée littéraire.
The rentrée littéraire takes place between late August and early November and is a concentrated period of time where new books are released in France. No less than 555 novels will be released for the 2013 rentrée. These books include new titles, novels released for the first time in paperback and foreign books translations that are new to non-English readers. It's not a suprise that the rentrée littéraire coincides with the French literary award season, many of which are decided in late October and early November, including the prestigious Prix Femina, Prix Goncourt and the Grand Prix du roman de l'Académie Française.
In order to better understand this French literary phenomenon, Programs Manager Grant Rosenberg interviewed notable French journalist and author Pierre Assouline to decode the rentrée littéraire. Here is a summary of what they talked about.
Is the rentrée littéraire an efficient way in releasing books? Why not before the summer holidays?
I would say the rentrée littéraire is effective for French readers but maybe not American or English. For French people yes, it's a tradition. We don't know when it began, but it was most likely after the war in the 1950s. Because it's linked to the rentrée tout court, of school and everything. As you know, for several months, from June to the end of August, the country is closed.
Of course there are too many novels during that time. But when you say 500 books, actually it's 350 because you don't count the foreign novels. It's for economic reasons. Publishers need to publish books even if they aren't read. Each time they publish a book and send to bookstores, the bookstore has to pay for it. If they don't sell it, they can send it back two months after and get back their money back. The system is killing the publishing industry.
Do you think e-reading will change this system?
Will e-readers change the tradition? I'm not sure. All of publishing is based on this system. E-readers will change lots of things, but it will take more time in France, because of cultural exception for one thing. And thanks to it, there are still many bookstores in France. In England the bookstore is dying. And in the US too as we've seen with Borders. It will be tough with B and N. For me the most important event in publishing was a signal to us, and that is that when Amazon bought The Washington Post. In the next ten years in France, free.fr is going to be the owner maybe of newspapers. Orange too.
The reason its so hard for e-reading to be successful here is the huge resistance of publishers. They keep the price high, the price of e-books in France. They do it because they know that if they put the right price for e-books like in US, UK and Germany, it will kill the paperback industry, and they don't want that. The resistance is not by readers, but by the industry.
Pierre Assouline, French journalist, author, blogger and member of the Academie Goncourt, spoke at the Library on
15 October
. He recently published
Du côté de Chez Drouant
, about the Prix Goncourt.