The American Library in Paris Visiting Fellowship
Nurturing and sustaining cross-cultural intellectual discourse since 2013
Who should apply?
We welcome the applications of writers and researchers wishing to pursue a creative project for a month or longer while participating actively in the intellectual life of the American Library. Applicants should be working on a book project, fiction or non-fiction, or a feature-length documentary film, that contributes to cross-cultural discourse.
There are two one-month Fellowship periods a year in fall and spring, with dates to be specified later.
Particular attention will be paid to an applicant's ability to offer the Library community a variety of opportunities for exploring a topic.
International applicants are encouraged—you need not be American to apply. The proposed project must be in English.
Members of the Library governance are not eligible recipients of a Visiting Fellowship.
Visiting Fellows are expected to:
Be present in Paris during the period of the fellowship. *Please see the FAQ section below for our statement about the possiblity of virtual Fellowships in the context of the Covid-19 pandemic.
Be present in the American Library a minimum of three half-days a week.
Present an hour-long evening program at the Library.
Participate in a Library reception.
Meet with staff informally to explore a topic of mutual interest.
Extend the Library's reach by participating in events arranged by the Library with other organizations in Paris.
Provide the Library and the funding foundation with a written report of the Fellowship experience.
Appropriately acknowledge the Library and the Visiting Fellowship in publications and print media related to the Fellowship project.
Participate in the Library's social media communication, fundraising campaigns, and other public events.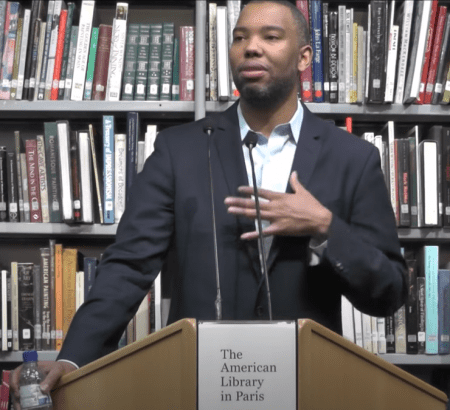 Ta-Nehisi Coates, Visiting Fellow winter 2015
Fellowship Award
A $5,000 stipend will be paid before start of a Fellowship period. The award, to be spent at the discretion of the Fellow, is designed to cover travel to Paris, accommodation, and expenses associated with the month in Paris. In addition to the stipend, the Library will connect the fellow to resources and people in Paris that could be helpful to his or her project.
The Fellowship is made possible through the generous support of The de Groot Foundation.
How to apply
The application must be submitted via our official Visiting Fellowship form and include (submitted as a SINGLE file):
Be present in Paris during the period of the fellowship. *Please see the FAQ section below for our statement about the possiblity of virtual Fellowships in the context of the Covid-19 pandemic.
Cover letter including a 100-word abstract of project envisioned for the Fellowship
Brief biography or CV
Narrative description of project, specific outcomes and objectives for your Fellowship time, resources and references you plan to consult (two pages maximum)
The name and contact information of two professional references willing to discuss your project with us. We will only consult references for finalists. Applicants will be notified before references are contacted.
Application processing fee: €30. No application is complete without payment, though there is no penalty if payment is received after the application deadline. You will be prompted to pay online upon submission of Fellowship, using our secure credit card payment platform, PayBox. All payments will be processed in EUR.
Frequently asked questions
Q: Will you consider offering a virtual Visiting Fellowship?
A: Yes. Your current geographic location and any COVID-related travel restrictions will not affect our review of your materials. We are open to the possibility of offering a virtual Fellowship. However, we very much hope for travel to open up later in 2021 so that the selected Fellows can join us on site in either Fall 2021 or Spring 2022. We will work directly with the two selected Fellows to discuss options. Please note that we will only be able to answer specific questions regarding residential or virtual fellowships with successful applicants.
Q: I'm based in Paris (or France). Can I still apply?
A: Yes. We give equal weight to applications from France-based creatives.
Q: Do I need to be a published author in order to be awarded the Visiting Fellowship?
A: While you do not need to be a published author to apply, many of our Fellows have one or more previous publications under their belts and often have a publishing contract secured for their next project.
Q: When will I hear back? Do you send out confirmations?
A: The deadline for applications is 1 April 2021. You can expect to hear back from us with a final decision by July 2021. We will confirm receipt of your application within a few days of submission.
Q: Can you give me advice about my application?
A: In the interest of fairness, we are unable to advise potential applicants on their materials.
Q: After I've applied, can I send additional materials or request that part of my application be swapped in or out after submission?
A: No. Once an application is received, you cannot swap or add materials.
Q: How many applications do you receive and how many Visiting Fellows will you accept?
A: We typically receive between 100 and 200 applications in our annual cycle, and we award two Visiting Fellowships per year.
Q: Will you consider my application if I do not pay?
A: No. Only applicants who have submitted the application fee will be considered for the Visiting Fellowship. We will inform you if your application is missing payment, but please plan to submit payment with your application in order to receive full consideration.
Q: What is the difference between your Visiting Fellowship and Writer-in-Residence programs?
A: Visiting Fellows are chosen through an application process. Writers-in-Residence are invited directly by the Library, and are typically more senior or established authors. We do not consider proposals for Writers-in-Residence.
Q: What can I expect from the experience if I am awarded a Visiting Fellowship?
A: Here's what our inaugural fellow Anthony Flint had to say about the Visiting Fellowship: "As much as I rely on the Internet, I'm a big fan of going places. As a reporter for The Boston Globe, I learned that there was a lot that could be accomplished on the telephone, on deadline, but that there was always something to be gained just by showing up at an event, bumping into people, observing things, or having unplanned conversations. A Visiting Fellowship at the American Library in Paris was an extraordinary opportunity, prima facie. It was made even more so by all these experiences, many of which I could not have planned. So while I cannot possibly express my gratitude sufficiently to the American Library in Paris, the board and staff, to the de Groots and the de Groot Foundation, I can say that it worked. I'm confident that future Visiting Fellows will have similar unscripted revelations. Who knows what might await. My advice to them would be as follows: Just go."
Q: My question isn't answered above. Who should I contact?
A: Please contact fellowship@americanlibraryinparis.org if you have any other questions.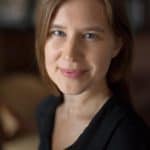 Eula Biss (Future Fellow 2020-21) is the author of four books, most recently Having and Being Had, which Cathy Park Hong calls "a revelatory and necessary primer on how late capitalism affects our daily lives." Biss holds an MFA in nonfiction writing from the University of Iowa and has been teaching writing at Northwestern University for fifteen years. Her book On Immunity was named one of the Ten Best Books of 2014 by the New York Times Book Reviewand Notes from No Man's Land won the National Book Critics Circle Award for criticism in 2009. Her work has been translated into over ten languages and has been recognized by a Guggenheim Fellowship, a National Endowment for the Arts Literature Fellowship, a Howard Foundation Fellowship, a Rona Jaffe Writers' Award, a 21st Century Award from the Chicago Public Library, and a Pushcart Prize. Her essays and poems have recently appeared in the New Yorker, the Guardian, the Times Literary Supplement, The Believer, Harper's, and the New York Times Magazine.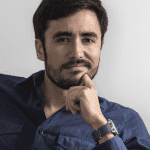 Matthieu Aikins (Future Fellow 2020-21) has reported from Afghanistan and the Middle East since 2008 for magazines such as The New Yorker, Harper's, and GQ. He is a contributing writer for The New York Times Magazine, a contributing editor at Rolling Stone, and a winner of the Polk and Livingston Awards. In Paris, he'll work on his book about the global refugee crisis, to be published by Harper in 2021.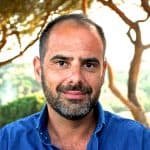 Mark Braude (Future Fellow 2020-21) is the author of The Invisible Emperor: Napoleon on Elba From Exile to Escape and Making Monte Carlo: A History of Speculation and Spectacle. During his fellowship he will work on a book of narrative nonfiction about the French artist and model Kiki de Montparnasse, focusing on her professional and romantic entanglement with the American photographer Man Ray in 1920s Paris, to be published by W.W. Norton.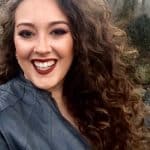 Rhae Lynn Barnes (summer 2019) is Assistant Professor of American Cultural History at Princeton University and specializes in the globalization of American popular culture and racism. While at the American Library in Paris, Rhae Lynn worked on her first book, Darkology: When the American Dream Wore Blackface, which maps the political, economic, and global cultural geography of amateur blackface minstrelsy. She also conducted research for a new edition of the Image of the Black in Western Art series. She is Executive Advisor with Henry Louis Gates Jr. to the four-part PBS documentary series Reconstruction: America After the Civil War. Rhae Lynn earned her Ph.D. from Harvard University and B.A. from the University of California, Berkeley.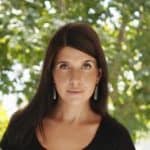 Molly Antopol (summer 2019) is the author The UnAmericans (W.W. Norton, 2014), a story collection that won the New York Public Library's Young Lions Fiction Award and a National Book Foundation 5 Under 35 Award, among other prizes. During her time in Paris, Antopol worked on her novel in progress, The After Party, which will also be published by Norton. The book explores issues of surveillance and privacy, making it deeply resonant in the current landscape.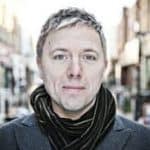 Ian Leslie (spring 2019) is a journalist writing about the science of human behaviour, drawing on a wide range of interdisciplinary expertise. He is the author of Born Liars: Why We Can't Live Without Deceit, and Curious: The Desire to Know and Why Your Future Depends On It. Ian's book Conflicted: How Productive Disagreements Lead to Better Outcomes was published in 2021.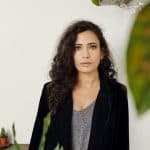 Hala Alyan (fall 2018) is the author of several poetry books and the novel Salt Houses. In Paris, she worked on her novel, The Arsonists' City, published in March 2021, about a family that unravels as its members come together to sell their ancestral home in Beirut. Alyan lives in New York, and is also a licensed psychologist.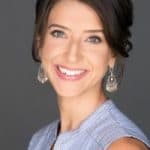 Vanessa Manko (spring 2018) is the author of The Invention of Exile. She earned her MFA from Hunter College where she was the recipient of a Hertog Fellowship. Her work has appeared in Granta, the New York Times Magazine, The Barnes & Noble Review, and on NPR's Selected Shorts. She has taught writing at Wesleyan University, New York University, and SUNY Purchase. While at the Library, she worked on a novel in progress called A Question of Illumination, inspired by the life of Loïe Fuller, the late 19th-century modern dancer.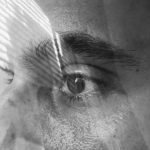 James Verini (fall 2017) is a magazine journalist who has reported extensively from Africa, the Middle East and elsewhere. His reporting on the fall of ISIS in Iraq and the battle for Mosul in The New York Times Magazine and National Geographic, where he is a Contributing Writer, was into a book for WW Norton, They Will Have to Die Now: Mosul and the Fall of the Caliphate, published in 2019. He also writes for The New Yorker, The Atavist Magazine, and others.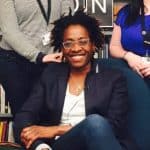 Jacqueline Woodson (spring 2017) is an award-winning writer of books for children and young adults. She is known for Miracle's Boys, which won the Coretta Scott King Award in 2001, and her Newbery Honor-winning titles Brown Girl Dreaming, After Tupac and D Foster, Feathers, and Show Way. Her recent books include Harbor Me, The Day You Begin, and Red at the Bone. For her lifetime contribution as a children's writer, Woodson won the Margaret Edwards Award in 2005. She won the National Book Award in 2014 in the category of Young People's Literature for Brown Girl Dreaming, and was nominated in Fiction for Another Brooklyn. She is a 2020 MacArthur Fellow and a recipient of a 2020 Hans Christian Andersen Award.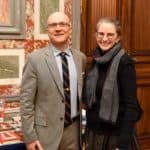 Anna Leahy and Doug Dechow (fall 2016) are co-authors of Generation Space: A Love Story, which they previewed during their joint fellowship. At Chapman University Dr. Leahy, a poet and nonfiction writer, teaches in the MFA and BFA programs; and Dechow is the Engineering, Science, and Digital Humanities Librarian. They are the creators of the Lofty Ambitions blog, which covers science, aviation, and spaceflight. During their fellowship Anna led a poetry workshop, and Doug presented correspondence from The Center for American War Letters.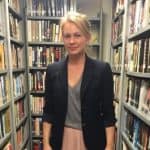 Megan Mayhew Bergman (spring 2016) is a writer and journalist. Her work has appeared in The Guardian, The Paris Review, The New York Times, The New Yorker, Tin House, Ploughshares, Oxford American, Orion, Best American Short Stories 2011 and 2015, and on NPR's Selected Shorts. She is the author of two collections of short stories: Almost Famous Women and Birds of a Lesser Paradise. Her upcoming book, How Strange a Season, will be published by Scribner. Bergman won the Garrett Award for Fiction in 2012 and the Phil Reed Environmental Writing Award for Journalism in 2020. She has received fellowships from the Bread Loaf Writers' Conference and the Conservation Law Foundation. During her Visiting Fellowship at the American Library in Paris, she gave a talk about supporting women in the arts and conducted a creative writing workshop. She currently teaches literature and environmental writing at Middlebury College.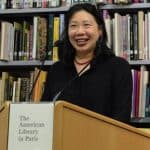 Lan Samantha Chang (fall 2015) is a poet and author of Hunger, a collection of short fiction, and two novels, Inheritance and All Is Forgotten, Nothing Is Lost. Her upcoming novel, The Family Chao, will be published by W. W. Norton in 2022. She is the Program Director and Elizabeth M. Stanley Professor in the Arts of the Iowa Writers' Workshop at the University of Iowa. She has been awarded fellowships from Stanford University, Princeton University, the Radcliffe Institute for Advanced Study, the Guggenheim Foundation, and the National Endowment for the Arts. While a Visiting Fellow at the American Library in Paris, Chang presented an evening program about F. Scott Fitzgerald's revision process for The Great Gatsby and led a four-part novel-writing workshop.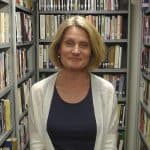 Susan Hiner (spring 2015) is a professor of French and francophone studies at Vassar. During her Visiting Fellowship at the Library, Hiner researched Behind the Seams: Women, Fashion, and Work in Nineteenth-Century France, which was the topic of her evening program. She is also the author of Accessories to Modernity: Fashion and the Feminine in Nineteenth-Century France.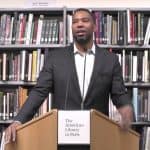 Ta-Nehisi Coates (winter 2015) is a former national correspondent at the Atlantic. He is the author of The Beautiful Struggle: A Father, Two Sons, and an Unlikely Road to Manhood; Between the World and Me; We Were Eight Years in Power: An American Tragedy; and The Water Dancer. Between the World and Me won the 2015 National Book Award for Nonfiction and is a New York Times Bestseller. The book has been heralded by Toni Morrison and President Obama. Though Coates's American Library in Paris Visiting Fellowship was for a novel still in progress about an African American who moves from Chicago to Paris, he was also at work on the final draft of Between the World and Me during his time in Paris, and he gave his first public reading of the text at the Library. On another night during his Fellowship, he spoke about his landmark article "The Case for Reparations" (The Atlantic) and conducted an event for teens about superheroes and comic books and their place in pop culture.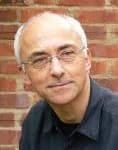 Alex Danchev (1955-2016) (fall 2014) was a professor of international relations at University of St Andrews. He was also the author of Cezanne: A Life (shortlisted for the 2013 Library Book award), the collection of essays On Art and War and Terror, and a work on René Magritte, the subject of his research during his Fellowship. At the Library he spoke about Magritte and participated in a panel discussion about the state of global terrorism.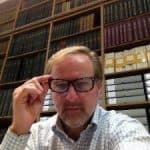 Anthony Flint (fall 2013), is an author and journalist, a fellow at the Lincoln Institute of Land Policy, and an expert on global urbanization, land policy, and architeture and urban design. He is the author of Modern Man: The Life of Le Corbusier, Architect of Tomorrow; Wrestling with Moses: How Jane Jacobs Took on New York's Master Builder and Transformed the American City; and This Land: The Battle over Sprawl and the Future of America. He has worked as a journalist for over thirty years, primarily for The Boston Globe. During his Fellowship at the Library, he researched Le Corbusier, investigated structures designed by the renowned architect, and met people who knew him personally.