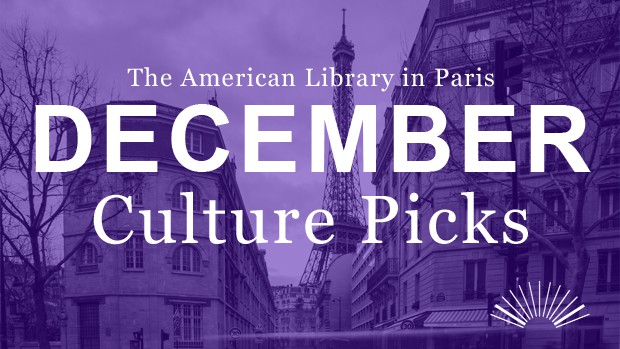 The American Library in Paris is pleased to share our selection of cultural events going on in the city each month. December in Paris is of course filled with anticipation, and stress, of the upcoming holiday season. So if you're in need of a cultural break, check out some of these cultural events before they go away. Here are our Culture Picks for December along with recommended books. Enjoy reading and visiting!
Library Culture Picks: December 2016
WHAT: THE COLOR LINE: AFRICAN-AMERICAN ARTISTS AND SEGREGATION (exhibition)
WHERE: MUSEE DU QUAI BRANY JACQUES CHIRAC
WHEN: 4 OCTOBER 2016 – 15 JANUARY 2017
What role did art play in the quest for equality and the affirmation of black identity in segregated America? This exhibition at the Musée du Quai Branly Jacques Chirac pays tribute to the African-American artists and thinkers who contributed to the blurring of the color line. From the racist themes American vaudeville of the 19th century to the vitality of the Harlem Renaissance to the indictment of the singer Billie Holiday, the exhibition The Color Line showcases 150 years of African-American artistic creation and protest.
Recommended books to read from the Library collection:
……………………………………………………………………………………………………………………………….
WHAT: OSCAR WILDE: INSOLENCE INCARNATE (exhibition)
WHERE: PETIT PALAIS
WHEN: 28 SEPTEMBER 2016 – 15 JANUARY 2017
The Petit Palais presents the first major exhibition in France devoted to Dublin-born writer and playwright Oscar Wilde. The show, co-curated by Wilde's grandson Merlin Holland, features 200 items including paintings, manuscrips, and photographs. Some of the most memorable pieces include photos of his family and young Wilde, correspondences written by Wilde while in prison, and photographs of his bedroom in Paris where he died, impoverished, of cerebral meningitis.
Recommended books to read from the Library collection:
……………………………………………………………………………………………………………………………….
WHAT: 42ND STREET (comedy musical)
WHERE: THEATRE DU CHATELET
WHEN: 17 NOVEMBER 2016 – 8 JANUARY 2017
"42nd Street" is the fourth lavishly staged musical to come through the Théâtre du Châtelet in the last two years, including "An American in Paris" and "Singin' in the Rain." Directed and choreographed by Stephen Mear with a strong cast and incredible costumes and décor by Peter McKintosh, this production of "42nd Street" offers a wonderful and much-needed escape from reality.
Recommended books to read from the Library collection: