(Hybrid) Creating and Inventing with Ayşegül Savaş
January 12 @ 19 h 30 min

-

20 h 30 min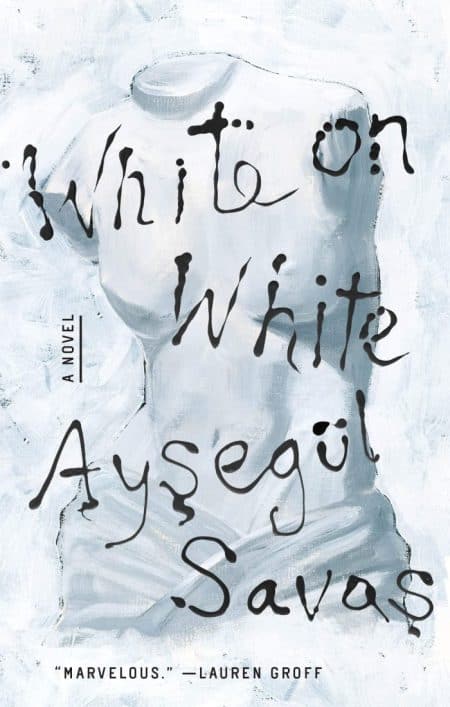 Join Evenings with an Author (in-person and online*) to discuss
White on White
with novelist Ayşegül Savaş
Click here to RSVP
Under the watchful eye of the anonymous narrator in Ayşegül Savaş's second novel, White on White, a picturesque setting begins to fall apart. Having arrived in an unnamed European city to study Gothic sculpture for her doctoral thesis, our narrator is trained in observing inert bodies. What readers confront, however, is her struggle to see real life clearly–particularly in the case of her landlord-turned-friend, whose experience and philosophy as a painter is juxtaposed with the narrator's scholarly background.
As the story evolves, the student finds herself caught in the same trappings of representation and revelation that she had intended to study. Ultimately, Savaş pushes the boundaries between artistic creation and self-invention to the point of breaking. A compelling and deeply psychological story of identity, connection, and storytelling, White on White been praised as an elegant and haunting masterpiece. Join Savaş as she discusses this immensely impressive new release: its inception, its characters, its commentary on the relationship between art and self. 
Click here to RSVP
About the speaker:
Ayşegül Savaş is the author of Walking on the Ceiling, published in 2019. She has been published in The New Yorker, The Paris Review, and The Guardian, among other outlets. Originally from Turkey, Savaş currently resides in Paris. 
Registration required. Free and open to the public.
*The discussion will be available both online and in person. While the conversation will happen in person (Savaş will appear in the Reading Room), the Library will stream the conversation on Zoom for a live viewing experience. Both in-person and online attendees will be able to pose questions.
Click here to RSVP
••••••••••••••••••••••••••••••••••••••••
Important: on-site information regarding COVID-19
In compliance with French regulations, a pass sanitaire is required for all visitors ages 12+. Visitors ages 6+, staff, and volunteers are required to wear masks on the premises.

Related Events