(Hybrid) How to Play La Parisienne
February 22 @ 19 h 30 min

-

20 h 30 min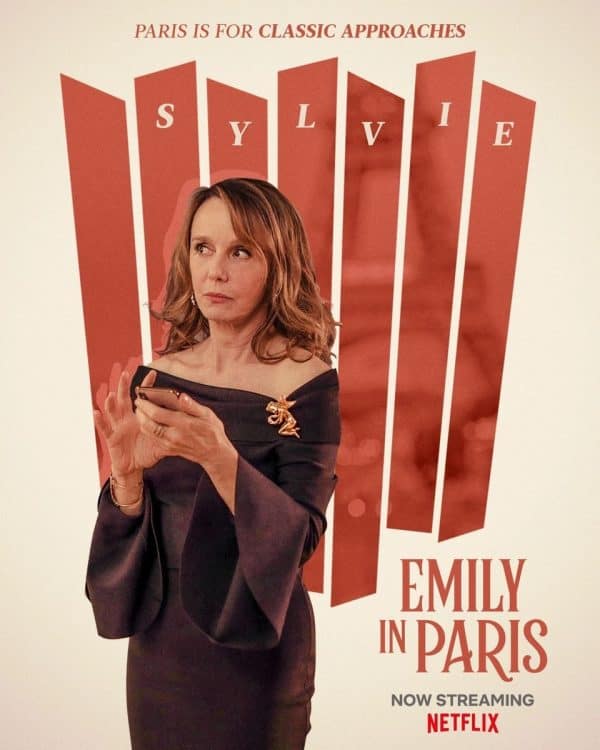 Join Evenings with an Author (in-person and online*) to discuss
Playing the Parisienne
with actor Philippine Leroy-Beaulieu and journalist Elaine Sciolino
Click here to RSVP
It is almost impossible to live as an expat in France without, at least once, confronting the cultural phenomenon that is the Netflix series "Emily in Paris." If you haven't watched it, you have a friend or relative that has. Though the series has received a blend of love, curiosity, as well as sometimes vitriol, a particular target of public attention has been the character Sylvie Grateau (played by Philippine Leroy-Beaulieu), who heads the marketing agency that reluctantly hosts Emily Cooper (played by Lily Collins), the show's guileless American heroine. 
Philippine Leroy-Beaulieu, a seasoned French actress who plays the effortlessly chic and compellingly mean antagonist-turned-friend, believes that her character is more complicated than the stereotypes to which public opinion has reduced her. In a recent New York Times profile by journalist Elaine Sciolino, she defended the show's lack of realism, and explained her method and inspirations for stepping into Sylvie's strappy shoes. In an exciting evening for expat and French viewers alike, Leroy-Beaulieu and Sciolino will continue their conversation on femininity, age, style, and mean (and nice) Parisians at the American Library. Join the two women as they discuss the trajectory of Leroy-Beaulieu's career, the cultural aftershocks of "Emily in Paris," and her experience adopting the mantle of the elegant and infamous Parisienne. 
Click here to RSVP
About the speakers:
Elaine Sciolino is a contributing writer and former Paris bureau chief for The New York Times, based in France since 2002. Her latest book, The Seine: The River That Made Paris, was a Los Angeles Times bestseller and a Barnes & Noble nonfiction book-of-the-month selection. Her previous book, The Only Street in Paris: Life on the Rue des Martyrs, published in 2015, was a New York Times best seller. Sciolino was decorated chevalier of the Legion of Honor in 2010 for her "special contribution" to the friendship between France and the United States.
Philippine Leroy-Beaulieu, who grew up in Rome before moving to Paris as a teenager, was nominated for a César for the 1985 comedy and runaway hit, "Trois Hommes et un Couffin." Over the years, she has played roles as varied as Charlotte Corday (Marat's assassin during the French Revolution), a drug addict, a Russian aristocrat, a psychopathic doctor turned police officer, and a Polish-Jewish émigré in World War II France. More recently, she has been known for playing the beautiful ambitious wife of Mathias Barneville, the most senior agent, in Cédric Klapisch's Dix Pour Cent.  
Click here to RSVP
*The discussion will be available both online and in person. While the conversation will happen in person (Leroy-Beaulieu and Sciolino will appear in the Reading Room), the Library will stream the conversation on Zoom for a live viewing experience. Both in-person and online attendees will be able to pose questions.
On-site information regarding COVID-19: In compliance with French law, a valid Pass Vaccinal (ages 16+) or Pass Sanitaire (ages 12–15) is required to enter the Library. Masks must be worn correctly at all times by all Library visitors ages 6 and up.

Related Events