(Hybrid) Writing and Rewriting the Modern
February 16 @ 19 h 30 min

-

20 h 30 min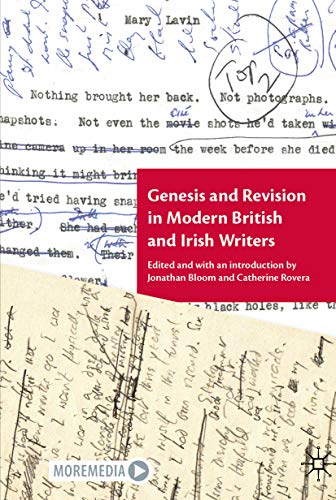 Join Evenings with an Author (in-person and online*) to discuss
Genesis and Revision
with Dr. Jonathan Bloom 
Click here to RSVP
How does text become text? What distinguishes revision from writing? How have writers historically revised, and what tools do we have to study this? In Genesis and Revision in Modern British and Irish Writers, scholars in the digital humanities look to early notes, drafts, revisions, and correspondences to demonstrate what can be said about the artistic process by studying paper manuscripts. A collection of ten essays on subjects ranging from Duras and Proust's collages, to the composition stages of Romantic poetry, this edited collection exposes everything that precedes final publication, while simultaneously destabilizing the narrative that the finished text is the published one. Readers ask: Why and when do authors change texts? How do texts change over time? How do texts reveal and conceal the authors themselves?
An original approach to beloved modern texts from The Waves to Nightwood, contributors to Genesis and Revision use archival and digital techniques to uncover the hidden developments of the texts from early drafts to final stages. Looking behind the scenes at the craft of writing, interrogating the nature of the handmade, Bloom et al. confront the lived reality of some of the most celebrated modern authors, bringing us into the minds of Woolf, Joyce, Yeats, and more. 
About the speaker:
Jonathan Bloom is a Senior Lecturer in English at the University of Paris-Dauphine. He is the author of The Art of Revision in the Short Stories of V.S. Pritchett and William Trevor (2006). He obtained his doctorate in English literature from Oxford University and has since been the recipient of multiple fellowships from the Harry Ransom Humanities Research Center at the University of Texas, most recently the Dorot Foundation Fellowship (2009). Bloom has been a member of the Academic Board of the University Paris-Dauphine since 2016.
Click here to RSVP
*The discussion will be available both online and in person. While the conversation will happen in person (Bloom will appear in the Reading Room), the Library will stream the conversation on Zoom for a live viewing experience. Both in-person and online attendees will be able to pose questions.
On-site information regarding COVID-19: In compliance with French regulations, a pass sanitaire is required for all visitors ages 12+. Visitors ages 6+, staff, and volunteers are required to wear masks on the premises.
Click here to RSVP

Related Events