Evenings with an Author: Elaine Sciolino, The Seine: The River That Made Paris
January 15 @ 19 h 30 min

-

21 h 00 min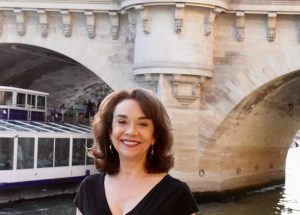 Elaine Sciolino is again captivating readers, this time with The Seine: The River That Made Paris, the follow-up to her New York Times best-selling book The Only Street in Paris: Life on the Rue des Martyrs.
Melding history and mythology, the romantic and the everyday, Sciolino's depiction of the Seine is a love letter to Paris and the magical river at its heart. A contributing writer and former Paris bureau chief for the New York Times, Sciolino fell for the Seine when she came to Paris as a young foreign correspondent for Newsweek magazine. In The Seine, she traces the river's origin to a remote plateau in Burgundy and discovers the roots of its name in the story of Sequana, the Gallo-Roman goddess who healed pilgrims at a temple at the Seine's source. Thus begins a 483-mile journey from source to sea, animated by the river's lively characters—a bargewoman and a houseboat dweller, a riverbank bookseller and a famous cinematographer known for capturing the river's light. As Sciolino travels among cities and towns, tributaries and islands, ports and bridges, she patrols with river police, rows with restorers of antique boats, sips Champagne at a riverside vineyard, and even dares to swim in the Seine.
Full of rich anecdotes and historical detail, The Seine shows the river as a source of life not only for Paris and France but also for the entire world. As Sciolino follows the river's path, she charts its course through history, recounting how it has carried Roman conquerors, Viking invaders, World War II soldiers, and the ashes of Joan of Arc and of Napoléon Bonaparte in its current. The Seine illustrates how necessary the river is to the street life, economy, industry, culture, and identity of France, and Sciolino explores the spell that the river has cast upon musicians, photographers, painters, and writers. Revelatory and brilliantly researched, The Seine reminds us why we are enchanted by the river and why the likes of Monet and Matisse, Zola and Hemingway have made it their own.
Lauren Collins, Paris staff writer for The New Yorker, calls the book "a soulful, transformative voyage along the body of water that defines the City of Light." David A. Bell, Professor of History at Princeton University, said, "Elaine Sciolino writes with the authority of a historian, the sleuthing skills of a journalist, and the voice of a storyteller eager to recount the tales of those who have been touched by the Seine."
Sciolino is a contributing writer and former Paris bureau chief for The New York Times, based in France since 2002. She was decorated chevalier of the Legion of Honor, the highest honor of the French state, in 2010 for her "special contribution" to the friendship between France and the United States.
Related Events