(Hybrid) What Really Troubles the 99% with Albena Azmanova
February 2 @ 19 h 30 min

-

20 h 30 min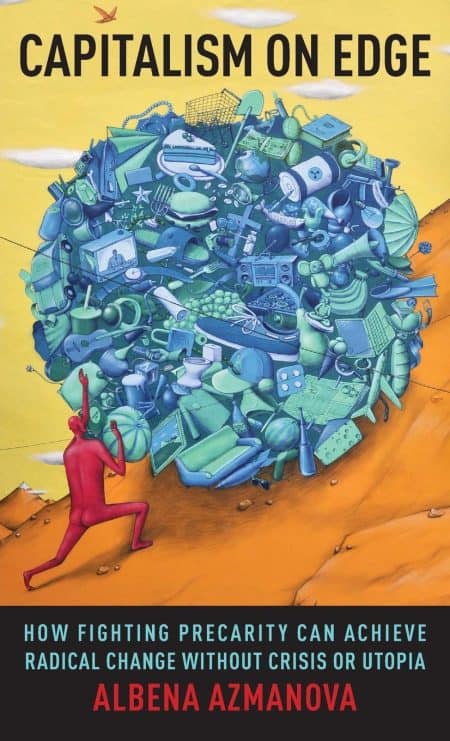 Join Evenings with an Author (in-person and online*) to discuss
What Really Troubles the 99%
with professors Albena Azmanova and Lucas Chancel
Click here to RSVP
A daring and unapologetic intervention in post-2008 financial crisis leftism, Albena Azmanova's Capitalism on the Edge offers a radical alternative to traditional anti-capitalist narratives which place inequality at the center of their critiques. Azmanova claims rather that the central contradiction of the modern age is the emergence of "precarity capitalism": on one side, ceaseless pursuit of profit on a corporate level; on the other, a labor force living in constant financial insecurity. It is this perennial state of anxiety which fosters social and political division; and it is by way of political alliance and social policy aimed at developing trust that we can overcome it.
Both polemical and analytic, Azmanova rejects tropes of capitalism in crisis, as well as calls for revolution to combat. What we need, she instead proposes, is to abandon the rhetoric of utopia, and to embrace reform beyond ideological boundaries. As such, rather than asking how we might better capitalism or how we might dismantle it, Azmanova presents a policy-based action plan aimed at subverting it from within. Azmanova will be in conversation with economist Lucas Chancel.
Click here to RSVP
About the speakers:
Albena Azmanova is a tenured Associate Professor of Political and Social Theory at the University of Kent's Brussels School of International Studies and author of The Scandal of Reason: A Critical Theory of Political Judgment (2012). She has served as policy advisor for the United Nations, the Council of Europe, and the European Parliament, among other institutions. Born in Bulgaria, she has resided in Brussels since 1997.
The Co-Director of the World Inequality Lab at the Paris Scool of Economics, and an Affiliate Professor at Sciences Po, Lucas Chancel is an economist who specializes in inequality and in environmental policy. His work focuses on the measurement of economic inequality, its interactions with sustainable development and on the implementation of social and ecological policies. Coverage of his research can be found in Science, Nature, The Guardian, The Financial Times, the New York Times, CNN, Le Monde, Der Spiegel, El Pais, and several other publications.
Registration required. Free and open to the public.
*The discussion will be available both online and in person. While the conversation will happen in person (Azmanova and Chancel will appear in the Reading Room), the Library will stream the conversation on Zoom for a live viewing experience. Both in-person and online attendees will be able to pose questions.
Click here to RSVP
••••••••••••••••••••••••••••••••••••••••
Important: on-site information regarding COVID-19
In compliance with French regulations, a pass sanitaire is required for all visitors ages 12+. Visitors ages 6+, staff, and volunteers are required to wear masks on the premises.

Related Events