A Panel on Women's Travel Writing in France and Beyond, moderated by Erin Byrne [Virtual Public Event; RSVP Required]
March 3 @ 19 h 30 min

-

21 h 00 min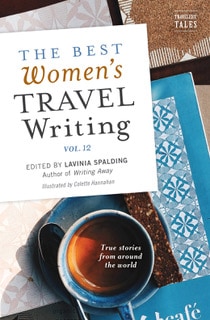 *Covid-19 Update: This winter, the Library's Evening with an Author series will continue to meet virtually, via Zoom. These events, which are free and open to the public, require advance sign up. Evenings with an Author programs begin at 19h30 (Central European Time). Please check eLibris or our programs calendar for updates and line-up.
A special panel event centered around The Best Women's Travel Writing , Volume 12: True Stories from Around the World
Join us for a special virtual reading and conversation celebrating The Best Women's Travel Writing, Volume 12: True Stories from Around the World, the newest collection in the award-winning series that invites you to travel along with intrepid female nomads as they wander the globe. The program will feature New Orleans-based editor Lavinia Spalding and contributing writers Christina Ammon, Erin Byrne, Marcia DeSanctis, and Colette Hannahan.
This new volume offers readers illuminating cultural connections and personal revelations to inform and encourage their future journeys. Stories offer insights through the lens of a woman's experience in a foreign place. The result is a rich and intimate personal exploration of a culture and lasting shifts in personal perspective.
Lavinia Spalding has edited five previous editions of The Best Women's Travel Writing. She is the author of Writing Away and the co-author of With a Measure of Grace and This Immeasurable Place, and she introduced the e-book edition of Edith Wharton's classic travelogue, A Motor-Flight Through France. Her work appears in such publications as Tin House, Longreads, Yoga Journal, Sunset, the San Francisco Chronicle, and The Guardian, and has been widely anthologized. Her AFAR essay "Playing by Heart" received a Lowell Thomas Gold Award and was recognized by The Best American Travel Writing. She is also a public speaker and teacher. When she isn't leading international writing workshops, she lives with her family in New Orleans and on Cape Cod. laviniaspalding.com
 Christina Ammon has penned stories for BBC, Orion Magazine, Hemispheres, the San Francisco Chronicle, Conde Nast, and numerous travel anthologies. She is the recipient of an Oregon Literary Arts Fellowship for nonfiction, and her stories have earned several awards from Travelers' Tales publishers. In the winters, she organizes writing and storytelling workshops in Morocco, Mexico, Nepal, and Spain through her company, Deep Travel Workshops. When not traveling, she lives in rural Oregon. deeptravelworkshops.com
 Erin Byrne is author of Wings: Gifts of Art, Life, and Travel in France, editor of Vignettes & Postcards from Paris and Vignettes & Postcards from Morocco, and writer of The Storykeeper film. Erin's books, travel essays, poetry, fiction and screenplays have won awards including the 2020 Grand Prize Solas Award for Travel Story of the Year. She has taught writing at Shakespeare and Company Bookstore in Paris; is host of LitWings event series featuring writers, photographers and filmmakers; and is travel writing and photography curator for The Creative Process Exhibition. She lives in Seattle. erinbyrnewriter.com
 Marcia DeSanctis is a former television news producer who worked for Barbara Walters and Peter Jennings at ABC News, and at CBS News 60 Minutes and NBC News. She is the New York Times bestselling author of 100 Places in France Every Woman Should Go, and she contributes to Vogue, Town & Country, Departures, Travel & Leisure, BBC Travel, National Geographic Traveler, Marie Claire, The New York Times, and many other publications. She is the recipient of five Lowell Thomas Awards for excellence in travel journalism, including one for Travel Journalist of the Year, for her essays from Rwanda, Russia, Haiti, France, and Morocco. She lived and worked for several years in Paris and travels as much as possible to France. marciadesanctis.com
 Colette Hannahan is a San Francisco-based writer, painter, and illustrator who created of the illustrations for The Best Women's Travel Writing. In addition to peddling knives in Minnesota, she has delivered mail at a retreat center in the woods of the Hudson Valley, applied makeup on brides-to-be at a salon in Brooklyn, steamed blouses for models in Manhattan, taught art and yoga to adults with autism in Chicago, mentored teens at a boarding school in New Mexico, and organized fundraisers for artists with life-threatening illnesses in San Francisco. colettehannahan.com
---

Related Events