About the American Library in Paris Book Award
The Book Award was launched in 2013 with a generous gift to the Library from the Florence Gould Foundation. The past recipients of the prize reflect the diversity of intellectual and literary output that the Book Award seeks to recognize.
The Book Award follows a long tradition of showcasing and celebrating authors at the American Library. The Library was created in part as a memorial to a young American poet, Alan Seeger, who wrote the well-known poem "I Have a Rendezvous with Death" not long before he died in action in France in 1916. One of the Library's founding trustees was Edith Wharton. Ernest Hemingway and Gertrude Stein, among many other writers of note, contributed reviews to the Library's literary magazine, Ex Libris. Stephen Vincent Benét composed John Brown's Body at the Library. Authors of every generation have worked and spoken at the Library: Ford Madox Ford, Archibald MacLeish, Colette, Henry Miller, André Gide, Anaïs Nin, James Baldwin, Irwin Shaw, James Jones, and Mary McCarthy, to name a few from the past. As the Library approaches its centennial, it remains the pre-eminent center in Paris for evening talks by prominent authors, artists, and other public figures.
News about the 2018 Book Award
Ten books have been chosen as finalists in the 2018 American Library in Paris Book Award – a longlist of titles of which five will be shortlisted on 1 September 2018. The winning book will be selected by an independent jury, and the winning author will receive a $5,000 cash award and speak at a special ceremony in Paris in early November.
The Library prize, now in its sixth year, recognizes the most distinguished book of the year, written and published in English, about France or the French. The award is open to all genres. This year, 76 entries were submitted by publishers and authors across the English-speaking world.
This year's longlist includes five biographies – of Renoir, of de Gaulle, of Nadar, of the women who inspired Marcel Proust's imaginary Duchesse de Guermantes, of six Americans who discovered French cooking. The two longlisted novels are fictionalized accounts of real people. The longlist also recognizes a self-published memoir of two decades in Paris by an expatriate American, an exploration of Caesar's Gallic Wars, and a close investigation of French bookselling on the eve of the Revolution. Of the ten authors, seven are American and three British; four are women.
The American Library in Paris Book Award is supported by generous gifts from the Florence Gould Foundation. Please watch our website and the Library's newsletters e-Libris and Ex Libris for news of the shortlist and the award ceremony this fall.
All 76 submissions for the 2018 Book Award are in the Library's circulating collection, and are available for checkout by members.
The 2018 Book Award Longlist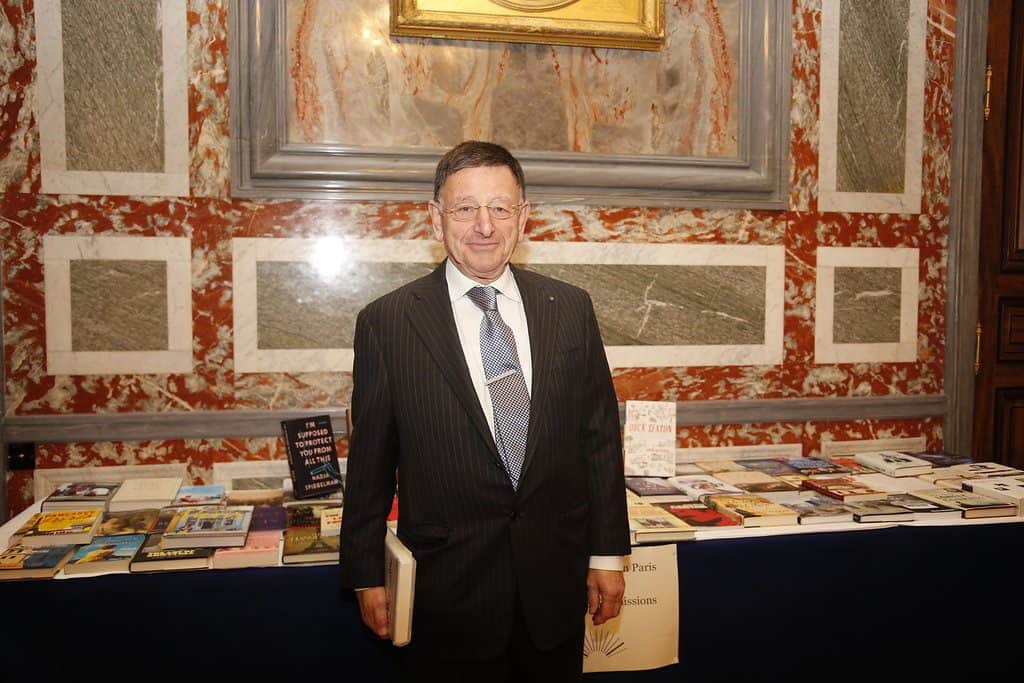 The Award is administered by the American Library in Paris and is overseen by its Writers Council. The jury for the 2018 award includes Diane Johnson, novelist, essayist, critic, and chairman of the Library's Writers Council; David Bellos, Princeton professor, translator, and author of last year's winning book, The Novel of the Century; and Pierre Assouline, biographer, novelist, critic, and editor of larepubliquedeslivres.com.
For a list of frequently asked questions, please check The American Library in Paris Book Award FAQs.
Nominations for the 2019 Award open on 1 November 2018.
Any book-length prose fiction or nonfiction work, originally written in English, about France or the French, will be considered by a committee of Award screeners. Nominated books must be scheduled for publication between 1 July 2018 and 30 June 2019.
Anyone – author, publisher, agent, reader — may submit books for this award.
Books published exclusively in electronic form or online are not eligible.
A reprint of a book first published in another year is not eligible.
Books by members of the Writers Council or screening committee are not eligible for the Award.
The decision of the jury is final and no correspondence will be entered into regarding the judging process.
As soon as you know you would like to submit a book, please notify Orlene McMahon at bookaward@americanlibraryinparis.org with the title of the book(s) and the estimated date the Library will receive the book(s). All submitted books must be postmarked and mailed to the American Library in Paris no later than 1 May 2019. Early submissions are encouraged.
All nomination materials for the 2019 Book Award must be received by 1 May 2019.
STEP ONE – Complete and submit the online nomination form. A separate nomination form must be submitted for each title nominated.
STEP TWO – Submit the entry fee of €50,00 or $60.00. A separate entry fee must be submitted for each title nominated. We accept payments by check in euros or U.S. dollars, by credit card via Paybox (see link below), or via wire transfer.
Please make checks payable to The American Library in Paris and send them to the address below. Contact Orlene McMahon at bookaward@americanlibraryinparis.org to pay via wire transfer.
STEP THREE – Submit five (5) copies of each nominated book. Proof or reviewer's copies are acceptable as long as the book's publication date will fall on or before 30 June 2019 and must be replaced by finished copies at the time of publication.
The American Library in Paris Book Award
c/o The American Library in Paris
10, rue du Général Camou
75007 Paris
FRANCE
Phone number, if needed by shipper:  +33 1 53 59 12 60
If you choose to send books via FedEx, UPS, DHL, or another shipping company, please send an e-mail to bookaward@americanlibraryinparis.org to provide a tracking number.
Timeline
| | |
| --- | --- |
| 1 November 2018 | Nominations open |
| 1 May 2019 | Nominations close |
| 15 July 2019 | Longlist announced |
| 1 September 2019 | Shortlist announced |
| November 2019 | Winner announced at award ceremony in Paris |
Books received will not be returned and become property of the American Library in Paris. The American Library in Paris Book Award is made possible by a generous gift from the Florence Gould Foundation.