1 February 2021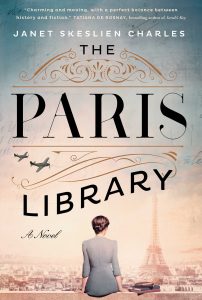 In advance of her Evening with an Author program at the American Library (Wednesday 24 February 19h30 Central European Time), Programs Manager Catherine Olien connected with Janet to ask her some questions about her novel and about her personal connections to the American Library in Paris.
CVO: Thank you for taking the time to answer our questions, Janet. It's always wonderful to speak with you.
JSC: It's a pleasure to talk to you, Catherine! I'm thrilled to be speaking at the Library.
CVO: First of all, congratulations on this incredible book. Our entire community is so excited about the book and by all of your success. What have been some of your favorite parts of the journey you took in writing the book– from conception, to research, to writing, to watching the book reach and resonate with such an astounding number of readers?
JSC: Thank you for your kind words of congratulations! There is so much to be grateful for. I'm glad that the Library community has embraced the book. There have been many great moments, but I have to say that meeting the descendants of my real-life characters and hearing about their family members was inspiring. I've been thrilled by the reception of The Paris Library from independent booksellers, who chose the novel as their #1 Indie Next Pick for February. I'm honored that librarians in North American choose the novel for Library Reads in the U.S. and Loanstar in Canada. I am new to Instagram and am in awe of the creativity of Bookstagrammers. I'm looking forward to hearing from readers when the book comes out in February.
CVO: Interestingly enough, you used to be Programs Manager at the Library! It's a wonderful job, isn't it? I hoped you might share some memories or highlights from your own time in the role. Is there a particular event or experience that stands out to you now, looking back?
JSC: I felt very lucky to be a part of the Library and to have talented colleagues such as Naida Culshaw, who is the embodiment of grace, intelligence, and heart. At each evening event, it was inspiring to hear writers speak, but nerve-wracking, too, because we never knew if 20 or 200 people would attend. I remember two authors in particular because they were so gracious. The first was Lionel Shriver. Two of her biggest fans, booksellers from Reelbooks in Fontainebleau, attended, and it was a pleasure to watch them interact. The second was Tatiana de Rosnay, who gave a moving reading. When a French audience member became upset because the event was in English, Tatiana took the time to speak to her, and I will never forget that kindness.
CVO: I'm sure everyone is eager to know which of the characters in the book are based on real former employees of the American Library. Would you briefly introduce us to the most important historic Library figures you adapted into characters for the novel?
JSC: Dorothy Reeder (isn't that the perfect name for a librarian?) came to Paris alone in 1929 and secured a job at the Library She began in the periodical room and worked her way up to the role of Directress. In June of 1940, as the Germans got closer to Paris, most people fled. Dorothy Reeder remained. She faced the Nazi "Library Protector" who told her that "certain people" could no longer enter the Library. Thus, she and her staff defied the Nazis by delivering books to Jewish patrons.
Boris Netchaeff, the head librarian of the ALP, fought in the Russian Revolution as a teen. He and his brother came to France hoping to find peace but instead found themselves in the middle of a war. He was shot by the Gestapo and taken away to be interrogated. He would have died without the quick intervention of Clara de Chambrun. I interviewed Boris's daughter Hélène, who said that he made a full recovery and worked at the Library until he retired.
In 1920, Clara de Chambrun was one of the first ALP trustees, along with the writer Edith Wharton. Clara de Chambrun earned a Ph.D. from the Sorbonne at the age of 48. She translated Shakespeare in French and wrote many books. Thought she was seventy years old during World War II, she worked tirelessly at the Library. She created a canteen for staff and even slept at the ALP in order to keep watch.
Dorothy Reeder, Boris Netchaeff, and Clara de Chambrun were the life, heart, and soul of the Library during impossible times.
CVO: Many of us on staff who have read the book appreciate how well you were able to capture the essence of the American Library in Paris– what we stand for, the type of community we strive to be, and the warmth we aim to project, to members and visitors alike. What, for you, is that central "secret ingredient" of the American Library in Paris that has allowed it to flourish for over 100 years?
JSC: Thank you! I'm so glad. It was important for me to capture the essence of Library – the insightful, generous community of staff, volunteers, and members who come from many different backgrounds, who come together thanks to a love of reading.
CVO: Thank you again, Janet, and we wish you continued success with this book and your other writing projects. We're so looking forward to your virtual Evenings with an Author event with us on Wednesday 24 February. What might you have in store for us at the event?
JSC: Thank you for inviting me. I'm excited to be in conversation with Naida Culshaw. She's an amazing interviewer who brings out the best in people. I'm also looking forward to the Q&A. When I was the programs manager, one of the parts I enjoyed the most was the exchange between the author and the audience.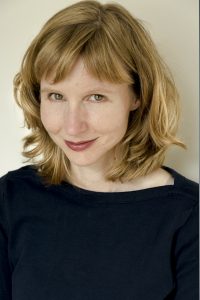 Author Janet Skeslien Charles