Paris book lovers will be chagrined to hear the news that The Village Voice Bookshop will close its doors on July 31.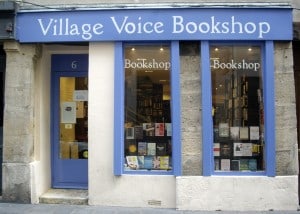 In a letter to friends and patrons, founder and owner Odile Hellier cites the reasons – reasons which will surprise no one who follows trends in publishing and bookselling. On-line book retailers such as Amazon and the growing popularity of e-readers, among other market forces, are threatening independent bookstores all over the world.
What is more, when Village Voice opened its doors in 1982, the St. Germain quartier was funkier. Once known as the "triangle d'or de l'edition" and a cultural crossroads in Par
is, Hellier laments, "the neighborhood has been overrun by fashionable boutiques and bars and lost its attractiveness to book browsers and buyers."
The Village Voice is familiar to expatriates and visitors alike for its unique offerings of books tucked by the thousands into the tiny space's nooks and crannies, and for the good judgment and personal attention of its booksellers. What is more, for three decades Odile Hellier's bookshop has been a coveted rendezvous with readers for an incredibly distinguished roster of American and other English-speaking literary figures.
At the Library, we feel this loss acutely. We share a clientele. The bookshop has been our close and mutually supportive partner – providing books for sale at the Library's evening events (as do other local bookstores) and helping to meet the great demand in Paris for literary presentations of all kinds. The American Library in Paris can't entirely take up the slack, but we will do our best.
Odile and her colleagues Michael, Vincent and Marc will be saying farewell at the Village Voice on the evening of Saturday 16 June, and everyone is invited to the wake.
– Charles Trueheart