(Hybrid) Reading for the Planet with Jennifer Wenzel
March 22 @ 19 h 30 min

-

20 h 30 min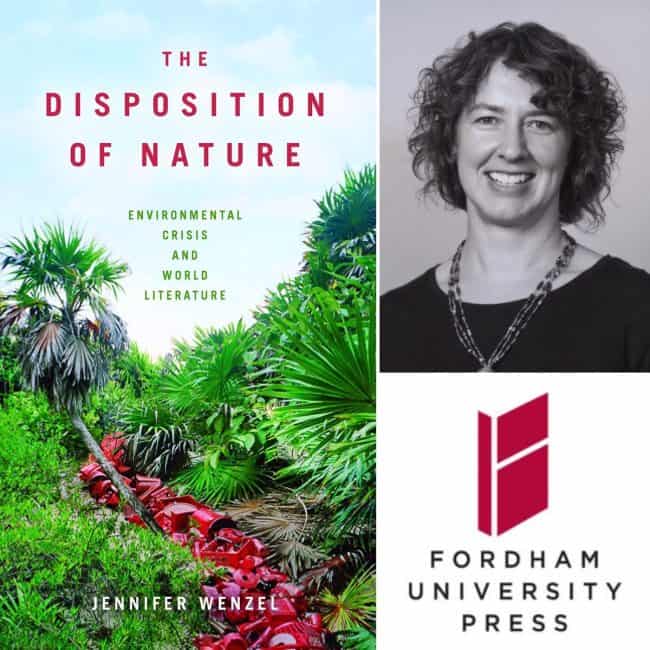 Join Evenings with an Author (in person and online*) to discuss
The Disposition of Nature: Environmental Crisis and World Literature
with scholar Jennifer Wenzel
Click here to RSVP
As the climate crisis becomes one of the dominant topics of the 21st century, scholars and activists are still seeking a vocabulary with which to describe it. The phasing out of "climate change" and "global warming," and the emphasis on justice, remind us of the importance of rhetorical choices as we try to build a liveable future. There are few more qualified to speak on the relationship between narrative and climate than scholar Jennifer Wenzel, whose recent work, The Disposition of Nature: Environmental Crisis and World Literature, argues for the role of cultural imagining in climate discourse. 
Traversing political ecology, geography, anthropology, history, and law, and punctuated by case studies in world literature, the book is a searching and invigorating contribution to the climate debate. Demonstrating to readers how their relation to earth is informed by their consumption of media depicting it, Wenzel argues for new ways of imagining the world and our place in it. The solution will not be to merely read the planet, but to begin to read for it. Wenzel will be in conversation with Programs Manager Alice McCrum.
Click here to RSVP
About the speaker:
Jennifer Wenzel is a scholar of postcolonial studies and environmental and energy humanities, and Associate Professor at Columbia University. The Disposition of Nature: Environmental Crisis and World Literature (2020), was shortlisted for the Association for the Study of the Arts of the Present 2020 Book Prize. She is also the author of Bulletproof: Afterlives of Anticolonial Prophecy in South Africa and Beyond (2009), awarded Honorable Mention for the Perkins Prize by the International Society for the Study of Narrative.
Registration required. Free and open to the public.
*The discussion will be available both online and in person. While the conversation will happen in person (Wenzel and McCrum will appear in the Reading Room), the Library will stream the conversation on Zoom for a live viewing experience. Both in-person and online attendees will be able to pose questions.
Click here to RSVP
••••••••••••••••••••••••••••••••••••••••
Important on-site information regarding COVID-19: Masks remain strongly recommended, per the French Ministry of Health.

Related Events