(Hybrid & In French) Les Femmes qui font Paris
November 10 @ 19 h 30 min

-

20 h 30 min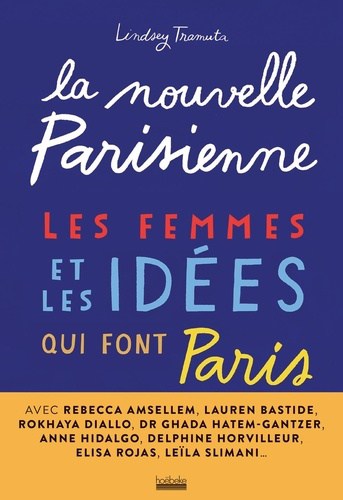 Join Evenings with an Author (in-person and online*) to discuss
La Nouvelle Parisienne
A panel with Aline Asmar d'Amman, Victoire de Taillac,
and Lindsey Tramuta
Moderated by: Colombe Schneck
The fantasy of the Parisienne, with her subtle blend of beauty and elegance, has captured the world's imagination for centuries. In La Nouvelle Parisienne: Les femmes et les idées qui font Paris, Lindsey Tramuta examines and deconstructs the stereotype, showing us that there are many ways to be a Parisienne in contemporary France. The conversation will happen in French.
Click here to RSVP for the in-person event
Click here to RSVP for the online event 
About the speakers:
Lindsey Tramuta is a Paris-based journalist and author who moved to France from the United States nearly 15 years ago. Writing for numerous publications, Tramuta has covered lesser-known topics, uncovered new trends, shared her travels, and introduced readers to inspiring Francophiles. She is the author of The New Paris and The New Parisienne.
Aline Asmar d'Amman is the architect and interior designer behind Culture in Architecture, a design studio based in Beirut and in Paris, committed to bridging cultures while balancing the past with the present. The international firm has been at the helm of several iconic interior projects, including the re-opening of Hôtel de Crillon in Paris and the renovation the Eiffel Tower's gastronomic restaurant Le Jules Verne.
After working for many years in the world of fashion and beauty, Victoire de Taillac now runs Officine Universelle Buly alongside co-founder Ramdane Touhami. With boutiques in Japan, South Korea, Denmark, the United Kingdom, Taiwan, the United States, and Australia, Officine Universelle Buly celebrates a history of apothecaries, perfumeries, and laboratories.
The panel discussion will be moderated by Colombe Schneck, an award-winning writer, journalist, and director of documentary films. The recipient of scholarships from the Villa Medicis in Rome and the Institut Français, Schneck is currently working on a novel that will soon be published by Grasset. She also writes a weekly column about reading for Madame Figaro. 
*The discussion will be available both online and in-person. While the conversation will happen in-person (all panelists will appear in the Reading Room), the Library will stream the conversation on Zoom for a live viewing experience. Both in-person and online attendees will be able to pose questions.
Click here to RSVP for the in-person event
Click here to RSVP for the online event 
••••••••••••••••••••••••••••••••••••••••
Important: on-site information regarding COVID-19
In compliance with French regulations, a pass sanitaire is required for all visitors ages 12+. Visitors ages 6+, staff, and volunteers are required to wear masks on the premises.

Related Events