The Ship We Built: A Discussion with Lexie Bean and Noah Grigni (ages 9-adult) [VIRTUAL—BY RSVP]
January 16 @ 14 h 00 min

-

15 h 00 min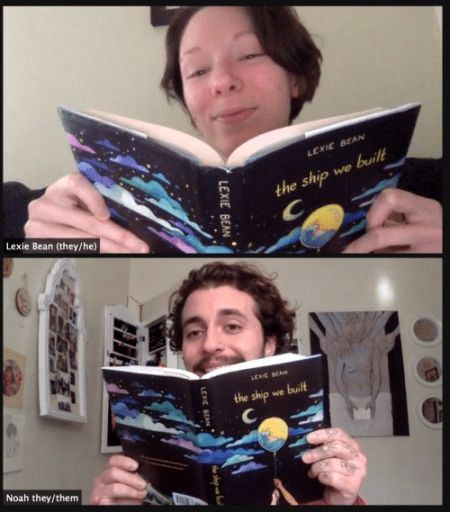 Please join us for an interactive book talk on The Ship We Built with author Lexie Bean and illustrator Noah Grigni.
for ages 9-Adult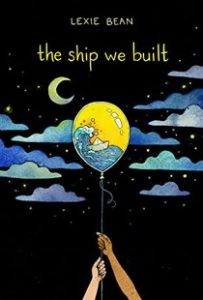 Please join us for an interactive book talk on The Ship We Built with author Lexie Bean and illustrator Noah Grigni. We'll talk about the creative process, and how identity shaped the story, as well as how the author and illustrator worked together to find artwork to fit the story. Lexie will read a passage from The Ship We Built, and Noah will share several of the sketches used in the book, then following a discussion moderated by Children's and Teens' Services Manager Celeste, we will move into a Q&A with the audience. Both Lexie and Noah identify as queer and trans, and The Ship We Built, which received starred reviews from Kirkus and Booklist, is the first middle grade book from a major American publisher centering a trans boy and written by one. The text deals with themes of isolation, faith, gender and sexuality, abuse, addiction, incarceration, and imagination as a tool for survival. This event is sure to interest young readers, aspiring writers, activists, and artists of all ages. You can check out the book from our collections.
About Lexie: Lexie Bean is a queer and trans multi-media artist from the Midwest USA whose work revolves around themes of bodies, homes, cyclical violence, and LGBTQIA+ identity. They are a member of the RAINN National Leadership Council and are Lambda Literary Finalist for their anthology Written on the Body, centering trans survivors of domestic abuse and sexual assault. The Ship We Built is their debut novel, which began with a text message dare from a crush in 2014. It has also taken the form of an animated short, and soon a feature-length script. Like Rowan, Lexie has a deep resonance with water and letter writing, and is also a survivor of childhood sexual abuse.
About Noah: Noah Grigni is a children's book illustrator and trans activist from Atlanta, Georgia. Influenced by queer futurism, magical realism, dreams, and the subconscious, Noah uses art to imagine a radically inclusive future and uplift voices fighting for change. Their art ranges from vibrant watercolor illustrations, to meticulous anatomical drawings, to promotional graphics for activist groups. Noah is the illustrator of It Feels Good To Be Yourself by Theresa Thorn, The Every Body Book by Rachel Simon, The Ship We Built by Lexie Bean, and The Gender Identity Workbook For Kids by Kelly Storck. Last year, The American Library in Paris hosted Noah's first-ever book signing event! Noah is excited to return to the library virtually for this discussion.
This event is free and open to the public (ages 9-Adult). This event will be hosted virtually via Zoom. Registered participants will be sent a link to join the event. Advance registration is required (register HERE).
Send an email to Celeste, our Children's and Teens' Services Manager, with questions about events and collections for ages 0-18: celeste@americanlibraryinparis.org.
Related Events