Teen Lit Taboo (ages 12-18) [VIRTUAL – RSVP REQUIRED]
June 19 @ 18 h 00 min

-

19 h 30 min
Show off your fabulous memory of all things related to teen literature by competing in an evening of this custom made guessing game!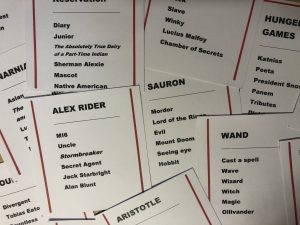 You will be placed in teams before the event, and you'll work in groups to compete in a Teen Lit Trivia game specially created by Children's and Teens' Services Manager Celeste Rhoads and Children's and Teens' Services Librarian Kirsty McCulloch Reid. Check out the game Taboo, which inspired this event.
This game will be played much like the Taboo game from Hasbro. The objective of the game is for a player to have their team members guess the word on the player's card without using the word itself or five additional words listed on the card. All game cards will feature characters, settings and themes from YA literature. This event will take place virtually via Zoom, and participants will need to have microphones and video enabled. Cards will be sent via the chat box. We've tested this. It works.
Prizes will be available for pickup at the Library following the event for all participants.
Advance registration is required for Teen Nights (sign-up HERE for the Literary Reaping). REGISTRATION WILL CLOSE ON THURSDAY 21 MAY 2020. Send an email to Celeste, our Children's and Teens' Services Manager, with questions about events and collections for ages 0-18: celeste@americanlibraryinparis.org. Participation in teen events is free for Library members and 10€ for non-members.
Related Events