(Online) Entre Nous: Black is the Journey, Africana the Name
February 4 @ 19 h 30 min

-

20 h 30 min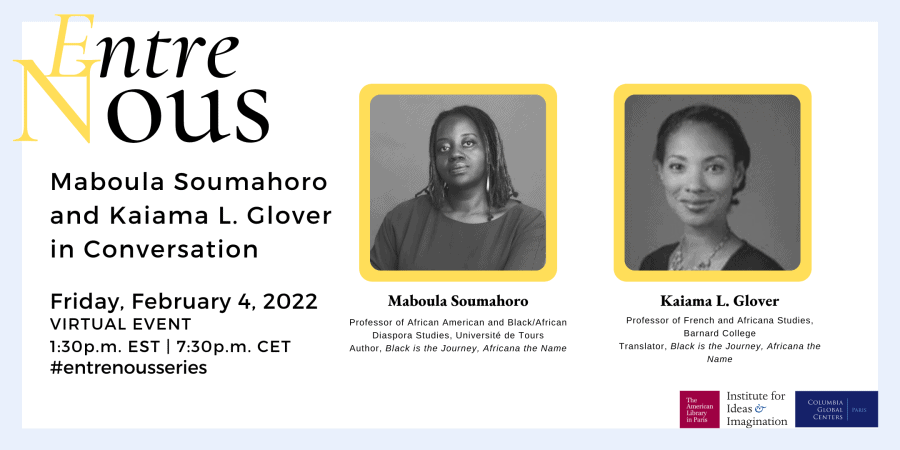 As part of the Entre Nous series in partnership with Columbia Global Centers | Paris and the Institute for Ideas and Imagination, join professors Maboula Soumahoro and Kaiama Glover, both specialists of Africana and Diaspora Studies, for a discussion about Soumahoro's recent book, Black is the Journey, Africana the Name. 
In this highly original book, Soumahoro explores the cultural and political vastness of the Black Atlantic, where Africa, Europe, and the Americas were tied together by the brutal realities of the slave trade and colonialism. Each of these spaces has its own way of reading the Black body and the Black experience, and its own modes of visibility, invisibility, silence, and amplification of Black life. By weaving together her personal history with that of France and its abiding myth of color-blindness, Soumahoro highlights the banality and persistence of structural racism in France today, and shows that freedom will be found in the journey and movement between the sites of the Atlantic triangle. Africana is the name of that freedom.
Click here to RSVP
About the speakers:
Maboula Soumahoro is an associate professor at the University of Tours and president of the Black History Month Association, dedicated to celebrating Black history and cultures. A specialist in the field of Africana Studies, she has conducted research and taught in several universities and prisons in the United States and France and was most recently a Villa Albertine Resident in Atlanta. She is the author of Le Triangle et l'Hexagone, réflexions sur une identité noire (La Découverte, 2021), translated in English by Dr. Kaiama L. Glover as Black Is the Journey, Africana the Name (Polity, 2021). This book received the FetKann! Maryse Condé literary prize in 2020.
Kaiama L. Glover is Ann Whitney Olin Professor of French & Africana Studies and Faculty Director of the Barnard Digital Humanities Center at Barnard College. She is an awardee of the PEN/Heim Foundation, the National Endowment for the Arts, the National Endowment for the Humanities, the Mellon Foundation, and the New York Public Library Cullman Center. She is the founding co-editor of archipelagos | a journal of Caribbean digital praxis, the founding co-organizer of "The Caribbean Digital," and the founding co-director of the digital humanities project In the Same Boats: Toward an Afro-Atlantic Intellectual Cartography. In 2018-2019 she was a resident Fellow at the Columbia Institute for Ideas and Imagination in Paris, France where she began work on her new book project, For the Love of Revolution: René Depestre and the Poetics of a Radical Life.
Click here to RSVP




Related Events